Local radio operators are bracing for a potential ratings shake-up.
The introduction of Arbitron Co.'s Portable People Meter in the Indianapolis market this summer is expected to tighten
the ratings race and could dramatically affect how much advertisers are willing to pay for radio spots.
In July, Arbitron is rolling out its automated meter locally to be run as a kind of litmus test side-by-side with the current
rating system. In September, the new rating system will permanently replace the pencil-and-paper diary system that has been
in place more than 40 years. The new pager-size device, worn by users, tracks radio-listening habits in real time.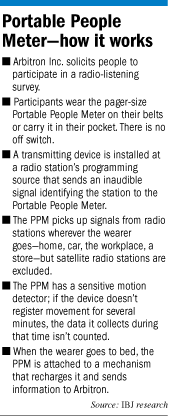 The PPM has been introduced in 33 U.S. markets since 2007 by New York-based Arbitron, and in July
it is slated to be rolled out here and in nine other midsize markets, including Milwaukee, Wis.; Orlando, Fla.; and Austin,
Texas.
Radio broadcasters and media buyers are still trying to understand what the device will mean. In other Midwestern markets,
the introduction has meant considerable upheaval.
In St. Louis, where the PPM was rolled out last September, adult hits station WARH-FM knocked KMOX-AM from its decades-old
perch as the No. 1 station in the market. Less than two months after the PPM was introduced there, classic rock station K-HITS
96 fired well-known morning talk show personality J.C. Corcoran, citing low ratings following the introduction of the system.
"This is going to be a game-changer for radio," said Scott Sands, director of operations and programming for
the Indianapolis cluster of stations owned by Philadelphia-based Entercom Communications Corp. "I think it's going
to be a great tool overall for radio, a much more accurate measurement system. But it will definitely mean a change in local
radio ratings, and we're all just waiting to see how that change shakes out."
The ratings tumult comes as radio stations across the dial already face a difficult environment. Many advertisers, including
auto manufacturers, banks and retailers, are pulling back. Nationally, total ad spending in 2009 fell about 14 percent, according
to New York-based research firm TNS Media Intelligence.
While the PPM is designed to give radio operators more data to help with programming decisions, it also will cost stations
significantly more. Though Arbitron officials declined to discuss pricing, industry insiders said data from the new PPM system
will cost three to four times more than data from the old diary system, potentially equaling a six-figure price increase annually
for station operators.
Tightening ratings race
Many radio operators and ad buyers think the local ratings race will dramatically tighten with the market's
top stations separated by fractions of ratings points.
"The current system is open to human error. People often put down that they listened to their favorite station for
a two- or three-hour block," said Sue Doron, media director for EchoPoint Media, Indianapolis-based ad agency Young
& Laramore's media-buying arm. "When, in reality, we find people change stations a lot more. For instance,
a music listener may tune to a news-talk station at the top and bottom of each hour to get news updates."
In the markets where the PPM has been introduced, the number of stations on average a person listens to during a day is six,
Arbitron spokeswoman Jessica Benbow said. In the diary system, that same person likely would write down that he listened to
two or three stations, she added.
"Naturally, some stations are going to see a decline in share," Benbow said.
Since ad rates are determined on ratings points and market share, that could be bad news for some of the market's top-rated
stations, said Bruce Bryant, president of Indianapolis-based Promotus Advertising.
Rates for a 30-second radio spot in the Indianapolis market can vary from $65 to $450, said local media buyers, with most
falling in the $200 price range.
"I think you'll see a lot less of ad buyers simply buying the top three stations in a market or in a certain
demographic," Bryant said. "The PPM will provide much more data to dissect and will tighten up those rating gaps
between stations."
While ad buyers are calling for ad rates to be refigured in the post-PPM world, radio operators are saying advertisers shouldn't
expect wholesale slashes.
 

Morgan
"The radio audience hasn't changed," said Charlie Morgan, local market manager for Indianapolis-based Emmis
Communications Corp. stations. "What has changed is the measurement system. It's like changing from miles per
hour to kilometers per hour. The measurement number looks dramatically different, but it's still the same thing."
Quantum leap
If it lives up to the hype, the PPM could revolutionize radio advertising. Industry experts say its accuracy
even could win back skeptics that have all but given up on radio and its arcane diary rating system.
"For a long time, people have looked at the diary ratings system with a raised eyebrow," said Scott Uecker, general
manager of WICR-FM 88.7 and communications instructor at the University of Indianapolis. "As technology has advanced,
the skepticism of that methodology has grown."
The extent to which station operators went to influence the diary rating system had gotten out of hand, Uecker said. For
instance, he said, since studies found most diaries are filled out in the kitchen, many stations give away numerous refrigerator
magnets and coffee mugs during ratings periods. Stations would also ramp up cash giveaways on the first and last days of ratings
periods, when Arbitron survey participants were most likely to fill out their diaries.
"With the PPM, the games we play to influence the way people fill out their diaries are over," Uecker said. "Anything
that increases credibility of radio and the way the audience is measured is good for the industry."
The PPM is designed to be a radio listener's third ear, and Arbitron officials want to make sure it goes where the
ratings survey participant's other two ears go. There is no off switch. When survey participants sleep, the PPM
is placed on a mechanism that recharges the battery and downloads information to Arbitron's headquarters.
"If you're breathing, we'll know it," Arbitron Senior Vice President Thom Mocarsky said of those
carrying or wearing the PPM. The more survey participants carry the device, the more they get paid by Arbitron.
Current Arbitron survey participants are paid a small sum to participate, and Bryant said most wait until the end of the
day to fill out their diary, instead of more accurately filling it out hour by hour.
Lingering concerns
But the PPM is a long way from a panacea. There have been concerns in other markets where the PPM is being used that Arbitron
is failing to adequately measure the black and Latino markets with the new system.
Media experts have said that, because blacks and Latinos are more transient and less likely to have a home phone number,
they are more difficult for Arbitron to contact and include in surveys. There is also skepticism that minority groups will
embrace this new technology.
 

Williams
"It's too early to say the PPM will be negative to any sector," said Chuck Williams, general manager of
Radio One's Indianapolis cluster, which plays a variety of jazz and urban formats. "The key is proper distribution
of the meters and inclusion of all minority sectors."
Promotus Advertising's Bryant thinks the PPM may have the opposite effect from the one commonly anticipated. He points
out that black and Latino audiences may prefer the PPM, since they have never been strong at mail-in offers and deals that
require participants to fill out forms, like Arbitron's diary system.
Short-term pain is likely inevitable, said the University of Indianapolis' Uecker, but he thinks it will give way to
long-term gain.
"Everyone is wrestling with this change and there are some people no doubt who are on edge about the PPM," Uecker
said. "But I think in the end, this is a tool that will help us promote, program and manage our stations better."•
Please enable JavaScript to view this content.