No, its name doesn't refer to the rarest score in golf. Hidden inside the Scottish Rite Cathedral, the mascot of the Double Eagle Café (917-1463) is an ancient symbol used by Scottish Rite Masons. While there are many interpretations of the two-faced bird, for the purposes of this review, I'll go with the one that holds that the double eagle contemplates both sides of an issue, offering judicial balance.

On one hand (or face), the Double Eagle Café—operated by Thomas Caterers of Distinction—is a strangely structured spot. Indistinguishable from IndyAnna's, which used to occupy the same location, it features a short cafeteria line leading into a free-for-all of tables scattered in a dining room and lining halls that surround an open, empty atrium.

On the other hand, how many eateries do we have that are housed in such an architectural gem? And should we expect more from a place where a hot lunch special will set you back only $5.95?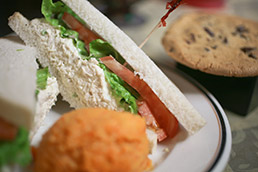 Sandwiches are the centerpieces at Double Eagle Café, but the carrot souffle and the cookies are the winners. (IBJ Photo/ Perry Reichanadter)
On our visit, that special—available every Monday—was chicken and noodles, a thick mass of comfort food sided with Double Eagle's signature carrot soufflé, a tower of starchy goodness. It has the aura of a dish that, if you knew how to make it, would make you the most popular participant in your next pitch-in (I think the hint of vanilla makes the difference).

Then again, the breaded tenderloin ($6.35) was flatter than ideal—looking at a cross-section, one should still be able to see the lighter pork amid the breading.

Back on the bright side, the Half-Sandwich/Small Salad Combo ($4.95) included a trip to the salad bar, which featured every ingredient a good salad bar should. Among the highlights: chopped hard-boiled eggs, multiple cheeses and several meats, including bacon bits that actually resemble the breakfast food. Mmm, bacon. Our sandwich choice: the solid-but-not-spectacular chicken salad on wheat.

And all our meals were capped with a carry-over from IndyAnna's. The former resident used to offer a free cookie to first-time visitors. We didn't see any such deal on our visit, but happily paid $3.25 for a trio of fresh-baked discs as good as I remember them.

And so, taking another cue from the double eagle, looking both back and ahead—back on an easy-to-forget-but-very-easy-on-the-budget, good-enough lunch—and ahead to the next time we're at the north end of the American Legion Mall and in need of no-frills dining. And cookies.•

—Lou Harry

__________

Fourth in our month-long series of reviews of animal-named eateries