Bankrupt Hoosier Park owner Centaur Inc. has offered its creditors a risky reorganization plan. For it to work, dozens of
hedge funds must stay in the game, in return for a chance to buy a big chunk of the company later.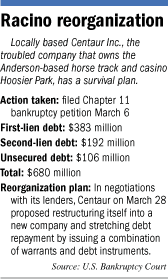 The downside for the hedge funds is Centaur's payback method. It would use a form of
security that gives Centaur the discretion to defer interest payments—upping the chance that the lenders will end up
with losses.
Locally based Centaur is attempting to restructure $680 million in debt, most of it loans the company took out before the
recession. Negotiations are focusing on such issues as how much Centaur stock the hedge funds eventually could get, and how
many years they'd have to wait for their purchase options to mature.
"It is our intention and belief we can get through this process before the end of the summer," Centaur Chief
Financial Officer Kurt Wilson said in a telephone interview from New York, where he's negotiating with lenders.
If Centaur's reorganization fails, Hoosier Park almost certainly will be sold, along with the rest of its assets. Even
if it succeeds, Centaur will emerge a much different company from the firm that confidently borrowed $1 billion just 2-½
years ago.
Privately held Centaur already has returned several hundred million dollars originally intended for development of a racino
northwest of Pittsburgh that's now in limbo.
Centaur was a minority investor in Hoosier Park when it opened in 1994. The company later increased its stake, and finally
bought out majority partner Louisville-based Churchill Downs Inc. in 2007.
Soon thereafter, the General Assembly approved the addition of 2,000 slot machines at each of the state's two horse
tracks. Centaur ramped up debt to pay the state's $250 million license fee and expand Hoosier Park. Centaur also hoped
to move forward with Valley View Downs near Pittsburgh.
But Centaur's Pennsylvania project stalled after regulators there failed to approve it. As the economy soured, Centaur
found itself overleveraged. In October, it missed a $13.4 million interest payment and saw its credit rating slip into default
status. The company filed for Chapter 11 bankruptcy in Delaware in early March.
Debt problems are an industry-wide problem now. In Indiana, both of Gary's Majestic Star riverboats are in bankruptcy.
Evansville's Casino Aztar emerged from bankruptcy last month. Ratings agencies have downgraded Shelbyville's Indiana
Live racino and warned it will likely need to restructure its finances.
Three creditor groups
Bankruptcy records break Centaur's creditors broadly into three groups: first-lien lenders, second-lien lenders
and unsecured creditors. Centaur originally borrowed $610 million from the first-lien lenders, a group Wilson described as
about 75 hedge funds brought together by the Cayman Islands branch of Credit Suisse, the agent on the deal. Centaur still
owes the first-lien lenders $383 million.
Centaur's second-lien lenders are a similar group of hedge funds that's owed $192 million. Last in line are Centaur's
unsecured creditors, which are owed $47 million. Add in Centaur's current operating loans and debt totals $680 million.
In addition to owning Hoosier Park and seeking to develop Valley View Downs, Centaur owns Fortune Valley Hotel and Casino
west of Denver. Centaur is attempting to sell Fortune Valley. Wilson said Centaur has had "well-developed discussions"
with "a number of interested parties" and expects a sale "very soon." Wilson did not estimate what
price Fortune Valley might fetch.
The centerpiece of Centaur's proposed restructuring is a plan to offer hedge funds a combination of new debt and warrants
that give them the right to buy stock at a specified future date at a predetermined price.
According to its reorganization plan, Centaur wants to issue $115 million in notes to the first-lien lenders, and satisfy
the rest of what it owes the group with a combination of warrants and so-called payment-in-kind, or PIK, notes.
PIK notes are an obscure form of debt that allows the issuer discretion over when to pay interest, with the unpaid portion
added to the principal and compounded until a balloon payment at maturity.
Wilson said Centaur has reached "agreement in principle" with its first-lien lenders, but wouldn't share
the terms, which haven't yet been disclosed in court records.
Wilson wouldn't say how much Centaur ownership he's putting on the line through the warrants, other than to call
it "substantial." Centaur's previous investors, some of whose ownership dates back nearly two decades, could
see their stakes watered down by the warrants.
Wilson said Centaur has offered its second-lien lenders more than 2 percent of the PIK notes, but no warrants. Wilson said
Centaur is "working with" its unsecured creditors in "appropriate ways," but wouldn't elaborate.
The second-lien lenders clearly expect more than they're getting out of Centaur's initial offer.
"It is a first-lien plan that does not have second-lien approval today," Wilson said. "Second lien is taking
certain actions, I think, to try to improve their negotiating position to enhance their valuation."
A spokesman for Los Angeles-based Latham and Watkins LLP, which represents the first-lien group, declined to comment to IBJ.
So did a spokesman for Boston-based Ropes and Gray LLP, which represents the second-lien group.
Challenging credit markets
It's fairly common for a bankrupt company to issue new debt and sweeten the pot with warrants in massive reorganization.
But the complexity of Centaur's plan is a reflection of the challenging credit markets, said Bob Shortle, co-managing
director of locally based investment banking firm Periculum Capital Corp.
"The gyrations they're coming up with to make it work for the first-lien holders, normally that piece of it just
gets redone with a new note, and doesn't have all that other stuff in it," said Shortle, who works regularly with
overleveraged firms that need to restructure finances. "And the second-lien holders end up with the goofy structures."
Centaur's future will depend largely on whether it can persuade lenders that it's worth their while to wait for
the chance of more money later than they could collect by liquidating the company now.
The strategy may work, Shortle said, but many lenders these days just want to get what they can out of failed pre-recession
deals and move on.
Negotiations likely will yield increasingly more favorable terms for creditors, since the company needs their support to
emerge from bankruptcy. In most bankruptcy cases, at least half of creditors in every class must agree to the restructuring
plan, said Vijay Yerramilli, an assistant professor of finance at Indiana University's Kelley School of Business.
"[As lenders], you'd have to be convinced these are temporary difficulties, Yerramilli said.
"You have some confidence [that] … if you agree to wait, you might get something a few years down the line. Under
present market conditions, I don't know why anyone would accept it," he said.
Centaur officials believe the prospects for the company will improve as the economy rebounds and as the company moves forward
with efforts to revive its Valley View Downs project.
The Indiana Gaming Commission would have to sign off on the final reorganization plan. Executive Director Ernie Yelton said
such plans often change dramatically during negotiations, and officials won't begin to analyze Centaur's until
court approval is imminent.•
Please enable JavaScript to view this content.