The upstart developer of a device to help doctors choose the right-sized stent to prop open clog-prone arteries has brought aboard former Guidant Corp. executives.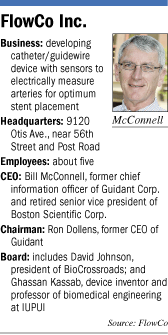 Their regulatory and marketing expertise could help FlowCo Inc. bring its artery-measurement product to market as soon as 2011.

Indianapolis-based FlowCo earlier this year named as its CEO Bill McConnell, who'd been chief information officer at Guidant, the coronary products company spun off from Eli Lilly and Co. in the 1990s and acquired by Boston Scientific in 2006.

McConnell had recently retired as a senior vice president at Boston Scientific's cardiac rhythm management unit in Minnesota.

Just a few months earlier, FlowCo device inventor Ghassan Kassab, a biomedical engineer and IUPUI professor, lassoed no less than former Guidant CEO Ron Dollens to serve as chairman of the budding firm.


Dollens
Dollens replaced Eli Lilly's former chief science officer, Gus Watanabe, who died last summer. Watanabe was also chairman of the local life sciences initiative BioCrossroads.

"When Gus died, I worried more about FlowCo. He was so instrumental," said David Johnson, president and CEO of BioCrossroads.

"Here you have this little company with these really heavy hitters. It remains one of the most cool, promising companies," Johnson said of FlowCo, on whose board he serves.

And it's ambitious.

FlowCo intends for its technology to challenge what is now the No. 1 tool in the market for complicated stent placement—intravascular ultrasound, or IVUS, technology.

Typically, surgeons use X-ray images to judge artery characteristics and select the appropriate stent size and placement. Stents are metal tubes with slots and have been used for years to keep open arteries clogged by plaque.

In some cases, however, it's hard to image the artery. To minimize the risk of complications from poor stent implantation, many insurers, including Cigna, will pay for IVUS when, for example, "the angiographic image does not explain the individual's degree of symptoms."

FlowCo's device uses not ultrasound but electrical impedance to gauge artery characteristics.

It's said to be more precise, less cumbersome to use, and less expensive than IVUS. It will also be able to measure flow reserve in a diseased artery, a measurement today that requires the use of a different device.

But competing with IVUS in what could be a $1 billion annual artery measurement market won't happen unless FlowCo can first thread Kassab's "LumenRECON" device through the tortuous bureaucracy of the U.S. Food and Drug Administration.

Last month, FlowCo completed a human pilot study and is in the process of preparing a filing with the FDA, McConnell said.

To avoid years of regulatory exercises, McConnell and Dollens are trying to get the device classified by FDA as "substantially equivalent" to products using the IVUS and flow-reserve technology.

"There may be some additional clinical work that's required," McConnell said, before it can be classified as equivalent.

FlowCo could have its device on the market for use in peripheral arteries next year, with a coronary version perhaps in 2012, McConnell said.

He cautions that's only a best guess, based on his experience with heart stents, defibrillators and other products.

The company's lifeblood—funding—has been flowing smoothly so far. FlowCo in 2007 landed $250,000 from BioCrossroads' Indiana Seed Fund. That year, it also pulled in $2 million from the state's 21st Century Research and Technology Fund.

And last November, FlowCo raised $1.2 million from outside investors, according to Securities and Exchange Commission records.

"The company has attracted a tremendous amount of highly sophisticated angel investment and other funding," Johnson said.

Better mousetrap?

That such a product opportunity exists in a maturing stent market may be surprising to those outside the operating room—particularly now that stents are coated with drugs to further reduce the likelihood the passage where the stent is placed will narrow again—known as restenosis—or develop dangerous blood clots.

The restenosis rate averages 4 percent to 8 percent, depending on which study one reads. Put in too big a stent and vessels can be damaged. Too small a stent can cause turbulence between the tube and cell wall—inducing blood clots.

Either way, the complications can be expensive. A few years ago, in an interview with CathLabDigest, Kassab estimated that an 8-percent restenosis rate could translate into 56,000 patients per year, with retreatment costs of more than $15,000 per patient—or more than $800 million a year.

Kassab used his electrical engineering expertise to design a better mousetrap, mindful of the key weaknesses of IVUS. That technology requires some interpretation by doctors of the ultrasound image, making it more subjective.

It also is a two-step process, with its sensors housed on a separate catheter from that used for the angioplasty balloon system that presses the stent into the artery wall. The wires used with IVUS can also be difficult to maneuver through certain kinds of arteries. Measuring flow reserve requires yet another, specific-purpose guide wire.

In contrast, Kassab's device can use standard catheters or guidewires with which surgeons already are accustomed. Lumen-RECON has four tiny wires, or electrodes, running through the center of the guidewire, popping out at the tip.

Two of the wires send an electrical current and the other two measure the voltage difference, to take key measurements of the artery.

The conductivity of electrical current differs depending on the material through which it passes. That holds potential for getting a better idea of the composition of plaque in a patient's arteries.

The electrodes also take measurements as the balloon is inflated and give the surgeon real-time, digital data as to how much to expand the stent.

"It's a more complicated process to interpret what you see from the IVUS image," McConnell said.

Price-point potential

Perhaps the biggest selling point could be on price.

McConnell declined to elaborate, but said the FlowCo device could run roughly half that of the combined cost of IVUS and flow-reserve devices. In the United States alone, there are about 1 million coronary artery interventions annually, plus about 400,000 procedures on peripheral arteries.

Kassab hailed from the University of California, San Diego. He trained under Y.C. Fung, known as the father of biomechanics. Kassab inherited Fung's program in California. IUPUI later recruited him and 14 of his staff. Among local firms involved in the design of the FlowCo product are Catheter Research Inc. and engineering/prototyping firm Priio.•