Duke Energy has dramatically scaled back its proposed "smart" electric grid rollout, five months after regulators
rejected an initial, $445 million plan.
Installation was to have begun early this year toward eventually wiring all of Duke's 775,000 Indiana customers within
six years. Rates were projected to rise upwards of 5 percent to cover the capital costs. Duke had reached its own settlement
with customer groups to form a collaborative to test smart grid applications.
But last November, the Indiana Utility Regulatory Commission declined to approve the settlement, citing doubts that the pilot
collaborative approach would demonstrate long-term ratepayer benefits.
So last month, Duke returned to the commission with a scaled-back proposal to spend $22 million to bring the meters to 40,000
small-business and residential customers in Carmel and parts of Lebanon, Whitestown and Zionsville.

"This more cautious, deliberate approach to smart grid deployment is reasonable
but keeps the company on track to be able to provide this important benefit to all of our customers in a timely manner,"
Jim Stanley, president of Duke Energy Indiana, told the commission last month.
Smart meters enable two-way, digital communication between a utility and a customer's home or business.
The technology could help customers schedule the most power-hungry appliances to run only during times of day when power
is less expensive, for example, among numerous applications.
One of the more interesting pilots of its "SmartGrid" technology that Duke now proposes is residential charging
of plug-in hybrid vehicles.
Duke wants to install charging stations in five homes in its Carmel district, at a total cost of $300,000, according to commission
records.
Each of the five homes would have a 2.5-kilowatt photovoltaic array attached to the roof. Receiving the electricity would
be a bank of lithium-ion batteries—probably in the garage—that would be drawn upon to charge the plug-in car.
Power from the grid could also supplement charging.
Plug-ins puttering this way
Automakers are on the verge of selling the first plug-in hybrids, including the Nissan "Leaf," which
is due to arrive here in small numbers by year-end.
Duke is already participating in an initiative known as Project Plug-in, which includes Indianapolis Power & Light and
is being steered by the Central Indiana Corporate Partnership's Energy Systems Network.
In conjunction with Project Plug-in, Duke plans to provide plug-in vehicles for customers to use as part of the proposed
smart meter pilot. However, Duke doesn't yet know how it will choose the five customers for the plug-in pilot, said
spokeswoman Angeline Protogere.
Just as smart meters are being installed nationwide to help utilities better regulate their loads without adding more generating
capacity, the technology is being looked at as a way to deal with anticipated demand spikes from consumers charging their
plug-in hybrids. Utilities worry that plug-in drivers by the millions could come home from work and charge their cars at roughly
the same time.
Duke officials cited a study by Oak Ridge National Laboratories that said, if all such vehicles were charged at 5 p.m., up
to 160 additional large power plants would be needed by 2030.
Duke's Carmel-area pilot using solar panels could achieve other key goals.
One is to fulfill the desire of many consumers who have said they would prefer to recharge their cars with renewable power,
"in order to drive a completely clean vehicle," Michael Rowand, director of advanced customer technology at Duke,
told the commission.
The vast majority of electricity generated in Indiana is from coal.
Such charging stations also have the potential of increasing sales of hybrid vehicle batteries, with increased manufacturing
volume lowering their cost.
The lithium-ion power banks Duke contemplates also could provide a "second life" application for batteries that
had been powering hybrids but have reached their effective life for in-car use. Even at that point, they still retain up to
80 percent of their energy storage capacity—more than enough to use in charging stations.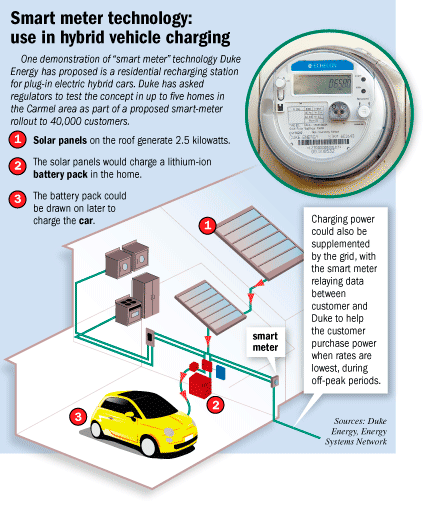 "If these batteries can be repurposed for stationary application, it will
create a residual value for batteries, which could lower the initial vehicle cost while providing to utilities a lower-cost
source for energy storage," Rowand added.
The growth of electric vehicle batteries has particular implications for central Indiana. New York-based EnerDel has facilities
on the northeast side that make batteries for automakers such as Norwegian hybrid-maker Think.
And Nevada-based Altairnano makes advanced batteries for hybrid vehicles and power storage at a factory in Anderson.
Duke's customer groups, including Citizens Action Coalition, have yet to file a response to the scaled-back smart-meter
plan. However, Jerry Polk, an attorney for CAC, questioned whether spending nearly a half-million dollars on a pilot for a
mere five homes could translate into future benefit for Duke's overall customer base.
Polk said he wonders whether an investment instead into a larger-scale photovoltaic generation and battery storage system
for the grid might be better for Duke customers, as a way to reduce strain on the grid during peak load periods.
Other pilots
Other pilot programs eyed for the Carmel area would allow customers to set parameters by which certain appliances
operate, depending on electric prices at a given moment.
Duke cited a study suggesting that customers who participate in time-based rates reduce on-peak consumption up to 6 percent.
Such "critical peak" rates cut peak demand on the system up to 20 percent, according to the study.
Duke proposed a table of "time of use" rates for commercial and residential service to be used during the pilots.
For example, on-peak rates during the summer would be over twice that of off-peak prices.
The utility also proposes an optional "peak rebate" program. Prices would remain at standard rates, but customers
could earn a rebate for load reductions below a base line that reflects their typical power use.
Each of the pilot programs, except for the electric vehicle pilot, would have up to 150 voluntary participants.
Such pilots "are just the beginning of a new future where the customer can become an active participant in his or her
energy consumption instead of just a passive user," said Casey Mather, director of mass-market strategy at Duke's
headquarters in Charlotte, N.C.
Overall, Duke hopes its smart grid will improve system efficiencies and reduce labor costs through remote-reading and by
being able to connect and disconnect service remotely.
Duke told the commission the eventual full rollout of a smart grid could create or retain 500 jobs. Some workers would need
retraining or would be redeployed, but with the opportunity to move into a job classification that pays more money, the utility
said.
A smart grid also can minimize the length of a power outage by more quickly alerting the utility to the problem. Many customers
would be surprised to learn that it's often not until a customer calls to report an outage that Duke knows it occurred,
Protogere said.
The pilot programs aren't set to begin until Duke has installed at least 10,000 smart meters in the Carmel area.
Indianapolis Power & Light previously proposed a pilot to test smart meters and to eventually install them broadly. A
spokeswoman for the utility did not return calls.
Regulatory hurdles
Last summer, Duke reached an agreement with several customer groups for its statewide smart-meter rollout. But the
commission in November said a number of unresolved issues remained involving "overall efficacy and utilization of the
meters" as proposed under the initial proposal.
Without providing assurances of benefits, "Duke Energy Indiana ratepayers will have paid for new smart meters without
fully realizing the enhanced benefits that can be provided by the technology," the commission said in its order.
The Office of Utility Consumer Counselor has not officially weighed in on Duke's downsized smart-meter rollout proposal.
Anthony Swinger, OUCC spokesman, said the state agency that intervenes in utility cases on behalf of utility customers is
"generally supportive of the [smart meter] pilot project that Duke is proposing."•
Please enable JavaScript to view this content.