Conseco Inc. changed its name to CNO Financial Group Inc. on May 11 to mark the company's transformation after a decade of troubles.

The company can't yet claim to be completely free of its past. But it has at least found stability by becoming almost the polar opposite of what it was under flashy co-founder Steve Hilbert, who left the company 10 years ago last month.

Instead of Hilbert's high-octane growth driven by merger deals, CNO Financial has returned to profitability by selling low-dollar-value products and emphasizing low-cost operations.

In short, it's dull.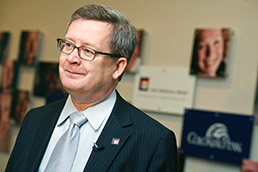 Jim Prieur has returned CNO Financial to profits with a low-key strategy. (IBJ Photo/ Perry Reichanadter)
And that's exactly the way current CEO Jim Prieur wants it. When asked whether Conseco would be more boring and less in the local news, Prieur answered, "We hope so. We hope so."

But whether more calm will produce more cash remains to be seen.

CNO Financial has strung together five consecutive profitable quarters—during a time the biggest names in life insurance lost money. However, the $86 million the company earned last year—on $4.3 billion in revenue—makes for a paltry profit margin of 2 percent.

The company's most similar competitor, Torchmark Corp., posted a profit margin last year of more than 12 percent. Conseco's margin during Hilbert's final, and by no means best, year was 7 percent.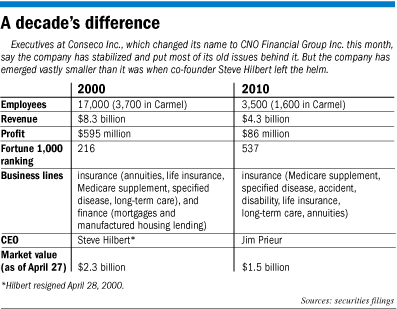 "It's not going to be like the old Conseco," said Randy Binner, an insurance analyst at FBR Capital Markets. in Virginia, noting that CNO has more risk and lower earnings than most of its life insurance peers. "This is just back to being a normal insurance company."

Normal has never described Conseco since its improbable beginnings in 1979.

Hilbert, a former encyclopedia salesman, took his door-to-door shtick around Indiana to raise cash for acquiring life insurance companies—and did it at a time inflation and high interest rates made such an investment look silly.

But Hilbert succeeded and bought two life insurance companies to form Conseco. He stuck to the same strategy for nearly 20 years, rolling up 44 companies in ever-larger deals.

The strategy made sense then. Conseco would gain immediate profits from its acquisitions just by firing the acquired company's managers and consolidating the service operations on its Carmel campus.

Looser accounting rules allowed Conseco to pay for many of its acquisitions using mostly or entirely stock. And interest rates were fairly high, meaning Conseco could boost its profits by getting good returns on its investments.

Conseco posted fantastic stock returns, and Hilbert did one high-profile deal after another. He invested in the Argosy riverboat casino in Lawrenceburg. He partnered with Donald Trump to buy the General Motors skyscraper in New York City. He put the Conseco name on the Indiana Pacers' new fieldhouse in Indianapolis.

Even though Conseco's business was selling products "over the kitchen table" to middle-income Americans and retirees, the company launched a national advertising campaign, tag-lined "Step Up," that made it seem more like high-end life insurers like The Hartford, Prudential and MetLife.

Wilderness experience

What derailed Conseco was its foray into subprime home lending with its purchase of Green Tree Financial Corp. in 1998. Hilbert and his successor Gary Wendt essentially made the same mistake that has now doomed hundreds of banks—lending more and more money to people who can't repay.

Conseco became the then-third-largest bankruptcy in U.S. corporate history with its restructuring in 2003. Hilbert did not return a call seeking comment.

When it emerged, Conseco again set its sights on competing with the big-name life insurers. For three years after its bankruptcy, company executives obsessed with earning an A-level financial strength rating from A.M. Best Co., the most prestigious ratings agency in the insurance industry.

But when Prieur arrived in September 2006, he abandoned the company's drive for an A rating. Ratings are particularly important to independent insurance agents, who pick which companies they represent, in large part based on financial strength. But today, CNO Financial derives only about 10 percent of its sales from independent agents.

Its Bankers Life agents work for that company exclusively. Its Colonial Penn unit sells via direct marketing, such as TV advertisements featuring Alex Trebek. And its Carmel-based Conseco Insurance unit—now called Washington National—gets more than half its sales through a large insurance agency called PMA Inc.—which is owned by CNO Financial.

At the same time, the post-bankruptcy story that Conseco's underlying insurance companies were strong and clean began to unravel.

Prieur began in 2007 to spend millions to shore up Conseco's capital reserves. This was particularly the case in Conseco's blocks of long-term-care policies dating to Hilbert's rapid-fire acquisitions.

The reserve strengthening—as well as restatement of earnings due to poor financial controls—irritated Wall Street analysts and investors. During Prieur's first two years on the job, the company's stock plunged 58 percent.

But the real plunge was still to come. Investors fled Conseco in March 2009 when failures in the financial sector hammered its investments, depressing the company's already-thin cash levels. Conseco's auditor threatened to give the company a going-concern warning, which would have made the company default on its bank loans.

The shares hit a low of 26 cents. But Conseco negotiated looser terms on its bank loans. And last fall, company executives recapitalized the company by selling $301 million in new stock and $293 million in new bonds.

In the eyes of Binner, Conseco survived because of two things it did in 2008. It struck a key deal to shift most of its long-term-care policies to a member-owned trust, overseen by insurance regulators in Pennsylvania. That got most of its money-losing long-term-care policies off its books.

It also settled a multistate investigation with insurance regulators that has allowed it to move forward on raising prices on its older life insurance policies—something Prieur said had been largely ignored for years.

Such price increases—while pleasing to investors—have angered policyholders. CNO Financial faces five class-action lawsuits at least in part stemming from price increases on its life insurance policies.

Passing ghosts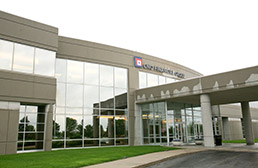 Carmel-based Conseco changed its name to CNO Financial Group on May 11. (IBJ Photo/ Perry Reichanadter)
Those money-losing policies—plus one class-action securities lawsuit from Conseco's pre-bankruptcy days—signal that the past still lingers at CNO Financial.

Perhaps the most visible ghost from the past, Hilbert's mansion, is costing CNO $100,000 a year to maintain while it tries to find a buyer; it's been on the market five years.

Still, Prieur insists the revitalized company is looking to the future.

"We're largely turned around," Prieur said while sipping coffee after the May 11 annual meeting of shareholders. "We're getting down to the point where our [legacy] issues are pretty similar to issues other companies would have."

The atmosphere at this year's annual shareholders meeting was completely different from a year ago. In 2009, disgruntled investors voted activist shareholder Keith Long onto Conseco's board.

But this year, there were no shareholder proposals. The meeting was over in a matter of minutes, with Chairman R. Glenn Hilliard wrapping up by saying, "Thanks for hanging in there for years. This is going to be the premier company that we've all known was there."

But Hilliard and Prieur will have quite a bit more convincing to do. The company's stock still trades at a measly price of about $6 per share—less than half the value CNO Financial could fetch if it simply sold all its assets and paid off all its debts.

Rating agencies, such as New Jersey-based A.M. Best, still have significant concerns about CNO Financial's strength—particularly its investments and the blocks of business it no longer sells, which CNO recently split off into a separate unit called "Other CNO Business."

The agency currently assigns CNO Financial a bB- rating, although it raised its outlook to "stable" in March. Its analysts want to see a string of consistent performance before bumping up their rating.

Binner, at FBR Capital, is looking for the same thing.

"The big hits are over. It's been an exciting couple of years," he said. "It's all about operating now."•