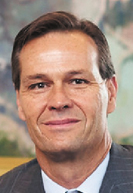 Gov. Eric Holcomb on June 7 named longtime commercial real estate developer Brad Chambers to be Indiana's secretary of commerce, roughly three months after Jim Schellinger abruptly resigned the position after 5-1/2 years.
Chambers, 57, who founded Indianapolis-based Buckingham Cos. in 1984, started officially in July. The position put him in Holcomb's cabinet and made him head of the Indiana Economic Development Corp., the state's job-creation agency.
Buckingham develops, builds and manages mixed-use, multifamily, commercial and hospitality projects. It also operates several real estate investment funds.
"There is no one more qualified to lead our economic development efforts than someone who's been a leader in the business for 35 years," Holcomb said when he appointed Chambers. "Not only has Brad created, grown and expanded his business from the ground up, he's been focused on how his work contributes to making Indiana the best place to invest, work, and live for his entire career."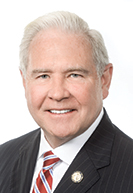 Jim Staton, senior vice president and chief business development officer for the Indiana Economic Development Corp., had served as interim secretary after Schellinger's sudden departure in March.
In a memo to the Indiana Economic Development Corp. board at the time, Schellinger, 60, said he was leaving state government "with the deepest sense of gratitude and joyful satisfaction in my heart."
The announcement came a few weeks after the IEDC, the state's economic development agency, announced it secured 282 business relocation or expansion deals in 2020 that are expected to result in as many as 31,300 jobs. The state said those businesses together plan to invest more than $5.6 billion in Indiana and create jobs paying an average wage of $28.13 an hour.•
Check out more year-in-review stories from 2021.
Please enable JavaScript to view this content.