It's common to hear arts lovers railing against cell-phone ringing (rare but unconscionable), and the light from text
messaging (frequent and frustrating) during live performances. Conversations and candy unwrapping remain high on the list
of audience offenses as well, along with the rambunctious children of overindulgent parents (OK, you made a mistake, now get
the kid out into the lobby.)
But for me one of the biggest annoyances as an audience member—and a problem that doesn't seem to garner much
attention—doesn't have to do with the people out in the seats. It has to do with something seen on stage.
Or, I should say, something that shouldn't be seen.
The problem reared its head most recently for me during Dance Kaleidoscope's production of "Pictures at an Exhibition"
at the Indiana Repertory Theatre (May 20-23).
Before I get to that, let me briefly say that the title piece, a new one from David Hochoy, showcased the most and least
effective aspects of the company, with cringe-worthy superhero silliness sharing the stage with dramatic physical interpretations
of Mussorgsky's music. Thematically, the title piece lost me after the opening sequence, but I don't look for
strong narrative in dance pieces. This time, I found myself more engaged by the exploratory energy of the dancers rather than
by any cohesive choreographic theme.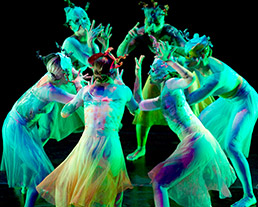 Costuming
and lighting share credit with choreography and dance in the work of Dance Kaleidoscope. (Photo courtesy Crowe's Eye Photography)
"Pictures" was preceded by a revised revival of Hochoy's "Writing on the Great Wall." This
piece was evocative and clear, with long ribbons gracefully incorporated as writing implements and the "text"
seeming to disappear as it was written. The temporal nature of this "writing" connected with the temporal nature
of both the body and of culture itself, made for a thought-provoking first half.
The performance would have been upgraded, however, if there wasn't the distraction—not just of a child and a
few texters—but also of being able to see into the IRT wings during the performance.
Dance and theater are delicate things. Actors and directors and choreographers—in cahoots with lighting, costume and
scenic designers—work hard to create new worlds. Whether that's a realistic kitchen set for a play or an empty
space for dance, place is important.
We accept theatrical conventions of course. We know that, within our view, there are likely to be the heads of people in
front of us, the proscenium arch over the stage, and some dark curtaining to keep the rest out of sight. There might be some
empty space above the set or the bobbing head and torso of a conductor in view.
And if it's an outdoor performance, the expected distractions are multiplied. And we, the malleable audience, allow
for that.
But there's no excuse, from a spot just three seats off a central aisle, to have in-the-wings dancers within sight.
There's no reason for the careful grace of what's happening on stage to be fighting for attention with draped
towels and dancers who have already left the stage.
This is not a problem unique to DK and the IRT stage. I clearly remember watching a play at Lincoln Center in New York with
one hand in front of my face like I was taking an eye test. The goal: Block out the sight of stage hands eating microwave
popcorn in the wings during a show that was set at the end of the 19th century.
When so much work and talent is involved in creating an artwork, I don't think it's too much to ask for someone,
during rehearsals, to pay a visit to the seats beyond the center to get an idea what the audience will be seeing. And to make
adjustments accordingly.
____________
Before I get labeled a curmudgeon, allow me to offer some heartfelt praise to a likely overlooked but much-used performing
arts tangent—the program book for the Indianapolis Symphony Orchestra.
This fairly hefty volume is an asset for a number of reasons, including:
• Like its brethren at other venues, the ISO program provides the basic information on what will be performed.
• Ample space is given to fairly lengthy biographies of the guest artists and conductors.
• The program covers a two-month span, meaning there's information about shows you missed and, more important,
future shows you might be convinced to attend.
• For all but the hardest-core classical fan, there's a lot to learn about the music being performed. And Marianne
Williams Tobias' detailed, clear, insightful program notes are outstanding. At every ISO classical concert I've
attended, her accessible-but-never-trivializing notes have added to my experience.•
__________
This column appears weekly. Send information on upcoming A&E events to lharry@ibj.com. Visit www.ibj.com/arts for
more reviews, previews and blog posts. Twitter: IBJarts
Please enable JavaScript to view this content.