So your kid wants to drag race Mom's minivan—or impress his 16-year-old pals by smoking the tires?

Think carefully, because the "CarCheckup" might be the most powerful vehicle spy device in the world. Teens concerned about losing driving privileges might start asking themselves, as Dirty Harry would say: "'Do I feel lucky?' Well do ya, punk?"

And the recent launch of this new tool of teen terror is all because Jennifer Funkhouser needed to invent a product during her "business meets technology" class at Indiana University—a class hosted by serial technology entrepreneur Scott Jones.

Behold, nine years later, a cell-phone-size device that plugs into the "OBD II" diagnostic port aboard vehicles made since the 1996 model year. Funkhouser's Carmel-based CarCheckup LLC recently began to sell them from its website for $149.97.

Plug it into the vehicle's diagnostic port and leave it there for several days as Junior borrows the car. Remove it, swing out the built-in USB port, and plug it into your home computer. Upload the data to CarCheckup.com.
Funkhouser
Onto the computer monitor appears a plethora of data the device mined from the car's computer for each cycle it was driven. There are speed ranges, graphs of RPM, and numbers on how hard the car accelerated and braked.

The device also captures miles traveled and trip and time duration, a draw for real estate agents and others who are slaves to tracking mileage.

"They have access to their car's brain," said Funkhouser, inventor and CEO. "We like to think of this as a lifestyle tool."

"A lot of Realtors are using the system for business mileage tracking. It's just perfect for them," she said.

Teens might coin another word for it if Funkhouser's snitch device makes market inroads.

Sales so far are a trickle but they're limited to online distribution, with marketing via the usual social networking sites. Ultimately, "We'd like to sell this in a Best Buy" kind of store, she said.

So far, the business itself is modest. A Michigan firm was hired to design the device. It's assembled by a contract manufacturer in Chicago. Funkhouser, who has professional experience in Web- and database design, does coding and programming of the website from company headquarters in the Funkhouser home in Carmel.

To put it another way, her husband, Travis Funkhouser, isn't quitting his daytime IT job at Clarian Health anytime soon. Funding has come mainly from friends.

"We're both geeks," said Jennifer Funkhouser.

Classroom project

That the concept has gotten this far is rather remarkable, given its humble origins and friends-and-family nurturing.

Back in 2001, in her senior year at IU while pursuing a bachelor's degree in media arts and science, Funkhouser had to come up with a concept for Jones' class. Originally, she thought of a device that dispensed spices. Jones wasn't hip on that idea.

So she came up with the idea for a car scanner that plugged into the OBD port under the dash.

"I got an A."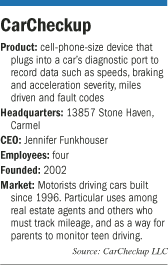 Vehicle code scanners—devices that plug into the onboard diagnostic port and retrieve information about malfunctions detected by a vehicle's computer—were already on the market. But Funkhouser soon figured out that onboard diagnostic ports were spitting out more data than just error codes for a vehicle's subsystems.

The potential beyond simply building a better car code scanner was reinforced later when she thought about the commercialization potential.

A friend introduced her and Travis to Alan Symons, a local businessman whose latest business is AGS Capital, an Indianapolis-based venture fund.

"I looked at them and I said, 'You guys have the steak but you don't have the sizzle. This thing is perfect for parents who want to check up on their kids'" driving, Symons recalled.

Jennifer also seized on the value of retrieving travel mileage for business use.

Local Re/Max Legends Group broker Carole Liszak has been uploading data from the device to her PC. She can enter notes on the purpose of each trip on an IRS-friendly log at CarCheck's website.

"The log verifies my schedule for the same period of time and I have my information for taxes," Liszak said.

Soon, Jennifer and Travis had other ideas, such as marketing it for people to use when they test-drive a used car. The data could come in handy in the buying decision and for negotiating a deal, particularly if the data reveals trouble.

Challenging the mechanic

They're also marketing the device as a better code scanner. Most scanners give a general idea of trouble with a particular subsystem, such as emissions. But the code can point to problems in several components. So CarCheck tapped the expertise of an automotive repair technician to compile an exhaustive list of what could trigger a particular code and put that information in layman's terms on the company's website.

For example, an emissions system error could be triggered by something as simple as a fuel cap not being screwed on tightly. Knowing that could avoid a costly trip to the garage.

Funkhouser said the CarCheckup system can help figure out a particular fuel injector has gone bad. That's ammunition against a mechanic who claims all the injectors needs to be replaced, which is a costly fix.

The company also says the device can harvest information on troubles that are accumulating within a vehicle's computer but have not yet reached the level of flashing a trouble code.

CarCheckup's versatility—going beyond mere trouble codes to data applications for teen driving and business mileage—might give it an advantage in a crowded market for gadgets that plug into the OBD port.

"There are a lot of these devices on the market right now, and they're becoming more popular as time goes on," said Greg Sucher, owner of the Vandalia Auto Clinic and host of "Auto Talk" on WHIO-AM 1290 and -FM 95.7 in Dayton, Ohio.

Sucher has seen devices over the years aboard fleet vehicles. He's even hard-wired a gadget to help siblings monitor the driving patterns of their elderly parents.

Sucher said hard-wiring brings a greater chance of damaging a vehicle's computer. The newer generation that plugs into the diagnostic port "really shouldn't hurt, as long as the unit is a good unit."

One advantage Funkhouser's unit may have is that it doesn't use a cord, but rather plugs directly into the port and nests there. Sucher said units that use wire connectors to the port are at risk of getting caught in pedals, as most OBD ports are mounted near the motorist's knees.

Whether the devices could raise legal issues is another matter.

Might, for instance, another motorist involved in a crash with a vehicle using the CarCheckup seek to acquire the device's data as part of a lawsuit?

Or, perhaps a cynical question, might a teen entertain legal action against his or her parents for plugging the device into the vehicle? Hey, this is post-common-sense America.

Funkhouser shrugs off such concerns. For one, she says the device could be helpful to parents to teach their children.

"We encourage them to look at this as a tool to improve responsibility."

Her own daughter, a 10-year old, isn't buying it.

"She's already asked, 'Are you going to use it on me?'" at driving age.

"I said, 'Yeah, yeah.'"•