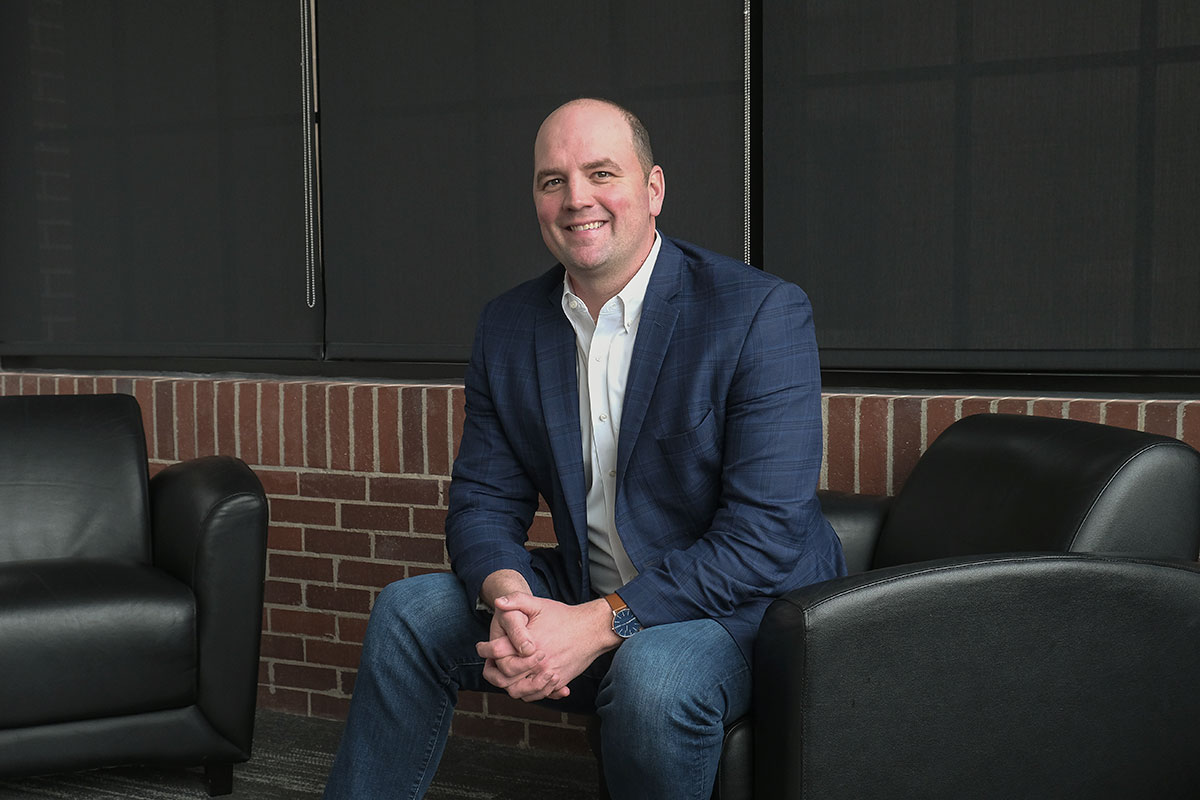 When Scott Fadness was named to IBJ's Forty Under 40 list in 2013, he was helping to prepare Fishers, the town he then managed, to become a city.
That transition was expected to be the end of his job—and his time in the Hamilton County city.
Ten years later, he's now preparing to run for a third term as mayor of the bustling suburb that he describes as the "smart, vibrant and entrepreneurial" city he envisioned when he first ran in 2014.
Fadness, who grew up on the family farm in North Dakota, never wanted to be a politician. He figured he'd be a farmer. But when his family lost its farm when he was a teenager, he switched gears.
He studied political science at the University of North Dakota (he's always liked government and was interested in public policy) then moved to Indiana University in Bloomington for a master's degree in public affairs.
To earn his master's degree, he had to complete an internship, which is what originally brought him to Fishers.
"There was a posting for an internship at the town of Fishers at the time … and I applied and drove up, took the interview with the town manager and got the internship job," Fadness told IBJ. "That's how I got connected to Fishers."
After graduating, he moved to Fishers and worked his way up. He was named town manager in 2011.
About a year later, the town voted to transition to a city government structure that would become effective in 2015. Instead of an appointed town manager, Fishers residents would elect their first mayor.
Fadness and his wife Aunna were prepared to leave Fishers. Fadness would find a town manager job someplace else.

But sometime during the summer of 2013 on a walk with his wife, he proposed a different plan: They could stay in Fishers, and he could run for office. He didn't exactly know what would happen if he lost, but he felt it was a risk worth taking.
"I think I had a clear vision of what I thought Fishers could become, and I just couldn't let go of that," he said.
It was his first foray in politics. Before that, he never claimed a political party or attended a political event. "It was all new to me."
Today, Fadness leads a town of more than 101,000, up from 80,000 when he first became town manager. And Fishers has become home to numerous companies, particularly in the life sciences and technology fields.
Fadness also oversaw a complete rebuild of the city's downtown, now named the Nickel Plate District, which is home to hundreds of apartments, business headquarters, an amphitheater, restaurants and shopping, and the Nickel Plate Trail.
He also brought the first Ikea to Indiana and championed the development of the growing Fishers District, a mixed-use complex on East 116th Street that is home to a variety of restaurants, shops, upscale apartments, a hotel and more. An expansion of the district is expected to bring an event center to the city that will be home to the Indy Fuel minor league hockey team.
In 2022, at one city council meeting, Fishers introduced more than $1 billion in economic development activity that included the district expansion and a $200 million headquarters for Andretti Global.
And yet, there's more Fadness wants to do.
"To build on this momentum and accelerate Fishers further into the future, I will continue to embrace innovation, seize opportunities and lead with bold vision for our city," he said when announcing his reelection campaign.
In addition to seeing some recently announced project get completed, Fadness hopes to continue working on community building, which he's passionate about.
"I don't mean building buildings," he said. "I mean working together to ensure that we have a strong sense of identity here in Fishers and that we're taking care of our people that call Fishers home."
Additionally, he wants to see the Indianapolis area begin working collectively as a region to seek out opportunities and deal with the threats facing central Indiana—collaboration he's been calling for years.•
Check out more Forty Under 40 honorees.
Please enable JavaScript to view this content.