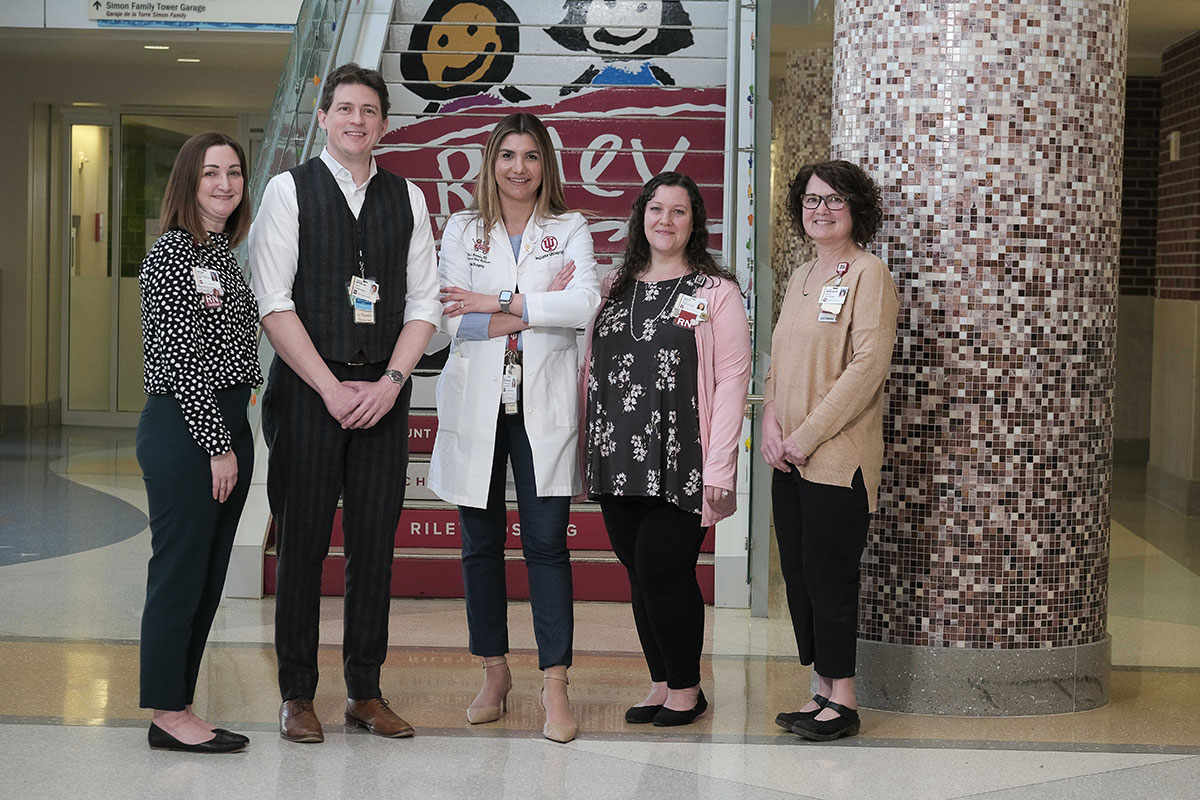 Honoree, Innovations in Health Care
The Fetal Center
Riley Children's Health
Since opening in 2016, the Fetal Center at Riley Children's Health has helped more than 1,700 mothers and their babies through pregnancy complications.
And last year, the center became the first and only fetal surgery program in the state when it performed the first in-utero surgery in Indiana for a complicated twin pregnancy last November.
Dr. David Streitman, a maternal fetal medicine doctor, said that, before Riley began offering fetal surgeries last year, mothers requiring fetal surgery had to travel out of state. The closest fetal intervention centers were in Chicago and Cincinnati. 
The Fetal Center, which is based on a partnership between maternal fetal medicine and neonatology, combines expertise in medical and surgical care for expectant mothers and newborns with state-of-the-art prenatal diagnostic techniques and fetal imaging. The care model is centered around the mother and family by bringing the specialists and the team to the family in one place. Patients are referred to the fetal center by a maternal fetal medicine or an OB-GYN practice when a high-risk fetal condition is suspected or has been found. 
Conditions the center treats include congenital heart disease, spina bifida, twin-to-twin transfusion syndrome, Chiari malformation and more.
The care and support begin at the time of referral and continue through delivery and postpartum follow-up appointments.
The Fetal Center provides multidisciplinary evaluation and counseling from a team that includes maternal fetal medicine specialists, neonatologists, fetal radiologists, fetal interventionalists, cardiologists, urologists, neurologists, neurosurgeons and genetic counselors, among several others. 
"Teamwork, expertise and innovation have repeatedly shown to be the best way to support patients," Dr. Mara Nitu, chief medical officer for Riley Children's Health, wrote in her nomination. "The Fetal Center takes that to heart, bringing together numerous subspecialties to collaborate and develop care plans for the mother and baby."
Since opening in 2016, the center has seen year-over-year growth of about 20% to 35%. In 2022, the center received 470 referrals for evaluations. 
Dr. Brandon Brown, director of fetal and perinatal imaging for Indiana University Health and a founding executive committee member of the center, said the fetal center operated virtually before a structure was built. 
"The idea was that we wanted to bring mothers with high-risk pregnancies to deliver right here in the children's hospital because of the coordination of care that would be possible," he told IBJ. "I think we've done a lot of caring for the weakest and the most vulnerable in the state of Indiana."
The care goes beyond intervention, he said. It's comprehensive to not only treat fetal conditions but also help families navigate a difficult journey. It's logistical planning as much as it is medical planning. Additionally, because IU Health moved maternity services to Riley last year, mothers and their babies can be treated under the same roof, which is somewhat unique for a fetal center. 
"We're able to handle some of the sickest mother-baby combinations you'll ever see," Streitman said.•
Please enable JavaScript to view this content.