The $33.5 million the Capital Improvement Board is providing the Indiana Pacers is merely a Band-Aid that will do little to solve serious short-term and long-term issues facing the team.

The National Basketball Association franchise will likely continue to lose money despite the $10 million in annual aid to operate Conseco Fieldhouse each of the next three years, and the team's escalating cumulative losses have some wondering how much longer team owner Herb Simon will want to shoulder the burden.

Pacers President Jim Morris said before the end of the team's most recent fiscal year that Pacers owners Herb and Mel Simon had lost $200 million since they bought the team for $11 million in 1983. Pacers officials told IBJ the team lost another $30 million during its most recent fiscal year ending June 30.
Simon
Herb Simon bought Mel's share of the team shortly before Mel died in September 2009, and is now shouldering the team's losses alone.

Herb Simon, who, along with Mel, founded the predecessor to retail real estate goliath Simon Property Group Inc., certainly has the financial wherewithal to absorb substantial losses if he chooses. Forbes magazine's 2010 list of billionaires pegged Herb Simon's net worth at $1.1 billion.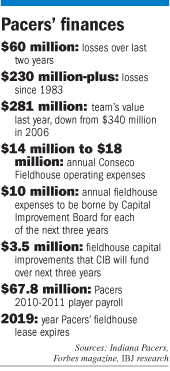 But as the value of the Pacers has declined, from a high of $340 million in 2006 to $281 million in 2009, according to Forbes, Herb Simon, 75, finds himself with a difficult dilemma.

With no heir apparently ready to step up and assume ownership of the team, Simon has to contemplate whether he wants to continue to personally cover tens of millions of dollars in annual losses each year or sell the team.

As the cumulative losses mount and approach the team's valuation, that decision becomes more pressing.

Simon has declined to discuss his long-term plan for the team other than to say he wants badly to keep it in Indianapolis and within the Simon family. Morris echoes that sentiment often.

"Herb Simon is absolutely committed to having the Pacers stay in Indianapolis," Morris said at a July 12 press conference to announce CIB's deal to financially assist the Pacers.

Morris added that while Simon could have found multiple suitors interested in buying and possibly moving the Pacers out of town, he hasn't pursued any of those options.

As part of the new agreement with CIB, the Pacers agreed to repay all or part of the $30 million if they leave before the 2019 expiration of their original Conseco Fieldhouse lease deal. There's also another substantial penalty written into the Pacers' original lease that could cost the team tens of millions more depending on its sale price if the team is sold and vacates Conseco Fieldhouse before 2019.

While those close to Simon agree that the shopping mall development tycoon loves owning the Pacers and being part of the NBA, they admit that the mounting losses are weighing on him—and his family.

One source close to Simon said his wife, Porntip, 41, who spends much of her time in California, has no interest in operating the team, and that none of Herb's seven children would or could shoulder the financial obligations or management responsibilities that come with such a high-profile job.

Simon's two youngest children are still underage and none of his adult children has an active, upfront role with the team. Herb's oldest son, Steve, could be a candidate to succeed his father as team owner. He has served on the Pacers board, but spends much of his time in California where he has run a private equity firm. Even though Steve is familiar with the Pacers' operations, he is less visible in the community than his father and uncle.

The short-term deal the Pacers and CIB agreed to could be a way to give Simon time to determine his long-term plans for the franchise, said Marc Ganis, president of Chicago-based Sportcorp Ltd., which counts several NBA teams as clients.
Lathrop
CIB President Ann Lathrop calls the deal a "bridge agreement," but what it's a bridge to remains to be seen. Lathrop said CIB members have talked to Simon about his long-term plans for the team and his eventual exit strategy, but she declined to divulge details of those conversations.

"The honest answer is, we don't know what's going to happen [in the long term]," Lathrop said. "We don't have a crystal ball. What we do know is that we have an agreement that will keep them here for sure for three years."

There's speculation that Mel's son, David, who is chairman of Simon Property Group, could have the interest in and wherewithal to run the team.

Though he has publicly downplayed his interest in owning and operating the team, David Simon is a rabid sports and Pacers fan who for many years sat courtside vocally cheering for the Blue and Gold. Through a Simon Property Group spokesman, David Simon declined to comment.

His ability to take over the franchise isn't in doubt. He is credited for Simon Property Group's rising fortunes over the last two decades and has clearly demonstrated the business acumen to run the franchise.

The Harvard Business Review this year named Simon one of the world's 100 best-performing CEOs, crediting him with growing Simon Property Group's market value by $18 billion since his tenure with the company began in 1993.

Since David's father, Mel, sold out his half of the team to Herb, David would have to buy the team from Herb or his estate.

But there may be problems facing the Pacers that not even the most business-savvy operator could control.

Lathrop said three primary factors induced a short-term deal: the fragile economy, ongoing negotiations over the agreement that governs NBA players' salaries, and questions about how much tax revenue the soon-to-be completed Indiana Convention Center expansion and 1,005-room JW Marriott hotel will bring into city coffers.

Lathrop is hopeful NBA owners will succeed in negotiating lower player salaries—which in turn would lower the Pacers' costs and put them in better financial standing. She's also optimistic the economy will rebound and that the larger convention center will bring more visitors to the city. That would ratchet up the tax dollars CIB collects—money that could be used for Fieldhouse operations.

But none of that is certain.

"Right now, there are just a lot of unknowns, not the least of which is the NBA's collective bargaining agreement that will determine teams' salary caps," said Mark Rosentraub, a former IUPUI dean and author of two books about professional sports operations and their impact on the cities they call home.

The league cumulatively lost $400 million this past season, according to NBA Commissioner David Stern, and sports business experts said there are a minimum of six teams—including the Pacers—losing eight figures annually and nearing the point where they can no longer stay in business.

Meanwhile, large-market teams such as the Los Angeles Lakers are making tens of millions of dollars in profit. The league owners' agreement with the players union expires July 1, 2011, and already the acrimony between the two sides has begun.

Stern is calling for player salary reductions of 10 percent to 30 percent, while NBA Players Association chief Billy Hunter is putting up strong resistance.

"The fans of the teams and the taxpayers where those [money-losing] teams reside have just as much at stake in these negotiations as NBA team owners and players," Ganis said.

Problem is, the league finances as a whole might not have been as bad as Stern forecasted. Earlier this year, Stern estimated that the salary cap—which is determined by league-wide revenue—would decline from $57.7 million during the 2009-2010 season to as low as $50.4 million in the 2010-2011 season.

But the riches of the rich teams actually pushed the cap up to $58 million, while the league's poorest teams continue to take it in the chops.

Sports business experts expect Hunter to use the league's total financial take as a hammer to keep players' salaries high. Players currently get 57 percent of all revenue from basketball operations. Stern wants to lower that to 50 percent.

"If there's not meaningful change in the league's collective bargaining agreement and players' salaries, there are at least six teams—the Pacers included—who will face some very difficult decisions," Ganis said. "Host cities may have to decide if they want to help fund these teams or let them go."•