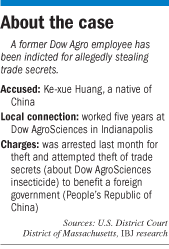 It was an innocent slip, perhaps, caused by Ke-xue Huang's zeal for biochemistry
and prolific publishing in scientific journals.
Or, as the U.S. Department of Justice alleges, the 45-year-old native of China's Hunan province stole trade secrets
of a Dow AgroSciences insecticide and gave them to this nation's arch-economic rival, the People's Republic of
China.
Federal agents arrested the former Dow Agro scientist July 13 in Westboro, Mass., where he has lived since leaving Dow Agro,
the Indianapolis unit of Dow Chemical Co., in 2008. Prosecutors allege the secrets were worth more than $100 million.
Huang was charged under the 14-year-old Economic Espionage Act, which is aimed at those who knowingly target or acquire trade
secrets and knowingly benefit any foreign government or instrumentality.
"The Cold War is not over, it has merely moved into a new arena: the global marketplace," the FBI proclaims on
its website.
According to records in U.S. District Court in Massachusetts, the FBI arrested Huang in response to an indictment returned
in U.S. District Court for the Southern District of Indiana.
The indictment charges Huang with 12 counts of theft and attempted theft of trade secrets to benefit a foreign government.
Each count could carry a maximum 15 years in prison.
Huang was also charged with five counts of interstate and foreign transportation of stolen property.
The Indiana indictment records are sealed. A spokeswoman for U.S. Attorney for the Southern District of Indiana Timothy Morrison
declined to elaborate.
It's unknown whether and to what extent Dow Agro has suffered economic damage due to the alleged theft of trade secrets
related to a new family of insecticides developed in recent years.
Some of the company's insecticides are sold under the names Conserve SC, Delegate WG, Entrust Naturalyte and SpinTor.
It's not clear which potentially are affected by the alleged theft of trade secrets.
Dow Agro said it has been cooperating with federal authorities but declined to comment.
"Under the circumstances, there's nothing more that we feel we can say," said company spokesman Gary Hamlin.
The Dow unit employs 1,200 people locally.

Huang's attorney in Boston, James Duggan, said he believes "the capstone" of the indictment is a paper
Huang co-authored in late 2008, "Recent Advances in the Biochemistry of Spinosyns," published by Hunan Normal
University, in China.
The paper was subsequently picked up in a number of academic journals. One of Huang's co-authors was James Zahn, another
former Dow Agro employee, who is now a scientist at Chicago-area biofuels company Coskata Inc.
Duggan says it's curious that neither Zahn nor the paper's other author, in China, were named in the DOJ complaint.
Calls placed to Zahn's workplace were not returned.
It's not the first paper Huang and Zahn have published related to insecticides. At the end of a July 2008 paper published
in the Journal of Industrial Microbiology and Biotechnology, the following message appears: "We thank Dow AgroSciences
for finical [sic] support."
A search of other scientific papers involving spinosyns and insect control can be found online, authored by various Dow Agro
scientists over the years.
An FBI agent who testified during Huang's bail hearing last month said the evidence also included e-mails Huang allegedly
sent to Hunan Normal University.
While Duggan acknowledges the government may have more damning information in its quiver, "I think they would have
been firing their best fastball" during the hearing if there were more compelling evidence.
Duggan argued at the hearing last month that if Huang were out to steal Dow Agro trade secrets allegedly worth hundreds of
millions of dollars, it would be unlikely he would then publish what he knew in a scholarly journal, for all to see.
"They don't allege anywhere in the indictment that money or favors or considerations passed from anyone to Dr.
Huang," Duggan said.
Susan W. Brenner, NCR distinguished professor of law and technology at the University of Dayton School of Law, noted that
the Justice Department's own manuals for prosecuting intellectual property crimes cases say it can be problematic to
prosecute a person if he actually believed the information wasn't a trade secret after taking reasonable steps to warrant
such a belief.
"Huang might possibly be able to argue here that he didn't realize this was a trade secret" if other employees
of the company published information relating to the topic, Brenner added.
Alternatively, Huang could argue he didn't know the publication of his paper would benefit a foreign government.
"But of course, all that depends on whether or not the case is just based on the [paper]," Brenner said.
One portion of the DOJ manual on "misappropriating" trade secrets defines the issue so broadly that even aspects
such as memorizing information could be used in prosecution.
Economic espionage cases are rare. Boston attorney Joseph Savage Jr., a former federal prosecutor, estimated the government
has prosecuted about 50 of the cases since the mid-1990s.
"The overwhelming number of cases have been purely domestic theft of trade secrets. There have been only six that involved
theft intending to benefit a foreign government," Savage said.
According to court records in Massachusetts, Huang is a permanent resident of the United States and holds Canadian and Chinese
passports. He attended school in China and obtained a doctorate in Tokyo. He moved to Houston in 1995.
A former colleague at Rice University, where Huang did postdoctoral work, remembered Huang.
"He was a pretty straightforward guy, very interested in science and doing the experiments—very technically skilled
… He was a very hard worker. [The federal case] seems strange," said the Rice academician, who asked not to be
identified.
Court records state that Huang spent three years in Houston, then moved to Canada from 1993-2003. Later, he spent about five
years in Indianapolis, at Dow Agro.
The reason for and nature of his departure is not indicated in court records.
Huang spent the last 10 months in Massachusetts, working for the biofuels company Qteros.
Huang is married to Jie Sun, a Chinese national and a Canadian citizen, according to the government. They have two children,
ages 12 and 7. His parents and four siblings live in Hunan province, which he visited twice in 2009.
"Huang has made multiple trips to Shanghai and Beijing, China beginning in August 2008 through January 2010,"
according to court records.
A federal judge in Massachusetts proposed releasing Huang on a $250,000 bond and having him surrender passports and submit
to electronic monitoring. The judge said the "weight of evidence against Huang is strong, but not overwhelming."
However, the District Court for the Southern District of Indiana stayed his release, according to court records.•
Please enable JavaScript to view this content.