An Indiana Utility Regulatory Commission-mandated initiative to help electric customers cut consumption and save money may wind up costing them $65 million more than necessary.

At least that's the claim of Seattle-based R.W. Beck, a consulting firm that lost its bid to administer the commission's so-called Demand Side Management program.

The commission's DSM initiative outlined common programs utilities must create, such as home energy audits and incentives for more efficient lighting. A third-party administrator, which the commission is expected to sign off on by year-end, will oversee and coordinate those programs statewide in 2011-2013.

R.W. Beck, in an e-mail sent to IURC Commissioner David Ziegner, asserts that it bid $120 million to be the DSM administrator while competitor GoodCents Holdings, of Atlanta, bid $185 million—$65 million more.

The bid amounts could not be independently verified. The commission has declined to make bids public while a contract is negotiated with the winning bidder, GoodCents.

"I … was astonished to learn of the significant discrepancies between the price submitted by R.W. Beck and that of GoodCents," James Gariepy, vice president of business development at Beck, said in an e-mail to the IURC's Ziegner.

Gariepy alleges most of the difference between his firm's bid and that of GoodCents comes down to additional administrative costs sought by his competitor.

"What is Indiana going to get for the additional $57.6 million in administrative costs?" Gariepy's e-mail asked.

Gariepy declined to comment about the e-mail, other than to say he has not received a response from the commission.

But R.W. Beck isn't the only party crying foul. The Indiana Industrial Group, which represents six of the biggest users of electricity in the state, said a committee—made up primarily of electric utility executives—that the IURC charged with recommending a third-party administrator used "subjective" criteria in giving the nod to GoodCents.

"Inefficiency, in the name of energy-efficiency, is a vice," said Jack Wickes, a partner at Lewis & Kappes, which is representing industrial ratepayers. They are Haynes International, International Truck & Engine, National Starch & Chemical, Praxair Inc., Rolls Royce Corp. and USG Corp.

Not selecting the low-cost bidder means that consumers, particularly large ones, face increased costs to pay for programs many of them will not be able to use because they have already implemented similar, off-the-shelf energy-saving measures, said Lewis & Kappes attorney Jennifer Terry, in a filing with the commission.

"It is all good and well for the utilities to support the selection of a higher-cost provider when they are footing the bill. [But] the failure to minimize costs of these ratepayer-funded, commission-directed programs violates Indiana law," the filing said.

The committee said it selected GoodCents based on a matrix that also considered factors such as a bidder's qualifications, experience, work and technical approach.

It further countered the industrials' argument about rules pertaining to selecting the lowest-price bidder, saying Indiana procurement law is not applicable in this case, as the industrials contend.

"This RFP was not like bidding for a road project with detailed specifications of the materials to be used and the thickness of the surface. The RFP afforded bidders flexibility to achieve the energy savings and staff the project," wrote Jeffrey Reed, chairman of the committee and an attorney for the Indiana Office of the Utility Consumer Counselor.

Also on the committee is Citizens Action Coalition, which often intervenes on behalf of ratepayers.

Asked why the CAC would give the nod to a contractor seeking $65 million more—an amount utilities will eventually pass on to Indiana electric customers—Executive Director Grant Smith said the ability to perform was another of several considerations that affected the decision.

"I think Beck is taking this completely out of context," Smith said, citing confidentiality issues in declining to elaborate.

Beck's Gariepy told Ziegner that his understanding is that the committee did not think his firm could deliver on certain efficiencies based on its pricing. But, he said, "to make this assumption without entering into discussions or negotiations is negligent and a disservice to Indiana ratepayers."

Beck runs energy conservation and efficiency programs for utility companies, such as First Energy Ohio, First Energy Pennsylvania and Ameren Illinois.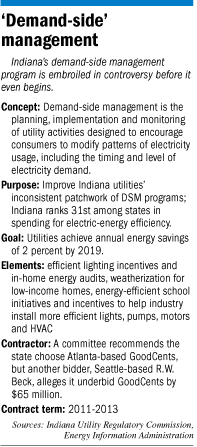 The industrial group is arguing Indiana's procurement law should not be ignored just because the commission, technically, is not expending public funds in seeking a third-party administrator for the DSM program.

"In this context, there is little difference, the [conservation] programs will be fully funded by ratepayers."

Energy-intensive industrials have been among leaders in implementing conservation measures to improve the bottom line. When the commission started considering a more aggressive, coordinated energy-efficiency program six years ago, the industrials argued they should be excluded from taking a double hit to pay for efficiency.

"We can't opt-out. We have to pay for them. Then to add insult to injury to this, we have to pay a premium," Wickes said of the higher bid of GoodCents.

He said utilities on the committee have no skin in the game and predicted they would quickly act to get commission approval to tap ratepayers for their costs for the state-mandated energy savings programs.

Sure enough, the state's utilities last month filed paperwork to get the ball rolling on recovering from ratepayers the costs of paying for the third-party administrator contract.

Gariepy in his e-mail to Ziegner even referenced "all the recent issues at the IURC," referring to an ethics scandal this fall that resulted in Gov. Mitch Daniels' firing IURC head David Hardy.

The administration says Hardy was aware that then-administrative law judge Scott Storms was talking with Duke Energy about a job while at the same time presiding over Duke Energy's ongoing case involving its Edwardsport coal gasification plant.

"I believe you have a responsibility to ratepayers to make the right decision," Gariepy wrote.

GoodCents works with 15 investor-owned utilities, including Pacific Gas & Electric, and 19 electric cooperatives, according to the committee. The firm has also done work previously for Indianapolis Power & Light and Duke Energy Indiana.

GoodCents plans to establish four offices in Indiana to manage energy-efficiency programs for utilities. It proposes creating a call center to interact with electric customers about various programs, ranging from more efficient lighting to in-home energy audits, to show them how to save electricity.

The contractor would also handle marketing and establish branding to drive greater consumer interest in efficiency.•