Rosenthal
The stock market's recovery has lifted endowments that provide major support to local arts groups, but managers are keeping the conservative attitude they were forced to adopt two years ago.

"We're not counting on it," Conner Prairie CEO Ellen Rosenthal said of the endowment that provides more than half the living history museum's income. "We are being as entrepreneurial as we possibly can."

Through Dec. 27, the S&P 500 had risen 86 percent from its March 2009 low, leaving it 20 percent below its October 2007 peak.

Conner Prairie's endowment has increased about 18 percent, to $85 million, since the bottom of the trough. (That's after drawing down funds for operations.) Most other cultural groups' endowments have seen a similar recovery.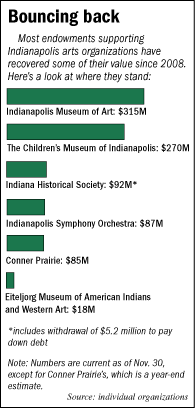 Though some managers are optimistic about continued growth, they're learning to live without easy endowment income.

Not-for-profits typically draw a set percentage annually from their endowments, which are valued using a 12-quarter rolling average. That means the huge losses of 2008 and early 2009 will affect their budgets at least through 2012.

The Children's Museum of Indianapolis CEO Jeffrey Patchen was glad to see cars backed up on Meridian Street in the week after Christmas—because it means paid attendance revenue. The museum exceeded its target for 2010 with 1.15 million visitors.

"It's been a good year," Patchen said. "We're going to have to do that for 2011 and 2012 as well."

Similarly, Conner Prairie is counting more on new exhibits, such as the balloon voyage that opened in 2009 and a Civil War experience slated to open in June, to drive attendance.

The Children's Museum's endowment reached $270 million by Nov. 30, after hitting a low of $210 million in the first quarter of 2009—a 29-percent rebound.

But Chief Financial Officer Andy Bawel said investment advisers have told him not to expect more of the same. The advisers don't anticipate annual returns of more than 6 percent.

That's partly because, in the wake of the financial crisis, the museum began moving its portfolio away from alternative investments, such as private equity and real estate. Those classes have rebounded along with traditional stocks, but pose the additional risk of being difficult to get out of quickly.

Considering the endowment provides nearly half the Children's Museum's $25 million budget, Bawel said liquidity is his first concern.

"One of the lessons of the crisis, given how steep losses were, it put a big premium on liquidity," said Jeffrey Stroman, managing director at Oxford Financial in Carmel.

Stroman and other money managers said they don't think the recent rally will last.

"Inflation, housing, unemployment—all these headwinds are still major barriers and why we're still cautious," he said.

Greg Hahn, president of Windsor Capital Management, added: "We're going back to a position where we have shorter business cycles," he said. "We're due for a downturn in 2012."

John Vanausdall, CEO of the Eiteljorg Museum of American Indians and Western Art, is aware of those predictions, but is more optimistic.

But even if he's wrong, Vanausdall thinks the staff and other budget cuts he made in 2009 will suffice for the next two years and beyond.

"We've gotten smaller, and we'll be prepared to weather that again," he said.

The Eiteljorg's relatively small endowment reached $18 million by Nov. 30 after dropping to around $13 million in the first quarter of 2009.

A sustained market rally won't be enough for the Indianapolis Symphony Orchestra. Its endowment reached $87 million by Nov. 30, an increase of just 3.6 percent since the end of 2008.

Before the financial crisis, the ISO was drawing income at a rate of 8.9 percent. That's now down to 7 percent. Spokeswoman Jessica DiSanto said the ISO's goal is to take the draw rate down to a sustainable level of 5 percent.

Money managers consider anything about that level risky, since the withdrawals quickly eat into principal in the event of low or negative returns.

The ISO will ratchet back its endowment draw as the market improves and as it replenishes the fund through a planned $100 million capital campaign.

The Indianapolis Museum of Art also is tapping its endowment at a high rate. The IMA draws 7.3 percent for general operations and 5.5 percent from restricted funds, such as the Miller house in Columbus, Ind., and 100 Acres.

The endowment draw is providing $14.4 million this fiscal year, which ends June 30, or 68 percent of the $21.2 million budget.

Spokeswoman Katie Zarich said the IMA's goal is to reduce its draw rate for general operations to 5.5 percent by the 2016 fiscal year. CEO Maxwell Anderson has said the museum also is planning a capital campaign to bolster the endowment.

The IMA's endowment, the largest among local cultural organizations, rose 18 percent from the first quarter of 2009, to $315 million on Nov. 30.

Zarich said the IMA is hoping for more growth to balance the very low quarters, which will figure into its budgets through 2013.

Stroman at Oxford Financial noted that, even after leaving the bleakest quarters behind, the not-for-profits will be drawing from endowments worth substantially less than their 2007 peaks.

"It just continues to have this lingering budgetary impact," he said.•