Purdue University chemist Arun Ghosh was getting a cool $100,000 a year from a Bay Area biotech company to consult on its experimental Alzheimer's medicines, which are based on his research.

But then California-based CoMentis Inc. sued Ghosh and Purdue for using its trade secrets to develop similar drugs and get them patented as their own.

Now the three parties are locked in contentious litigation that shows no signs of ending soon. In January, a federal judge in Lafayette declined Purdue's request to dismiss CoMentis' claims of breach of contract and misappropriation of trade secrets. Fraud claims against Ghosh, if argued more clearly, could also move ahead, the judge ruled.

The case points up a down side to the success Indiana's research universities have had turning their research into revenue: Large legal bills can eat much of the money.

Purdue has been taking it on the chin on the legal front the past two years, paying out to its lawyers more than 40 percent of the income it receives from licensing technology to outside companies.

Purdue is not alone. In 2009, all major American research universities paid out more than $1.3 billion in legal fees and litigation settlements—more than half the $2.3 billion they derived from their licensing activities, according to the most recent data compiled by the Illinois-based Association of University Technology Managers.

"There is more litigation out there," said Mark Long, the former director of technology transfer activities at Indiana University, who now runs his own consulting firm for universities. "Companies sue whenever research gets close to their intellectual property."

Most years are not as bad as 2009 was. And most universities are bleeding far less than Purdue is to lawyers. But as more and more universities have tried to turn their research activity into intellectual property and then into income, legal costs have grown apace.

"You still have to protect your inventions and your portfolio for the future," said Robin Rasor, president of the Association of University Technology Managers. She added, "Should we not protect them, we would not in many cases have anything to sell."

In 2009, the Purdue Research Foundation, which handles all of Purdue professors' patent work, racked up a legal bill of $1.76 million, according to the most recent figures the university has reported to the Association of University Technology Managers. That represented a 42-percent chunk out of the $4.2 million Purdue received from licensing its technology to other companies.

Most of that money went to Lafayette law firm Stuart & Branigan LLP, which handles all the university's patent work. Purdue officials declined to comment for this story.

Messages left for attorneys representing Purdue and Ghosh were not returned. Ghosh did not respond to a request for comment.

Purdue's expenses have been markedly higher the past two years than in most of the past decade. But Purdue has typically run legal tabs higher than national averages.

Among all universities surveyed by the technology managers association, about 15 percent of licensing income went to pay legal bills in 2009—not counting money collected or paid out in litigation settlements.

IU's legal bill that year totaled just 6 percent of its licensing income of nearly $6 million—even though IU's bill was in Purdue's range a decade ago.

Nevertheless, legal work to protect its intellectual property is getting even more attention at IU. In January, the Bloomington-based university system hired its first in-house patent lawyer to manage its patent portfolio.

Legal fees "are proportional to the rise in commercialization and is part of the cost of business," according to Rebecca Carl, director of operations, planning and communications in IU's Office of Engagement, which oversees the university's tech transfer activities. "An increase in commercialization is our goal, as that increase at IU ultimately benefits Hoosiers, the U.S. and the world."

Stepping up tech transfer

Turning university-based research into business products has been around for decades. Back in the 1960s, for instance, Indianapolis-based Stokely-Van Camp licensed the formula for Gatorade from researchers at the University of Florida.

But the trend really picked up after Congress passed the Bayh-Dole Act in 1980, which said universities retained the patent rights to discoveries that were made using federal research grants.

Since then, universities have made billions from their professors' research, which is signed over—though not without some compensation—to the schools as part of the professors' employment agreements. Stanford and Columbia universities and the Massachusetts Institute of Technology, especially, have built up huge revenue streams this way.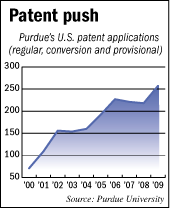 IU and Purdue were latecomers to the party, but in the last decade have ramped up their efforts to patent professors' discoveries and license them to outside companies or help professors launch their own companies.

The effort has produced marked results. Patent applications more than tripled between 1999 and 2009 at both universities, reaching 124 at IU and 263 at Purdue.

Those efforts are beginning to bear fruit. West Lafayette-based Endocyte Inc., which is developing cancer drugs based on a Purdue professor's research, recently staged an $86 million initial stock offering. And Carmel-based Marcadia Biotech Inc., which develops diabetes drugs based on IU research, sold itself to Switzerland-based Roche for up to $537 million.

"Getting these technologies that are developed by our faculties out into the marketplace, we create these startups that often stay in our communities, that then create jobs," said Rasor, the president of the university technology managers association.

Complicated relationships

Ghosh, the Purdue chemistry professor, is exactly the kind of star researcher the university has been looking to promote. He leads a team of roughly two dozen graduate research students trying to see if certain drug molecules show promise for treating Alzheimer's, AIDS or cancer.

Ghosh earns $144,000 a year—before his consulting agreement with CoMentis, according to a database of salaries for state personnel.

It's not clear how much Purdue was receiving from its licensing agreement with CoMentis, since on the copy filed in the federal court in Lafayette, the financial portion of the agreement has been redacted.

Nevertheless, royalty income from a company that developed the first successful Alzheimer's treatment would be enormous. Wall Street analysts estimate a successful treatment could net $5 billion a year in sales.

Ghosh designed a molecule that could block the function of a key enzyme involved in the production of brain plaques that researchers believe are the cause of Alzheimer's disease.

In 2001, he worked with scientists who discovered the enzyme to form a company called Zapaq Inc. to commercialize a drug for Alzheimer's patients. In 2006, Zapaq merged with California-based Athenagen Inc., which changed its name the next year to CoMentis.

Ghosh was in the middle of a complex set of relationships. As an employee of Purdue, he signed over all intellectual property rights to his research discoveries. Purdue then licensed his potential Alzheimer's treatments to Zapaq (later CoMentis).

Then CoMentis hired Ghosh individually—not as an employee of Purdue—as a consultant on those medicines. Their agreement also gave CoMentis rights to license any technology developed by him in his consulting capacity and using information gained from his consulting. He was given monthly progress reports from CoMentis detailing confidential information about the drugs' development.

Such three-way relationships are common for university researchers these days, said Long, the former head of IU's tech transfer organization. Universities require professors to turn in regular reports—often quarterly—detailing any work they're doing with outside companies.

"That's why universities have very strict conflict-of-interest policies and disclosure policies," said Long, whose consulting firm, called Long Performance Advisors, is based in Ellettsville.

According to court documents, Ghosh and Purdue moved to patent two new drug molecules that were of the same class as those licensed to CoMentis.

In early 2009, Ghosh mentioned casually to CoMentis' vice president of medicinal chemistry, Geoffrey Bilcer, that he was working on similar molecules on his own. Purdue then offered to sign an additional licensing agreement with CoMentis for the new molecules, but on far less favorable terms to the company, according to CoMentis.

Negotiations stretched into October 2009, leading to a letter of intent to license between Purdue and CoMentis. But then Purdue delayed signing the letter, prompting CoMentis to sue for breach of contract.

When Purdue successfully received patents on Ghosh's new drugs, and the details of the molecules became public, CoMentis sued Ghosh for fraud, saying his new molecules were "derived from" confidential information Ghosh gained from his CoMentis consulting work.

"Dr. Ghosh knew his representations were false or made these representations recklessly without knowledge of their truth or falsity," wrote CoMentis' lawyers in court documents.

Federal judge Philip Simon dismissed CoMentis' fraud claims against Ghosh for not arguing specifically enough how and where he made false representations about his work, and how he stood to gain by inducing CoMentis to sign a new agreement with Purdue on less favorable terms.

But Simon will allow CoMentis to re-plead its arguments—keeping the lawyers still working.•