Shares of for-profit school operator ITT Educational Services Inc. have fallen so far—more than 40 percent since April 2010—that some on Wall Street are speculating management will take it private in a leveraged buyout.

The company has most of the ingredients LBO specialists love—in particular, it throws off tons of cash and is wildly profitable. In 2010, the company earned $374 million on $1.6 billion in revenue, a profit margin almost any corporate titan would envy.

Yet there's another camp that believes the thrashing ITT investors have taken since the federal government unveiled a tougher regulatory scheme for for-profit schools a year ago is only the start.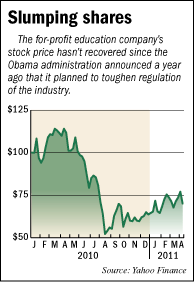 The stock, down from $122 to $67 in 12 months, may go to $45, said Bradley Safalow, CEO of the independent New York investment firm PAA Research LLC.

He's not alone in thinking the company's incredible run has come to an abrupt end. The sharp drop in the stock price already has knocked more than $1.5 billion off the company's stock market value. If the shares fall as far as he thinks, another $350 million will evaporate.

Many of ITT's rivals in the $33 billion for-profit college industry have taken a similar beating as Washington cracks down on practices that have fueled explosive enrollment growth but also left many students with more debt than they can handle. Critics say the industry has used aggressive marketing to lure in unsuitable students, with federal student loan programs shouldering most of the losses when they default.

And bearish analysts say the comeuppance might be especially severe at ITT, in part because its tuition is among the most expensive. Students at ITT Technical Institute pay about $23,000 a year. ITT graduates who are able to land jobs, meanwhile, start out at an average of $31,600 a year, ITT says.

Rapid enrollment growth has caused profit margins to soar in recent years, since the costs of operating campuses are mostly fixed. But that same reality would cause profit to fall rapidly when enrollment declines, Morgan Stanley analysts Suzanne Stein and Gregory Jonas said in a report.

While Stein and Jonas said they believe ITT will be "savvy when dealing with new regulations and market dynamics, we view the fixed cost headwinds and student quality issues the company faces as too high [hurdles] to overcome."

The Morgan Stanley analysts project that shares will fall to $55, but under their most bearish analysis, the stock could fall as low as $28.

The biggest immediate challenge for the industry is new federal "gainful employment" rules that threaten to restrict or end federal student loans at for-profit colleges that have too many former students not paying down their debts. The industry this month failed to negotiate language into the budget deal struck by Congress and the Obama administration that would have blocked the regulations.

The industry also is bracing for a change coming in fiscal 2012 in how schools must calculate compliance with the so-called 90-10 rule, which mandates that no more than 90 percent of schools' revenue come from federal student loan programs.

Starting that year, loans that companies make from their own balance sheet count toward the 90 percent. ITT is in a better position than most to weather the change because of an off-balance-sheet loan program it set up during the height of the financial crisis. But analysts say the thinly disclosed arrangement carries its own risks that might not be readily apparent to most investors, including the potential that ITT would be on the hook for more than $300 million in losses if defaults are higher than expected.

Safalow of PAA Research said that, because ITT guarantees those losses, it would be less able to take on additional debt that would be required to pull off a leveraged buyout.

He thinks ITT's for-profit rivals might be in a better position to pull off LBOs, but private-equity sponsors of such deals probably won't be willing to pull the trigger on transactions until earnings bottom out, most likely in 2013.

The adjustment period likely will be especially painful for ITT, which must become cheaper to give students a better return on their educational investment, Safalow believes. He said more and more of ITT's students have to devote more than 20 percent of their gross income after graduation toward paying off student loans.

"We expect the ultimate solution to [ITT's] structural problems will be a significant tuition price cut," he said in a report. "Whether it comes from the company itself without provocation or as a result of government regulation, in our view the company's current tuition policies are simply unsustainable."•