When Chicago-based CEOs for Cities visited Indianapolis in October, the group of urban leaders was at once dazzled by Monument Circle and puzzled by its apparent under-use.

"Sometimes you don't appreciate what's close to home," said Carol Coletta, president and CEO of CEOs for Cities. "[Monument Circle] isn't animated or as vibrant as it ought to be."



With that predicament in mind, this month jurors for the Monument Circle Idea Competition will convene to choose three winning proposals for future use of Monument Circle. The winning suggestions, which could address any combination of design, programming or traffic management issues, are to be considered in the Department of Public Works' preliminary concept for future implementation.

In anticipation of what these ideas could look like, IBJ gathered advice from local and national experts about what should be done to improve the city center and where the city should look for inspiration.

Brad Beaubien, director of the College of Architecture and Planning at Ball State University, said there is a dearth of pedestrian activity on Monument Circle due to the nature of the ground-level businesses surrounding it.

Lobbies of Chase Tower, WellPoint Inc. and Emmis Communications Corp. alone take up nearly half the circle's ground-level space.

Experts who aren't so close to home agreed with Beaubien's comment, but think there are other issues to be fixed.
IBJ.COM EXTRA
To see a map of Monument Circle's current layout,
click here.
David Dixon, principal for planning and urban design at Goody Clancy in Boston, explained that Monument Circle is still embedded in the age in which it was created. When the Soldiers and Sailors Monument was erected during the City Beautiful Movement of the late 19th century, it was meant as a place-making decoration, something to be looked at but not touched.

"Public spaces have a new purpose, to bring a sense of shared community and destiny," he said. "The space needs to engage people rather than just offering somewhere to go."

Citing the iconic bean sculpture in Chicago's Millennium Park, he said human interaction is key—some fusion of light, water, music and retail.

"All of these elements are meant to make the circle function more as a neighborhood square than a traffic artery, a place where the pedestrian becomes almost more important than the vehicle," Dixon said.

However, he doesn't suggest closing the circle to vehicular traffic, at least not all the time. He said it's important that the circle take on different personalities at different times of day. For example, a commuter circle in the morning and a market in the afternoon.

To some, the call for ideas seems to imply Monument Circle is lacking a certain something, as cities like New York have conducted similar competitions to plan places like High Line Park, a former abandoned railroad track.

But James Howard Kunstler, Saratoga Springs, N.Y.-based author of "The City in Mind: Notes on the Urban Condition," said the circle is fine as it is, design-wise. Or rather, there's nothing to be done in that regard, as he said design mistakes were made 30 years ago when "abortion buildings like the Chase Tower" were constructed.

"The blocks around the circle are filled with glass boxes completely undistinguishable and not meaningful, so I can see how people would confuse that with the circle being problematic," he said.

To increase activity on the circle, he suggested investing in the area around it to create more residential space. This could include offering tax incentives to developers to adapt old buildings to affordable and appealing downtown living.

"Until the whole district gets more lively, with more people downtown at any hour of the day, this programming issue with the circle will persist," he said.

As far as the circle itself, he suggested altering the city's bylaws to require a minimum of windows on the ground level and an entrance every so many feet, to inspire more retail and more activity.

Roy Strickland, director of the master of urban design program at the University of Michigan, compared Monument Circle to Campus Martius in Detroit, an oblong roundabout, in that it has the power to bring people downtown who normally wouldn't travel there.

Wireless Internet, several cafes, a park and a seasonal ice skating rink draw suburban dwellers to what's been nicknamed "Detroit's Gathering Place."

Strickland said water is key; the sight, the sound and the touch of it all tend to put people in a good mood.

In terms of design, he suggested minor modifications to the buildings surrounding the circle to include more flags and to make them more mixed-use, "even if the architecture isn't so great."

"The color and movement of flags create character that can be just as important as the architecture, whether they're in front of buildings or jutting from them. "

CEOs for Cities' Coletta acknowledged there's a lot of inspiration to be had by looking at what other cities have done with their public spaces, but she said with the help of the Monument Circle Idea Competition, Indianapolis can come up with something unique.

"Monument Circle looks like something from a dream," she said. "I don't think there's anything else quite like it, and therein lies the challenge."•
Views of other esteemed plazas
Monument Circle has much to recommend it, some experts say, but it also could use dashes of inspiration from elsewhere to bring it to its potential. Here are a few examples of public spaces that give people an excuse to linger and enjoy, rather than just visit.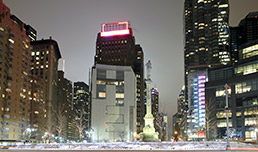 Columbus Circle, New York City (Photo/Shutterstock)
Columbus Circle, New York City
The point from which all official distances to New York are measured, Columbus Circle is as much a tourist attraction as it is a hub of commerce, entertainment, natural beauty and consumerism. Surrounding the circle are such city treasures as Central Park, Time Warner Corp. and Museum of Arts & Design. Fountains designed by the firm that designed the famous Fountains of Bellagio in Las Vegas were added in 2005.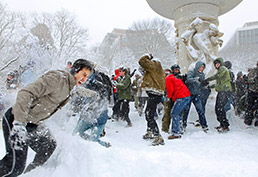 Dupont Circle, Washington, D.C. (AP Photo)
Dupont Circle, Washington, D.C.
The Official Dupont Circle Snow Ball Fight, pictured above, drew more than 3,000 people on Feb. 6, 2010. The traffic circle, which has a main thoroughfare in a tunnel beneath it, has achieved a balance of vehicular and pedestrian traffic. The park and fountain at the circle's center are home to chess tournaments and political rallies. Surrounded by a neighborhood, Dupont Circle is a logical meeting place for the proximate residents.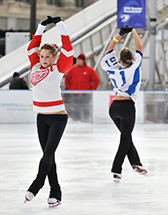 Campus Martius Park; Detroit. (AP Photo)
Campus Martius Park; Detroit
To commemorate Detroit's 300th anniversary, then-Mayor Dennis Archer implemented a revitalization of Campus Martius Park, an oblong roundabout where two of the city's main streets (Woodward and Michigan avenues) meet. Visitors enjoy free WiFi, an ice skating rink in winter, a central fountain and two retractable stages that rise out of the pavement for various performances.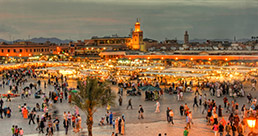 Jamaa el Fna; Marrakesh, Morocco (Photo/Shutterstock)
Jamaa el Fna; Marrakesh, Morocco
The main public square in Marrakesh isn't surrounded by exquisite architecture, but the vast plaza buzzes with activity. Daylight hours host fresh orange juice venders, performers and snake charmers, while evening hours bring dozens of food stalls. Myriad cafes flank the plaza for those who'd rather watch the action instead of take part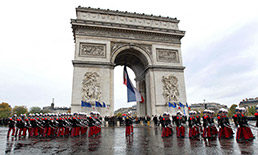 Place Charles de Gaulle (Arc de Triomphe); Paris, France (AP Photo)
Place Charles de Gaulle (Arc de Triomphe); Paris, France
The meeting place of 12 straight avenues, Place Charles de Gaulle is such a busy traffic artery that pedestrian access to the Arc de Triomphe and the surrounding plaza is achieved with an underpass. Unlike in Indianapolis, the traffic circle is still surrounded by centuries-old buildings low enough to let the Arc remain the focal point from a distance.