Indiana senators and representatives debated a wide range of bills with significant business implications during the 2011 session of the General Assembly, which wrapped up April 29.
Below is a roundup of key measures:
Online retailers
The state's retail lobby had urged state lawmakers to tax online sales—a move they said would net Indiana close to $300 million per year in much-needed revenue and create a fairer competitive environment for brick-and-mortar stores.
The push didn't result in a law this session. But lawmakers did add language to the budget bill that requires the state to publish information on its website informing residents that they are required to pay taxes on any item they purchased, including Internet or catalog purchases.
Some lobbyists say that could set the stage for a larger discussion about the online sales tax policy leading up to the process of crafting the next two-year budget in 2013.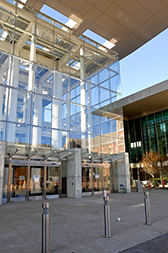 The Capital Improvement Board failed to get language added to a gun-rights bill that would have excluded the Indiana Convention Center. (IBJ File Photo)
Gun rights
A bill approved by lawmakers will restrict Indiana's cities and counties from limiting gun possession by those who carry permits.
The measure permits local governments to ban guns only from buildings that house courtrooms. Ordinances banning firearms from other buildings, such as libraries, wouldn't be allowed.
The Capital Improvement Board, which runs the Indiana Convention Center and Indianapolis' professional sports venues, had hoped to get an exemption for its facilities.
The National Football League (and the Indianapolis Colts) could continue to ban guns at games, however, and convention promoters could put bans on guns into their contracts.
Supporters said the bill was meant to provide equal regulation across the state for those with permits to carry guns.
Local government reform
The most aggressive bills to overhaul township government died early in the session, but a few measures remained in play until the last days.
One, which would have put in place anti-nepotism provisions for local elected government officials and employees, was rejected by the House. Another, which would have reformed township government in Marion County, died in the Senate. A third, which would have subjected township budgets to approval by county fiscal bodies, failed to get a second reading in the Senate.
Municipal bankruptcy
A measure that would have allowed financially distressed local government units to seek help from the state and, if necessary, file for bankruptcy, died late in the session.
Sen. Ed Charbonneau, a Valparaiso Republican who wrote the bill, said he wanted to make sure cities had the option of seeking bankruptcy—as they do in 27 other states—in case they need it.
The bill passed the House and Senate, but lawmakers who met to reconcile differences between the two versions couldn't reach an agreement.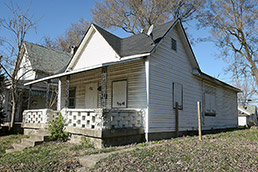 The banking lobby helped defeat a bill holding lenders responsible for upkeep on foreclosed properties. (IBJ File Photo)
Care of foreclosed homes
A bill that would have made mortgage lenders responsible for properties after borrowers have surrendered them or banks have filed for foreclosure died after failing to receive a hearing in its committee.
The measure, which was written by Rep. Phil Hinkle, an Indianapolis Republican, received strong support from government officials, who say they are overwhelmed by the cost of keeping up foreclosed properties. But it was strongly opposed by bankers, who said they shouldn't have to pay the cost of maintaining them.
Bank deposit fund
The banking industry entered the session fearing that Gov. Daniels would tap the $250 million Public Deposit Insurance Fund to help balance the general fund.
Legislators ultimately didn't raid the fund, but they did give the state an extra 10 years to repay $50 million that the state borrowed from the fund in 2003.
Because banks didn't agree on a deal to forgive the loan altogether, lawmakers exempted banks from reaping the benefits of a corporate income tax cut they approved for other industries.
Utility regulation
A controversial bill that allows utilities to quickly pass to ratepayers the cost of so-called clean-energy projects was awaiting Gov. Mitch Daniels' signature.
The measure would allow utilities to pass on those costs during the construction phase rather than after the facility is operating.
Such a move shifts risks of design, construction and operating away from utility shareholders and onto utility ratepayers "while monopoly utility companies walk away with all the profit," according to Kerwin Olson, program director of utility watchdog group Citizens Action Coalition.
The Indiana Energy Association, which represents electric utilities, has noted that utilities face additional federal pollution-control regulations and need the flexibility to quickly make expensive capital investments to comply with them.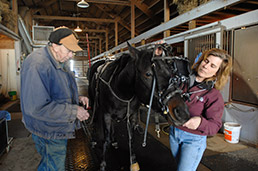 The horse industry avoided deep cuts
to a fund that has helped fuel its growth. (IBJ File Photo)
Horse industry funding
A fund to fuel the state's growing horse-racing industry—at risk earlier in the session of sizable cuts—survived largely unscathed.
The House of Representatives' version of the budget had proposed cutting by more than half funding that goes mostly toward prize money to lure competitors to races. Most of the rest would have been diverted to the state's general fund.
The funding comes from a share of revenue from the state's combined racetracks and casinos, or "racinos." This year, the horse-racing industry received about $60 million.
Mass-transit funding
Proponents of mass transit survived a move to sharply reduce transit funding in the new state budget. Legislators ultimately settled on an amount similar to current levels and authorized two studies that could play a role in future funding decisions.
The Public Mass Transit Fund, which is divided among public-transportation providers statewide, is funded with .067 percent of state sales tax revenue. Though Gov. Mitch Daniels recommended keeping the percentage at that level, the House approved a 17.7-percent reduction in the rate, which transit leaders estimated would have resulted in a funding loss of about $8 million a year.
The Senate restored the percentage of sales tax revenue recommended by the governor, but the final budget took a completely different approach.
Rather than determining the amount based on a percentage of sales tax revenue, the budget guarantees public transit $42.5 million a year. That's about equal to what the sales tax percentage was expected to provide in the first year of the budget.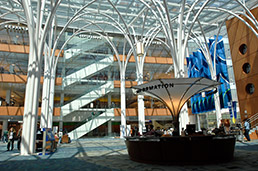 Legislation passed during the session may pave the way for the Indianapolis library system to get income tax revenue to bolster its finances. (IBJ File Photo)
Library funding
Legislation approved during the session will give the financially strapped Indianapolis library system a chance to take a share of the Marion County income tax.
The bill, written by Rep. Mike Speedy, an Indianapolis Republican, gives the City-County Council the option to allot a portion of its County Option Income Tax to the Indianapolis-Marion County Public Library system, which has relied heavily on property taxes.
Corporate taxation
Lawmakers voted to phase in a four-year decrease in the corporate income-tax rate from 8.5 percent to 6.5 percent.
Business lobbyists say that will make the state more competitive for attracting jobs and will put companies in a better position to grow.
"It will bring a boost to small-business owners who are struggling in this economy," said Barbara Quandt, director of the Indiana chapter of the National Federation of Independent Business. 
Smoking ban
A Senate committee rejected a statewide smoking ban bill that health advocates assailed as too weak after several members said they supported broader restrictions on smoking in public places.
"People are asking for a clean-air bill—and this is not a clean-air bill," said Sen. Jim Arnold, a Democrat from LaPorte, who helped the Senate Public Policy Committee reject the plan 8-1.
The bill, which had been approved in the House, provided exemptions to casinos, bars, fraternal clubs, smoke shops and nursing homes.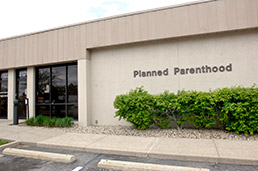 Lawmakers passed a bill cutting off government funding to Planned Parenthood. (IBJ Photo/ Perry Reichanadter)
Planned Parenthood funding
Lawmakers passed—and Gov. Daniels pledged to sign—a measure making Indiana the first state to cut off all government funding for Planned Parenthood.
The measure puts Indiana at risk of losing $4 million a year in federal family-planning grants—none of which pay for abortions.
Planned Parenthood says the funding loss will lead to undetected cancers, untreated sexually transmitted diseases and unplanned pregnancies. Daniels disagrees, saying women in all 92 counties will continue to have access to services nearby.
Toll roads
The General Assembly approved legislation giving Indiana's governor authority to authorize new toll roads.
The legislation initially would have given the governor authority to turn existing highways into toll roads. However, lawmakers amended the measure late in the session to give the governor authority only to make new highways into toll roads.
Immigration reform
Businesses that hire illegal immigrants could have some Indiana state tax credits revoked under a proposal approved by the Legislature.
The measure was a watered-down version of an Arizona-style proposal that originally would have allowed police officers to ask people for proof that they are in the country legally.
Supporters say the state must act on immigration because Congress hasn't. But some opponents say the bill could hurt businesses, and that immigration should remain a federal issue.
Unemployment insurance
Lawmakers approved a restructuring of the state's unemployment insurance system that will reduce the amount businesses have to pay in state taxes to reload the indebted fund from which payments are made.
This year, the changes will lower an increase in premiums businesses statewide must pay from $866 million to $723 million.
The measure had been opposed by labor leaders and Democratic legislators because it will trim worker benefits 25 percent, knocking $60 a week off the average $283 payout.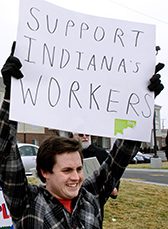 A GOP effort to pass "right-to-work" legislation spawned union protests and caused House Democrats to flee to Illinois. (AP Photo)
'Right to work'
"Right-to-work" legislation—which would allow workers to opt out of union membership and dues—died in the House this session and will instead be reviewed in a summer study committee.
Some members of the GOP had pushed hard for the legislation early in the session, prompting House Democrats to flee to Illinois for five weeks.•
—Francesca Jarosz, Chris O'Malley, Scott Olson, Tom Harton andThe Associated Press
Please enable JavaScript to view this content.