The odds of a business passing from one generation to the next are famously slim.
Research shows the vast majority of owners want their children to take over, but only about three in 10 of those companies pass to a second generation, and hand-offs from the second to the third generation fare no better.

Fred Prine and his wife, Karyn, didn't need statistics to comprehend the uphill battle they faced shifting the business they started, Westfield Steel Inc., to Fred's sons Carl and Fritz. They had watched too many mom-and-pop steel distributors like theirs fail because of poor planning.
The Prines are in the thick of transitioning Westfield Steel to the brothers. And because they planned early and well, they're sidestepping common land mines. Key was Fred's and Karyn's starting the process early enough to gradually teach the next generation the ropes. They also talked through their respective strengths and settled on a vision spanning the generations, minimizing conflicts.
Paperwork was completed this month for Fred to divide nearly half the company between the boys and pass along the rest after he and Karyn die. Fritz, who joined the business in 2007
after a career in finance, is receiving a larger stake than Carl, who has no plans to join the company.
"You have to be open and realize you have to make a transition," Fred said. "The sooner you make it, the better off you're going to be.
"People plan more on their vacations than they ever do on their retirement."
Much on the line
Research dating to John Ward's groundbreaking 1987 book, "Keeping the Family Business Healthy: How to Plan for Continued Growth, Profitability and Family Leadership," indicates about 90 percent of owners want their children to take over, but only about 30 percent of their businesses actually survive the transition.
The pattern holds for shifts to later generations; about 12 percent survive to the third and a mere 5 percent to the fourth.
The Prines began thinking about succession after Karyn, a voracious reader, delved into the topic several years ago.

The couple were in their early 60s and had been building the company since starting it with partners in 1977.
Westfield Steel may have been mom-and-pop-owned, but it isn't unsophisticated. The Prines won't disclose revenue or profit figures, but the company employs 108.
Located at its namesake city in Hamilton County, it mostly buys steel from mini-mills in Indiana and the South and resells it to customers ranging from manufacturers to construction companies and fabricators.
Stacked in the company's warehouse along State Road 32 are seemingly endless variations of steel—channels, sheets, plates, tubes, pipes and beams in different lengths, widths and thicknesses. Add it all up, and Westfield keeps more than 2,500 items in inventory.
Some orders are shipped without customization. For the others, hoists deliver metal to automated machines that cut holes and patterns according to drawings supplied by customers' engineers and then move the metal to trucks. On one recent day, a thick plate had been cut for the structure of the new Nashville Music City Center convention center in Tennessee.
Still other orders specify forming, welding and painting.
Fred, now 66, always wanted his sons to come back and take over the business. But Carl, 44, developed a career as an investigative reporter at a Pittsburgh newspaper and showed no interest in coming back, and Fritz, 42, had gone his own way and risen nearly to an executive level at GE Capital.
It appeared that Fred and Karyn would have the business until they quit—until Fritz popped the topic with Fred during a round of golf in 2006.
Recalling his GE days, Fritz said, "I was asked to move up and take different positions and move around. Once you start to climb the upper echelons of a large corporation, at some point you're either going to have a family and wife, or you're going to have GE for a wife."
 
Fritz did not want to neglect his wife, Gina, and their three children for a paycheck larger than the $300,000-plus he was making. And the family wanted to leave San Francisco for more family-friendly Indianapolis. So the extended Prine family set about studying how to make the transition.
Letting go early
Succession experts say most hand-offs are ruined by the owners' hanging on too long. "There's always tomorrow" because they fear the future or because they can't bring themselves to relinquish control, said Eric Manterfield, an estate attorney at Indianapolis law firm Krieg DeVault LLP.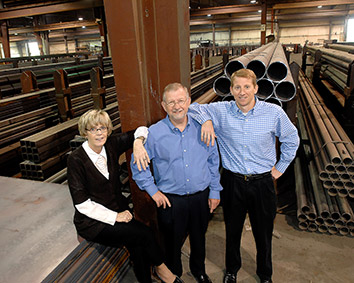 Fred Prine is ceding control of Westfield Steel early to give son Fritz time to learn the business. (IBJ Photo/ Perry Reichanadter)
Too often, the owner or entrepreneur procrastinates so long that, when illness or another factor forces a quick transition, the next generation isn't prepared to manage, and the business fails, Manterfield said.
"You can plan for the tax. What you can't plan around is the old man's, the entrepreneur's, refusal to confront his own mortality and to make difficult decisions about future management of the business," he said.
Similarly, Chris Eckrich, a principal in the Fort Wayne office of Chicago-based Family Business Consulting Group, said most people need a combination of at least eight years of education and experience before they're prepared to take over a family concern.
Less than that, and the child or children seldom acclimate to the business and industry, or to managers and the rest of the family.
Eckrich consulted with the Prines on the transition but emphasized his comments concerned succession in general and not specifics about the Prines or Westfield Steel, in order to protect their confidentiality.
Fred and Karyn are keeping 51 percent of the stock. Fritz had bought 2.5 percent from a cofounder, leaving 46.5 percent for Fred and Karyn to divide between Fritz and Carl.
Fritz, because he works in the business, received 30 percent of the balance and Carl 16.5 percent. Fred's and Karyn's 51 percent will be spread between Carl and Fritz in the same proportion after they die.
The transition came at a good time, tax-wise. Up to $10 million can be passed to heirs without triggering estate taxes. Westfield was valued at less than $10 million by an outside consulting firm.
Fred Prine said he plans to phase out of the company gradually but continue working as long as his health, which is good, allows.
Ideally, he would keep his leading roles longer, but he felt it was important to give Fritz plenty of time to prepare to run the company.
The family sat down with one another to analyze their respective strengths, goals and values. The basics had always been held in common: hard work, the value of marriage, a focus on children.
However, they discovered differences between the generations. Fred gets most excited about landing a sale; Fritz is more oriented to the bottom line.
Fortunately, finding a common vision for the company wasn't difficult: It's to take advantage of Fritz's background in finance to buy other steel service centers as the highly fragmented industry consolidates. Fritz also plans to start two businesses related to the existing service center and its separate trucking company.
The family also talked with managers to see how they would feel about Fritz moving into the business.
Fritz said the process helped him keep business decisions from becoming too personal.
"It allowed me to change the way I viewed the entire process," Fritz said. "No matter how much I disagreed with a particular decision, this is the business side, this is my father."
Sidestepping problems
Sometimes, resentment creeps in among siblings when one sibling is in the business and the other isn't but has an ownership stake, succession professionals caution. The siblings who stay must share the rewards of their success; conversely, the siblings who leave can see their shares of the company deteriorate if the siblings who stay operate the business poorly.
Sometimes, the dynamic is complicated by perceptions from childhood of being overlooked by parents or having to compete for attention, said Eckrich, the consultant.
Fritz entered Westfield Steel overseeing finance and human resources and has since absorbed operations. Next up is purchasing. Today, he in effect is a combination chief financial officer and chief operating officer, and someday will assume the title of president. Fred will remain chairman.
Fritz wants to expand from 108 employees to 175 within five years. That will likely involve an acquisition along with diversifying into the two related businesses.
Along the way, Fred plans to maintain a key role—and keep selling. After all, the boys joke they'll someday drag him out of the business with his hands clutching a beam.
Fred certainly has little patience for a traditional retirement.
"I don't really know what you'd do if you retire," Fred said. "You really have to be good at finding something to do. You just go brain-dead after a while."•
Please enable JavaScript to view this content.