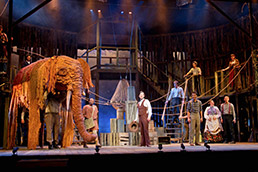 "The Circus in Winter: a musical" (Photo/John A. Huffer)
On the flying trapeze, you either succeed or fail.
Succeed and your wrists are grabbed by your partner and the crowd roars. Fail and, well, you know what happens. There's not a lot of gray area between success and failure for the lion tamer, either.
Things aren't so black and white when it comes to musical theater, which has many similarities to life in the circus but where success, on stage, is in the eye of the beholder. Which is why it's so difficult to write in a coherent way about "The Circus in Winter: a musical."
Let me cover the basics of this production's unique back story first. About two years ago, under the tutelage
of Ball State University associate professor Beth Turcotte, a group of students set out to write a musical. Not a two-character song cycle, mind you, or a collegiate revue, but a large-cast, music-packed show with extensive lighting, costume, set and even puppetry needs.
They didn't take an easy route with source material, either. Yes, Cathy Day's wonderful novel "The Circus in Winter" was one of the best-reviewed books of 2004. But it's actually an interwoven set of short stories more than a traditional novel. While the book contains many "big" moments—an escaped elephant, a disastrous flood, a whirlwind romance—what it doesn't have is a solid narrative through-line that would make it conducive to such a conversion.
In short: The work would be a challenge to even the most accomplished theater professionals.
One of the glories of youth, though, is the ability (or the ignorance) not to be intimidated by great challenges. And so the Ball State students set to work, evolving their musical through a series of readings, rehearsals and workshops, finally arriving on Ball State's main-stage theater schedule in September.
The result earned a thunderous reaction from the largely student, faculty and alumni crowd.
"The Circus in Winter: a musical" should be applauded not just for what it was on stage, but for the real-life learning opportunities it provided. And I'm not saying that altruistically. Back in the day, composers, lyricists and book writers had a chance to develop shows without needing every one of them to be a gigantic, career make-or-break hit. In that process, lessons were learned and skills developed—which led eventually to some of the greatest work of musical theater. Stephen Sondheim couldn't have written "Sweeney Todd" if he hadn't, early in his career, tried a show called "Saturday Night." Flaherty and Ahrens wrote "Lucky Stiff" before they could write "Ragtime."
But these days, it's harder and harder for writers to find opportunities to develop such work, let alone have the results seen on stage in a truly magnificent production. With impeccable lighting, set and sound work, this iteration of "The Circus in Winter" has been given a clear lens for the writers to see what they have and what they don't have.
In my view, what they have is a great setting, some compelling characters, good music, and a strong vision for what the show can be. They have a unique but accessible, atmospheric show with real potential. What they don't yet have is a second act. Trying to fit too many incidents into the latter half—whether sourced to the novel or not—robs the play of the human drama it has so carefully developed. And, when backed into creative corners, the team too often resorts to moves out of other musicals. The primary victim is the show's central character, circus-owning widower Wallace Porter, who gets dragged through the action without taking much action himself. His passivity feels lifted right out of "Spring Awakening," another show that climaxes without the lead character doing much of anything besides being depressed and then cheered up.
The cast in this world premiere production is game, throughout, with Erin Oechsel standing out as acrobat Jennie Dixianna, triumphing over Wonder Woman hair and costume to give her character a rich inner life and a powerful voice. Kudos, too, to the four-piece, on-stage band that left no doubt "The Circus in Winter" should and can be a terrific musical.
My hope is that the intensely collaborative nature of this show (14 students are listed) doesn't get in the way of its continued development. There are too many stories of shows falling apart because two creative folks can't coalesce behind a singular vision. Corralling 14 people to institute changes—especially after some graduate—sounds daunting.
With the big tent of this production metaphorically packed up, perhaps it's time for a smaller group to assess what "The Circus in Winter" is and then do what is necessary to see what it can become.
While I look forward to that next production, I'm taking Cathy Day's outstanding book back off the shelf for a re-read.
Another world premiere, of sorts, took place Oct. 7-9 with an Indianapolis Symphony Orchestra-crafted pops program celebrating the music of Alain Boublil and Claude-Michel Schonberg, best known as the lyricist and composer of "Les Miserables."
The 10th and 25th anniversary concerts of the music of "Les Miz," both of which aired on PBS as pledge-break fodder, gave a clear signal that the show's music comes across well when the orchestra is upsized and a full choir kicks in. But the ISO did more than just fill out the instrumentation and chorus. It brought to town a sterling Broadway company including original Javert Terrence Mann, former Marius Peter Lockyear, past Eponine Lea Salonga, original (when the show was in French) Cosette Marie Zamora and Stephanie J. Bock, star of the lyricist/composer team's ill-fated "The Pirate Queen."
Factor in rousing orchestrations, fun patter, and a curtain-call appearance by Boublil and Schonberg themselves and you had all the makings of a magnificent show.
The problem? None of the music besides the songs from "Les Miserables" is anywhere near as strong as the material from "Les Miserables"—at least, not when the lyrics are imposed on it. The "Miss Saigon" material came off particularly badly. If the entire concert were in French, it would have been easy for the monoglots among us to simply bask in the music. But the tortured rhymes and overwrought, overstuffed verses often won out despite the best efforts of the game company.
 That is, until the familiar opening chords of the "Les Miz" prologue kicked in. After that, it was easy to forget the clunkers that came before, look forward to the show's return as part of this year's Broadway series, and hope that Boublil and Schonberg find their mojo—or, at least, a better English lyricist—again soon.•
__________
This column appears weekly. Send information on upcoming arts and entertainment events to lharry@ibj.com.
Please enable JavaScript to view this content.