Welcome back to IBJ's video feature "Inside Dish: The Business of Running Restaurants."
Our subject this week is Black Swan Brewpub, which celebrated its first full year of operation on Oct. 10 with a better-than-expected $597,000 in gross sales. That's a relief for co-owner and brewmaster D.J. McCallister, who sweated through 100-hour work weeks, staffing woes and unexpected slumps in business along the way to essentially breaking even for the first year.
"In the next 12 months, I want us to get to a point where we can predict our weekly revenues, plus or minus 10 percent," said 36-year-old McCallister, a novice restaurateur but longtime brewery authority. "That's a big thing for us—adding some predictability to what we're doing."
The business plan for Black Swan had been steeping in McCallister's mind for more than a decade. As a somewhat reluctant physics major at Wabash College, he developed an interest in the art of mixing hops, barley and yeast, and soon began filling entry-level positions at central Indiana brewpubs. That evolved into a greater mastery of the process and contract work at local breweries.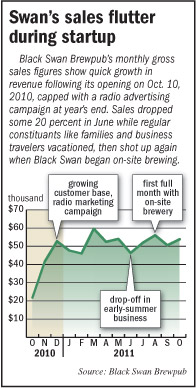 A six-year stint in Chicago followed as both D.J. and his wife, Erin, pursued advanced degrees—an MBA in finance from DePaul University for D.J., and Erin's Masters of Science in Environmental Science and Policy at University of Chicago. Not entirely comfortable with the tenor of big-city life and expecting to start a family, they moved back to Indianapolis in 2009, intending to follow through on D.J's brewery business plan.
Armed with a modest $80,000 in savings, they initially looked for a site in downtown Indianapolis, but found that the few suitable spaces on the market were too expensive or required extensive remodeling. Gazing outward, they landed in Plainfield, which provided some highly attractive demographics.
"This area has two personalities," McCallister said. "It has a strong, rural side, but there's a new element too, a lot of younger families moving here. And not just Plainfield, but Avon, Brownsburg and Mooresville.
"That only covers part of the business. One of the reasons I felt comfortable with this location was the proximity to the hotels here. Plainfield has become a default hotel-stay area for the Indianapolis International Airport. Based on what we can gauge, about 50 percent of our business comes from business travelers."
In the video at top, McCallister recounts preparations for opening the restaurant, which included about six months of do-it-yourself interior work. The restaurant site formerly housed the eatery Hog Heaven, and provided leftover dining room furniture and kitchen equipment. The cause was further aided by a $50,000 SBA-backed loan to outfit the brewery, and a $50,000 line of credit from commercial bank Chase to help Black Swan take flight.
Acquainted with horror stories about new eateries that overpromote themselves and fold under the strain, the McCallisters opted for a soft opening. When a nearby competitor's radio ad campaign brought misdirected customers to Black Swan instead, they decided to invest in their own spots on WTTS-FM 92.3. In December, Black Swan grossed an impressive $52,700.
Still, the enterprise was hemorrhaging cash, and soon had all but exhausted its $80,000 nut and $50,000 line of credit. For example, because it was difficult to anticipate sales patterns at the start, the restaurant often was overstaffed. Food waste in the kitchen also was a problem. The operational woes required some old-fashioned goal-setting and monitoring.
"It was a very big event for us to finally sit down—I think we hammered it all out by January—and say, 'These are our targets. Here's how we attain our targets, and if we don't, we have to figure out why we didn't,'" McCallister said. For example, one early goal was to ensure food and labor costs were either equal to or less than 70 percent of gross sales.
Sales were steady through June, then they suddenly cratered some 20 percent. Mystified, the McCallisters examined every aspect of the restaurant until they finally sussed out the problem. Their two biggest constituencies—area families and business travelers—were taking their summer vacations.
Business ticked back up in July, in part due to the completion of Black Swan's on-site brewery. (Previously, Black Swan offered craft brews from other Indiana-based makers.) Assembled by D.J. from used and leased equipment, the project stayed within its $50,000 budget. And partly because D.J. is the sole brewer, the profit margin on a pint can reach as high as 1,000 percent. (For example, a $3.75 pint might have an overall cost of about 35 cents.)
"It sounds like a fantastic number," McCallister said, noting that beer accounts for less than 30 percent of total sales, and that the profit margin on food is typically in the single digits at best.  "If we only sold beer by the pint here, yeah, this would be a fantastic business."
Why doesn't everyone open a brewpub? According to McCallister, purchase and installation of brewing equipment usually require a prohibitive investment and amount of square footage. Plus, the expertise is hard to come by.
McCallister is in the unusual position of running the operation by himself and not requiring a salary or profits from the restaurant. He and his wife live off of her income as a writer and researcher in the biotechnology industry.
"We never had the expectation that the first year we were going to be able to draw a salary and have some great lifestyle, or even a marginal lifestyle," said D.J., who was hoping first-year gross sales would at least top $500,000. "Maybe even the first five years, we still might be in a position where any money we get from the business might be limited and not enough to support a family.
"This is a self-sustaining business in its first year, and I don't know where that falls in the expectations of other restaurant owners, but for the first year I'm very happy about that."
 

| | |
| --- | --- |
| 2067 E. Hadley Road, Plainfield | |

Concept:

Modern pub food (think "gastropub") with European influences, and featuring a beer menu consisting exclusively of craft brews–most created on site.

Owners:

Husband-and-wife D.J. and Erin McCallister

Startup costs:

The restaurant required about $80,000, and the brewery was finished in late June for about $50,000 (financed with a $50,000 SBA loan).

Gross sales:

$597,000 for the first 12 months of operation; the enterprise essentially has been breaking even since the beginning of the year.

Employees:

23 to 28, depending on the season.

Seating:

120 inside, and 30 on an exterior deck.

Goals:

To be able to predict weekly sales within 10 percent; to continue to develop more beers and improve the brewing process; and to institute definitive systems for operations.

Good to know:

Executive chef Nick Carter and D.J. McCallister were fraternity brothers at Wabash College; Carter most recently was executive chef for in-house eateries in Nordstrom's two Indianapolis locations (and left the downtown Nordstrom Cafe before it closed earlier this year).
Please enable JavaScript to view this content.