On the visible end of the entrepreneurial spectrum are those seasoned begetters of tech firms—guys like Scott Jones, David Becker or Donald Brown.

At the other extreme are the yet-unknown entrepreneurs still in college but capable of filling their shoes with the next ChaCha Search, First Internet Bank or Interactive Intelligence.
Langellier
A program to identify and cultivate this next generation—the Orr Entrepreneurial Fellowship, which matches college graduates with tech companies for two years of executive-level mentoring and work experience—just hit a milestone of sorts.

Earlier this month, 2004 Orr fellow Mike Langellier sold his upstart MyJibe LLC to a Utah firm, in what appears to be the first Orr fellow to not only create a tech firm but also take it full circle to a liquidation event.

To that extent, Langellier's success is further "proof of the concept" of the decade-old Orr program, said Jim Jay, president and CEO of TechPoint, the statewide tech initiative.

"The whole idea is to seed early-stage entrepreneurs with the experience they need to form a company," Jay said. "It's exactly what we wanted to see happen."

Langellier not only co-founded the budgeting/personal finance software firm (along with 20-something local techie Brandon DeWitt) but sold it less than a year after it officially launched.

Langellier declined to say how much the duo pocketed by selling MyJibe to Provo, Utah-based MoneyDesktop. But if all goes well, it won't be the last company Langellier creates and sells here.

"I have been very fortunate to be part of this ecosystem," said Langellier, a DePauw University graduate who worked at local banking software firm Baker Hill while in the Orr program.

It isn't the first milestone: He married fellow Orr fellow Carrie Strong.

"We were the first Orr fellow marriage … and now I believe [MyJibe is] the first fellow exit," Langellier said.

The current crop of Orr fellows consists of 47 students. But that belies the growing popularity and competitiveness of the program, which took in 1,200 applicants for next year's upcoming class.

About 20 companies will host the next class of fellows, which begins in June. Each pays the fellowship an annual administrative fee—essentially covering the Orr program's costs. New next year will be a nearly two-week trip to China for the outgoing Orr class.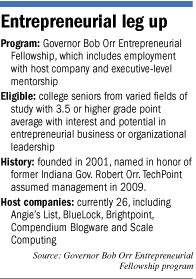 Besides actual work experience, the fellows receive one-on-one mentoring with top executives of the company. In Langellier's case, he was able to pick the brain of former Baker-Hill principal Mark Hill, who co-founded Baker Hill with wife Karen. The Hills have also been financial backers of a number of local tech companies over the years, including Aprimo and BlueLock.

Perhaps the best-known Orr fellow to help launch a tech company here is Ali Sales Roach, from the class of 2003. Roach, who worked at ExactTarget while in the fellowship, went on to manage an e-mail platform at Resort Condominiums International. In 2007, she teamed with Chris Baggott to co-found Indianapolis-based Compendium LLC, a leading maker of blogging software.

Compendium has turned out to be home for numerous Orr fellows, including current fellow Max Yoder, who is bootstrapping his own company, called Quipol.

The Indiana University graduate (in brand management/advertising) has been working feverishly on a social polling application the last seven months.

Essentially, Quipol allows users to engage and grow their online audiences using simple, one-question polls. These Quipols, as they're called, can be embedded into log posts and Web pages. The tool has a "yay or nay" voting format and a social commenting feature that allows voters to share their opinions with their social networks.

Among those who could find value in such a tool, Yoder said, are bloggers, educators, journalists and marketers.

As for how to make money off of Quipol, he's still studying that. One idea is to give away the tool, but seek revenue through a more premium offering.

Two things are sure, said the Orr fellow: One is that polling hasn't evolved much since the beginning of the Web, and, two, "People like to express their opinions about the world and its happenings. Quipol helps them do that."

Orr fellows like Yoder and Langellier have local tech leaders pumped about the prospects for growing the region's technology industry. Those leaders hope, of course, that the fellows stay here rather than head for tempting tech prospects on the coasts.•