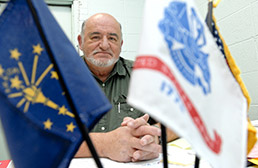 New Southport Mayor Jesse Testruth is trying to fix years of financial woes. "It's been a nightmare," he said. (IBJ Photo/ Perry Reichanadter)
Officials in Southport are scrambling to cut spending after the state was forced to slash its 2012 general fund budget more than 20 percent.

Two months after taking office, new Mayor Jesse Testruth and Clerk-Treasurer Diana Bossingham are sorting out years of financial woes that plagued the previous administration, including two unsatisfactory state audits that were forwarded to the county prosecutor's office for review.

"It's been a nightmare," said Testruth, who ran unopposed after former Mayor Robin Thoman withdrew his candidacy before the May primary. "We're starting to come out above water."

A military retiree who now works at ADT, Testruth said his office has been in cleanup mode since January when he learned the city had improperly reported its finances to the state and failed to adequately notify property owners of a planned tax increase.

The state's biennial audit in 2010 found that Southport officials made procedural mistakes in nearly every aspect of its finances: paying bills (including a $1,270 cell phone bill for the former mayor), tracking receipts, and maintaining records chief among them. The city also failed to reconcile its bank accounts and overspent two of its funds by a total of more than $40,000.

The State Board of Accounts report, released Jan. 26, stated that auditors could not fully evaluate Southport's financial statements because of the errors. An unfavorable audit could result in higher interest rates on city debt, increasing costs for taxpayers.

Charles Pride, supervisor for the state agency, said the problems in Southport's latest audit are not typical for most cities in Marion County.



"We usually don't find this many items wrong in one city," Pride said. "There are a lot of items that need to be addressed and corrected."

The problems aren't new. Another audit report released in 2010 also concluded that the city's financial records were incomplete, citing similar problems during Thoman's first year in office.

Thoman said he and the former clerk-treasurer, who was in charge of the city's finances, had a hard time keeping up with all the paperwork because they were dealing with a dated computer, old software and what he called an unsympathetic City Council.

"I deserve some criticism for some of the things I did in office," Thoman said. "But not all the tools we were told would be made available to us were available."

Among the questionable expenses auditors noted in their report: $1,239 spent on magnetic white boards and a tent for a fair—something they said was not properly approved or documented. Thoman disputes the claim.

Both audit reports were forwarded to the Marion County Prosecutor's Office for review, spokeswoman Brienne Delaney confirmed. Prosecutors could file charges if they determine the errors were intentional rather than a matter of incompetence, said Justin Ross, an assistant professor at Indiana University's School of Public and Environmental Affairs who specializes in state and local public finance.

Ross said if there is any blame in the situation, the current mayor and his administration should be in the clear.

"It shouldn't be tied to their office," he said.

Although Thoman said he wishes things had turned out differently, he and former clerk-treasurer Cathy Hildebrand—who could not be reached for comment—did their best.

"I'm not trying to give excuses for her or excuses on my end," he said. "When you're working for $3 or $4 an hour, it's difficult to muster up the energy and the enthusiasm for the job."

Thoman was paid $7,821 in 2010. He said the job was part time but required full-time attention.

Testruth, the new mayor, said he takes pride in the city's financial accountability under Bossingham, who also was elected in November.

"It's a checks-and-balances system now," he said. "If you can't show a receipt, you don't get paid. You're given the money, so be accountable."

City finances are especially tight because the state reduced Southport's general fund budget from $348,805 to $270,236 after officials failed to update the revenue projections used to set spending limits, said Dan Jones, assistant director of the Department of Local Government Finance's budget division.

"Southport [officials] didn't do too much to help their cause last year," Jones said. "We had no information we could use."

Southport also was not allowed to raise its general fund tax levy in 2012 because the city did not properly advertise the tax hike, Jones said. That's a common mistake, but it complicates Southport's woes.

"Basically, this city had no money," said Testruth, who called an emergency session of the Southport City Council when he learned of the financial crunch in January.

Jones said if the new administration fixes its mistakes, Southport could recapture the forgone tax increase in its 2013 budget.

In the meantime, officials are weighing every expense. The city switched mobile phone providers, for example, to save $200 a month. Testruth hopes the financial focus helps rebuild trust in the city's top administrators.

Thoman was often at odds with Southport's City Council, which more than once asked him to resign.

Southport Councilman Jim Cooney said the relationship between the council and Testruth, the current mayor, has been positive and productive so far.

"It's just been outstanding," Cooney said. "He's very interested in the city's opinion."

The new clerk-treasurer said she's enjoying her post despite the challenges.

"We're blessed to have a group of people all working together as a team toward a common goal," said Bossingham, who has owned a bookkeeping business for 11 years. "What hasn't been good is that I have been working to clear up old things that were not done in the past."

Testruth prefers to focus on the future. He and council members are crafting a long-term redevelopment plan for the city, envisioning additional housing and a covered bridge—a community asset he said could be used for parades.

The goal is to make the city more neighborly and family-oriented, the mayor said, adding that he already has seen increased community involvement in activities like this year's July 4 potluck family picnic.

Joan Miller, president of the Greater Southport Business Alliance, said she wishes the best for Testruth's plans to bring the city together.

"A transition of any kind is difficult," said Miller, who also owns Southport's 40 Minute Cleaners. "When he reaches out, we'll be there to help him."•