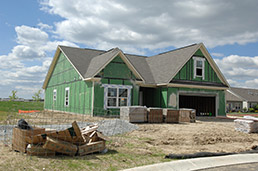 (IBJ Photo/ Perry Reichanadter)
Homebuilders are cautiously resuming their land development operations as new-home sales inch upward, thinning out a glut of single-family lots that piled up during the housing bubble.

Builders say the spring sales season is off to the best start in at least three years. Sales are up 13 percent in the nine-county region, and some builders are posting much larger gains. Newly confident buyers seeking to capitalize on low mortgage rates have discovered there's a scarce supply of well-maintained existing homes for sale and are turning in larger numbers to new homes.

"The feeling in the industry is positive. Everybody took a big hit, and they're more conservative than before, but they feel progress," said Steve Lains, president of the Builders Association of Greater Indianapolis. "Employment numbers are moving in the right direction, interest rates are low, and there are some signs of pent-up demand for first-time buyers and empty-nesters."

The improvements in the new-home market so far are more about stabilization than recovery: The Builders Association expects the nine-county region to produce about 3,800 new homes this year, only a slight improvement from numbers posted in 2009, 2010 and 2011. For each year from 1999 to 2005, builders added more than 13,000 homes.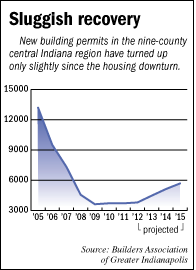 But the group's projections call for more dramatic jumps in production over the next five years, with more than 5,000 new homes in 2014, and 7,500 homes in 2017. The market will be back to "normal" when builders produce about 9,000 homes per year, Lains said.

To meet the projected demand, some builders including locally based Arbor Homes have begun buying land for future subdivisions and others are preparing to do so. New plat filings are trickling in to local planning departments.

Time is of the essence since it takes up to two years for a builder to acquire land, secure zoning approval and develop it for residential.

Central Indiana will need about 32,500 home lots between now and 2017, well ahead of the current inventory of about 15,600 lots, Builders Association projections show.

"The lack of platting activity is not alarming or an indication of a problem yet," Lains wrote in an e-mail. "However, with the process of going from entitled ground to buildable new lots running in the 18- to 24-month time frame, that clock is starting to tick."

The group says demand for new homes in the next five years varies based on the county: Hamilton County will need 8,000 new lots, Marion County will need 2,200, Johnson and Hendricks will need 2,100, and Boone County will need 2,000. Hancock, Morgan, Madison and Shelby counties already have enough home lots ready to keep pace with demand.

Arbor Homes has begun buying and developing new ground to replenish its lot inventory, said Jerrod Klein, vice president of sales and marketing for the privately held builder.

The company has 660 developed lots on the ground and expects to sell more than 500 homes this year. Closings were up 30 percent through March.

Few opportunities remain to pick up home lots on the cheap as Arbor and others did when builders such as Davis Homes and CP Morgan folded during the downturn.

"The amount of lots on the markets is diminishing at a rather rapid rate," Klein said. "One of the obstacles from an availability and cost standpoint is going to be all of that existing inventory is being worked through. Buying more raw ground will be at a much higher price than what we've been able to obtain in the last few years."

It's pretty much a given that mortgage rates won't go much lower and eventually will tick up, said Alan Goldsticker, Indiana president for California-based Ryland Group Inc., which saw a 20-percent rise in central Indiana sales through March and plans to step up its development of new lots.

What's not as obvious to some buyers is that new-home prices are bound to rise as well, as builders work through distressed land inventory they acquired on the cheap and have to begin developing higher-cost land.

"A year or two years from now, people will look back and say, 'I could have and I should have,'" Goldsticker said.

In most central Indiana communities, existing homes and foreclosures still represent a better value for home buyers than newly built homes, said John Pacilio, broker/owner with Re/Max Ability Plus.

But plenty of buyers lack the patience or bankroll to tackle a fixer-upper, he said.

There are fewer surprise extra costs associated with building new. But Pacillo noted that isn't even an option in some of the hardest-hit areas, where a glut of foreclosed properties makes it difficult to build new homes profitably.

There's no more "zero down" for new-home financing, but buyers are borrowing as much as 97 percent of the price with FHA mortgages or 95 percent for conventional loans.

One notable change for new-home buyers is the appraisal process: Builders are advising that new homes may not appraise if buyers don't pick similar options as their neighbors, Goldsticker said.

In other words, you probably won't be able to finance the cost of a finished basement if none of your neighbors has done the same.

"No matter where you buy, know what's selling nearby and stay in that range," Goldsticker advised.•