Mike Perkins is part detective, part gopher. His not-so-secret weapon: information.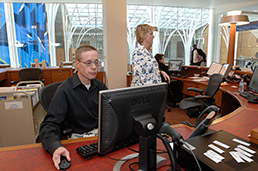 Reference librarian Mike Perkins works the desk at Central Library tracking down information upon request. (IBJ Photo/ Perry Reichanadter)
Within minutes, Perkins can be called on to research the best study guide for a college-prep exam, find an obscure European composer's recording, and pull the location of Shakespeare's poetry from his mental Dewey Decimal System.

Perkins is one of 31 reference librarians at Indianapolis-Marion County's Central Library downtown. Stationed at the branch's four buzzing reference desks, they provide the personal touch even the best Internet search engine can't duplicate.

In addition to maintaining Central's non-fiction collection, the reference librarians teach job-readiness classes, work with disabled patrons, and create displays that educate the community—all while handling a flood of patron requests that range from mundane to complex.



"I like solving little mysteries for people," said Perkins, 49, who has worked for IMCPL since starting as a clerk in 1979. "The patron thinks you're a genius, but they didn't see all the scrambling you just did."

Indeed, he and his peers must be nimble. No day at Central Library is alike. Librarians are constantly on the move: helping at the desks, checking the stacks, searching old microfilm, and teaching classes at the facility's Job Center.

In 2011, Central staff handled 207,000 reference transactions—about a third as many as all 22 branches combined.

So it's not surprising the reference librarians are eagerly awaiting the expansion of the branch's service hours on May 13 after nearly two years of budget cuts. The downtown branch has been closed on Thursdays, which not only posed a scheduling challenge but also limited the time they could spend on ongoing projects.

"The logistics were a nightmare," Perkins said. "We were not providing optimum services."

But the reference desks were as busy as ever, helping with everything from grammar questions to historical photo searches. Patrons also turn to the desks to check out a copy of the newspaper or access the Internet.

The bustling banks of public computers near the reference desks are used for hundreds of purposes. At times, it gets busy enough for the librarians to assume another dreaded role: disciplinarian.

When the tranquility of the sixth floor is interrupted by a cell phone loudly playing a rap song, for example, reference librarian Julie Able rises from her desk to make a quick lap around the computers.

"Correcting behavior" is part of the job, she says.

Unable to locate the source of disturbance, Able returns to the desk to take care of her favorite responsibility: maintaining the branch's collection of cookbooks, which she has done for about 10 years.

It's the largest collection of popular cookbooks in the state, Able says as she pulls out "Pioneer Lady's Country Christmas." She examines its spine before looking it up in the catalog.

Even though the book was last checked out in 2010, Able makes the executive decision that it should remain in the library's collection—a choice she has to make about each item she maintains.

Able sometimes has to thin out her collection to make room for new books, such as the 2012 winners of the James Beard Foundation Cookbook Awards.

She already has started to comb through the list of nominees to see which books she'll ask the library to buy when winners are announced May 4.

"We want everything in the collection to be read," said Able, 59, who has worked at Central since 1995. "If you come into the house with a new pair of shoes, you're supposed to give one [pair] away."

One of the ways Central's reference librarians make sure the collections are well-read is to create constantly rotating displays of various materials.

Tammy Evans, a public service associate who is in charge of managing the 30 displays, said they also serve as community outreach.

She partners with not-for-profits and other local groups to create displays tied to special events throughout the year. Her cheerful fourth-floor Earth Day exhibit, for example, features information from Keep Indianapolis Beautiful alongside various environmental titles.

"If it's on display, they'll notice it," Evans said. "We're constantly thinking of new and creative ideas. Community involvement is huge."

But the librarians said their primary focus is on helping patrons.

Although they each are assigned a specific section of the library's collection to manage, they're also expected to be generalists so they can be a trusted resource on any topic.

"You find a reason to like everything," Able said, who once had a brief stint managing automotive repair books. "Or you learn to deal."

Perkins manages assistive technology at Central and makes sure patrons with hearing, vision and learning disabilities can access the library's services.

He embraces the rapid technological changes in the way all patrons are interacting with librarians and said he doesn't know how librarians used to get by without high-speed Internet.

He answers at least six reference questions each day by e-mail alone, serving the curious in Indianapolis and beyond.

Not all the librarians track down information for patrons in the same way. Able is a big fan of the library's historic paper clip file of Indianapolis news articles, for example.

The rows of manila file folders, labeled in pen with perfect cursive handwriting, date back to before the library had electronic access to news articles—and are still being updated.

While Able combs through the big wooden drawers of yellowed articles with glee, Perkins does a Google search.

"Every librarian has a different approach, but we get the same answers," Perkins said. "We try not to cramp each other's style."•