The business advice of veteran executive Donald "Danny" Danielson carries considerably more weight than that of the typical pundit or book author. Because, while most of them only talk the talk, Danielson walks the walk. Just as he's done for decades.
Danielson, vice chairman of the investment firm City Securities Corp., has covered all the bases during his career, from running a company to launching revolutionary new products to motivating legions of employees. He's also helped raise hundreds of millions of dollars while serving on the boards of everything from Indiana University to the Walther Cancer Foundation. He even found time to dabble, briefly, in professional baseball.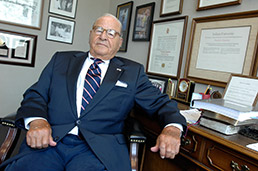 At 92, Danny Danielson has no plans to retire. (IBJ Photo/ Perry Reichanadter)
The man has done it all. And he's still at it. At 92 years of age, his business career has lasted longer than many great and storied businesses.
"As long as I'm mentally and physically able to do the job, I want to continue to work," Danielson said. "I don't want to retire."
Every weekday, he makes the 48-mile drive (one way) from his New Castle home (where he lives with his wife, Patty) to City Securities'
downtown headquarters, conducting business from an office papered with framed awards and citations. His greatest honor, he said, was winning the 2009 Sachem Award—a once-a-year citation bestowed by the governor, and whose other recipients include basketball coach John Wooden and the Rev. Theodore M. Hesburgh, former president of the University of Notre Dame. As for Sagamores of the Wabash, he's got three, from three governors.
His admirers say Danielson earned all that hardware—along with his business success—thanks to his ability to motivate.
"He leads by example," said Steve Stitle, a partner at law firm Krieg DeVault LLP and (in his former role as regional chairman of PNC Bank Indiana) a competitor with Danielson in the securities industry. "He has a tremendous presence about him. He gets people excited about projects. And I think he gets people to reach for levels that they ordinarily wouldn't reach for.
"I've always said, I want to be Danny when I grow up."
Danielson was born and spent his childhood in South Dakota. His skill at baseball earned him an athletic scholarship to Indiana University, where he enrolled in 1937. After graduation, he was signed by the Brooklyn Dodgers, but World War II pulled him off the diamond and into the U.S. Navy, where he served until 1946. Discharged with the rank of lieutenant senior grade, he got another shot with the Dodgers' AAA team in Montreal.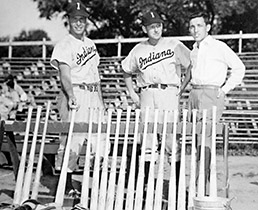 Danielson won a baseball scholarship to Indiana University. (Photo courtesy of Donald "Danny" Danielson)
But then something extraordinary happened. Danielson, who'd wanted to play in the majors since forever, decided he was too old (27) for the bigs. So instead, he took a job at IU as the school's assistant alumni secretary and varsity baseball coach.
Though it sounds like a classic "choke," Danielson considers it one of his most rational, far-seeing life choices.
"I'd always wanted to be a Major League ballplayer," he said. "But it was time to use my head and not my heart in making this decision."
Danielson walked away because, unlike 99 percent of the human race, he was able to appraise his chances in a clear-eyed way and realize he'd probably have a very short, unsuccessful career. And history has proven him right. His competition for the Dodgers' second-base position would have been none other than Jackie Robinson.
"I decided that the time had come, and that I should turn to a different profession," he said.
So he put in a couple of years as an administrator and coach at his alma mater. But slowly he started to chafe. Back then, owning a college degree—any degree, in anything—was a big deal. Danielson didn't feel like he was exploiting his major in education and minor in business to the fullest potential. So he scouted around for something else. In 1948, he found it—in the form of a tiny, small-town manufacturer called New Castle Products.
The company's strange new invention caught his eye—a sort of folding-door arrangement used (initially by the U.S. Army) to divide big rooms into smaller ones. These are now known as room dividers, and can be found in pretty much every hotel, conference center and restaurant on the planet. But back in '48, they were new—so new that his decision to join the company and develop its marketing program seemed like a giant leap of faith.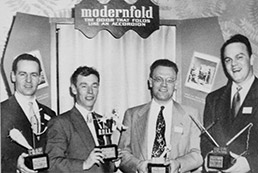 Danielson spent three decades at New Castle Products, which became Modernfold. (Photo courtesy of Donald "Danny" Danielson)
"It was starting from nothing," Danielson said. "I would make calls and people would say, 'What is this? A folding door? Where would we use this?' But within five years, we were doing over a million dollars [annually] in sales. It just took off."
So did his career and fortune. Danielson, who calls his three decades at New Castle Products (later Modernfold) the "most gratifying business experience I've ever had," rose to become its president before leaving to join City Securities in 1976. Quite a career change for someone who, lacking an MBA or any sort of heavy-duty financial training, generally tries to steer clear of spreadsheets. Instead, he concentrates on people.
"My love in this business has been developing new customers," he said. "I do not have a degree in marketing. I do not have a degree in accounting. I wanted to be a coach."
Knack for cajoling
Which, he admits, is sort of what he's become. He thinks his paramount gift may be communication—letting people know what's expected and helping them achieve it.
"Communication skills are absolutely essential to a leader," he said. "I think it's a gift. You can sharpen your approach and technique, but in the end you either have it or you don't. And success is pretty much based upon that gift."
During his service on charity boards, he's also displayed a rare knack for cajoling powerful, successful people into putting a lot more time and effort into causes than they expected. All while stepping on few toes—even those of business adversaries. Like, for instance, L. Gene Tanner, veteran stockbroker and current senior vice president at City Securities. Before joining Danielson's team several years ago, he spent most of his career at various rival firms, including Raffensperger Hughes, which was absorbed by PNC.
"His resume could easily run pages," Tanner said. "He's always enjoyed a very high level of regard, both within the investment business and throughout the state."
Back in the late 1980s, when the two were still very much on different teams, Tanner's son Jim applied for the J. Dwight Peterson Scholarship in Investment Banking. Danielson sat on the selection committee.
"Jim tells the story of Danny saying, 'Tanner, Tanner … is your father in the investment business in Indianapolis?'" he recalled. "Jim said yes, and he could just see that scholarship flying out the window. But nonetheless, he got it."
Know thyself
Besides good communication and people skills, Danielson considers a couple of other traits to be vital to career success. Or, more accurately, to selecting a career in which one can thrive. The first is to know thyself—as he did back in the late '40s when he compared his baseball skills to those of Jackie Robinson and decided it was time to hang up his cleats.
"You have to examine the education, the skills, that you have," Danielson said. "To make sure you're going to be really competitive in what you're going to do."
But even more important is finding something to be passionate about. Danielson said he felt it back in 1948, when he looked at those silly folding doors that company in New Castle made and saw the future.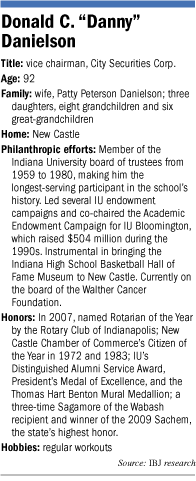 "The passion you put into your work has a huge influence on whether you're going to be successful," he said.
It's what keeps him coming to work every day. Though he says he doesn't want to "open the doors at 8 o'clock and close them at 5 o'clock," he still shows up Monday through Friday, from around 10 a.m. to 3 p.m. He intends to keep that schedule for the foreseeable future.
Danielson attributes his longevity to the fact that he's always worked out. Though his days of playing softball and handball are behind him, he still puts in maybe half an hour on a stationary bike and 15 to 20 minutes on a rowing machine, several times a week.
"That's about all I do," he said.
Entrepreneurship
He's concerned about the state of the economy and the anemic recovery, and was philosophically opposed to the bailouts of the banks and auto industry. But he also thinks tough times could harbor a hidden benefit. Because working for others is such a dicey proposition these days, more people are figuring out ways to work for themselves.
"I think more and more people are thinking, 'What can I do to start my own business?'" he said. "To do something on their own instead of worrying about pleasing someone else."
Danielson offers some advice for anyone wanting a piece of that action. Figure out what you're good at, what field would benefit the most from your skills, and where the opportunities in that field might lie. He cites the career of his friend, Bill Oesterle, founder and CEO of Angie's List, as a prime case study.
"I'm convinced he was searching," he said. "He was trying to find the right thing for him. And he certainly did."
Oesterle, for his part, said Danielson—whom he met in the early 2000s when he joined the City Securities board—"epitomizes the notion of leading by example." Over the years, Oesterle's gotten plenty of advice from his mentor, but rarely in the form of a lecture. Danielson usually makes his points by offering relevant stories from his own career, and using guided questions that helped Oesterle nail down solutions on his own. Sort of management by Socratic method.
"I'm not sure I've ever met anyone as good at motivating other people by making them feel positive about themselves, about their opportunities, about their world," Oesterle said.
He thinks Danielson's star shone particularly brightly at a glum City Securities board meeting during the depths of the recent recession. An "underperformance issue" was on the table. Somehow, via a short pep talk, Danielson managed to lift the anxious cloud that hung over the room and set everybody on a course toward a solution.
"He very patiently absorbed everything that everybody else had to say, and then Danny delivered a three-minute message that was simultaneously a critique, a challenge and a stirring inspiration," Oesterle said. "It was one of the most remarkable performances I have ever seen out of a board member."
Danielson has a gift for inspiring others. But as for himself, he finds plenty of inspiration in the younger generation. City Securities has a long-standing program to award scholarships to IU's Kelley School of Business, and he's involved in meeting with the candidates. Danielson likes what he sees.
"The quality that I see inspires me," he said. "They're so smart. They're articulate. I see passion in them. I think the leadership is there. And leadership is what counts."•
Please enable JavaScript to view this content.