You'd think One Click Ventures was reinventing the retail wheel given the enthusiasm it has generated among local economic development boosters.

The city of Greenwood in February forked over $495,000 in upfront cash toward a new headquarters for the company and pledged up to $336,000 in additional hiring incentives.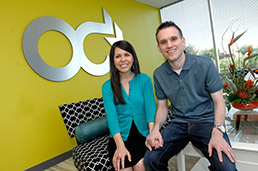 Entrepreneurs Angie and Randy Stocklin have built an online retail business with several sites and more than $5 million in sales in just seven years. (IBJ Photo/ Perry Reichanadter)
Gov. Mitch Daniels joined the party in early May, visiting the new offices to announce a $1 million state incentive deal including tax breaks and training grants tied to the 50-employee company's promise to add 110 jobs over the next five years.

The operator of niche retail websites has a good story to tell: Husband-and-wife entrepreneurs Randy and Angie Stocklin started it out of their home with $20,000 in 2005. They own a portfolio of online stores including SunglassWarehouse.com, HandbagHeaven.com and Scarves.net, and have invested heavily in search-engine marketing to attract customers. Revenue rose to $5.3 million last year, up from $2 million in 2009.

The couple has given One Click a startup vibe including an employee café with a foosball table and big-screen TV, and recruited tech-industry veterans including a former top executive at Angie's List.

But behind the tech-startup sheen is a very small player in a fragmented and hypercompetitive online retail industry. One Click relies mostly on unbranded merchandise produced in Asia that it purchases from middlemen. To stay competitive on prices and offer reasonable shipping costs, it has to accept narrow margins on most products. Its growth fortunes are tied to a mastery of Google's always-changing search algorithm and the availability of additional retail websites to acquire at reasonable prices.

Even the company's name is a bit of a misnomer since Amazon.com Inc. owns the patent to the technology known as one-click ordering. Other e-retailers have to wait until 2017 at the earliest before they can literally complete customer orders with a single click.

Yet there are huge success stories with similar roots, including a few operators that ultimately sold to Amazon at lofty prices.

"I certainly wouldn't have left Angie's List if I didn't think the opportunities were outstanding," said Scott A. Brenton, who left his chief operating officer post at the more mature local company in April to take over as One Click's chief marketing officer.

Search-marketing focus

Randy Stocklin, the CEO, is confident One Click can build a sustainable and defendable model. At the core of the case is the idea that a targeted shopping experience—without the distraction of multiple types of products—results in better conversion rates.

So far, he and his wife, who curates the company's product offerings, have taken a conservative approach to growing the company. One Click has acquired new websites out of the cash it generates and has no debt. Plans call for outside capital as the company chases larger acquisitions.

About 10 percent to 15 percent of the company's revenue falls to the bottom line, Stocklin said, an impressive feat given industry metrics (Amazon has notoriously small margins of about 1 percent).

"I don't think our model is any riskier than any other online retailer," said Stocklin, 35. "Not all online retailers make the investment that one click does in building out an in-house marketing expertise."

The company has 12 employees working on search-engine optimization. About 25 percent of its revenue originates with advertisements that appear alongside online search results, primarily on Google. Most of the rest comes from organic search, the unpaid results that pop up when you type in search terms related to the neckties, handbags and socks One Click offers.

The company stocks most of the products it sells and handles its own customer service and fulfillment, so the jobs it plans to create range from office to warehouse positions and average out to $17 per hour.

At last check, the company was listing only one type of position as currently available: fall internships in business development.

Concerns about brand, pricing

Vanessa Ting, a retail consultant based in Los Angeles, believes One Click will struggle to differentiate itself in a fragmented market, particularly without a stronger focus on branding the products it sells and the sites it operates.

Brand acts as a proxy for touch and feel when you're shopping for a product like a handbag online rather than in a store, she explained. And absent a product brand shoppers recognize, the next best thing is a trusted retail brand such as Amazon or a cross-channel operator like Macy's.

One Click's sites appear to be driven more toward snagging online traffic with search-engine-optimization tactics than building sustainable brands, said Ting, a former buyer for Target.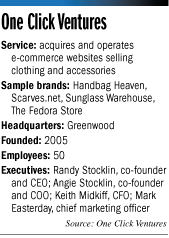 "There's nothing very innovative about this business model," Ting said. "The only thing innovative is a focus on search engine optimization and that's not a competitive advantage. I think they're going to have a really hard time standing out in a crowded marketplace."

Another risk for One Click is its business is based on commodity-type products like socks, sunglasses, hats and scarves, where differentiation can be minimal and competition is mostly on price.

A similarly sized industry player, Brooklyn, N.Y.-based Main Merch, sells licensed products featuring beer and liquor brands, movies, TV shows and super heroes, which helps limit the number of direct competitors, said George Fox, the company's marketing manager.

Main Merch, which began as an eBay store in 2004, operates niche retail sites including WearYourBeer.com and TeesForAll.com.

"A whole lot of brands make scarves and neckties and hats," Fox said. "Competition is a little different with licensed products; only one or two people are making stuff."

One Click executives hope to establish direct relationships with suppliers since the company's new headquarters in a former M&I Bank office building offers more space—20,000 square feet—to stock inventory. That also could add risk, if the company makes a buying mistake on a larger scale.

Search is central

Fox applauded the award of economic-development incentives for One Click but cautioned about risks, including "the fine line between acceptable and manipulative" search engine optimization tactics.

He pointed to Google's punishment of J.C. Penney last year for hiring an outside firm to employ so-called black-hat SEO tricks to boost its online ranking. The search engine giant with 70-percent market share crushed the retailer's online business when it downgraded Penney's standing in search results.

Fox also questioned One Click's strategy of acquiring niche retail websites, noting that the owners of such sites often have unreasonable expectations for what their properties are worth. He added that One Click's website gives the impression it is more of a service provider for e-commerce rather than an acquirer and holding company.

Stocklin said One Click has not yet considered whether to create an overarching brand for its collection of retail sites, a strategy pioneered by one of the largest players in the niche retail business, Boston-based Wayfair.

The industry giant with more than $500 million in revenue brought more than 200 niche websites in the home category together under the Wayfair umbrella in 2011, using the tag line "a zillion things home."

The story of Wayfair, formerly known as CSN Stores, also illustrates just how fast a company like it can grow: It went from two employees in 2002 to more than 900 last year. The company offers more than 4.5 million products from 5,000 brands.

"One of the challenges we faced with our niche sites was developing customer loyalty," Wayfair spokesman Dave Ladetto wrote in an e-mail. "When our customers shopped our site Strollers.com, they may not have known we were also Luggage.com and TVstands.com."

He said One Click should thrive if it focuses on customer service and selection. The Greenwood company, Ladetto said, has a "solid foundation in selling fashion products online, and their future seems bright."

Risk/reward

Even if One Click never grows as large as Wayfair, it could become an acquisition target for a more established online player or even a traditional retailer.

Amazon in 2010 spent $545 million to acquire the owner of Diapers.com and Soap.com, a year after it snapped up the popular online shoe retailer Zappos for $850 million.

The home improvement chain Lowe's in late 2010 acquired ATG Stores, which sells more than 3 million products on 500 niche retail websites, for an undisclosed sum. ATG launched in 1999 with a single online shop, LightingUniverse.com.

One Click executives say they aren't even thinking about selling. They hope to achieve revenue of $20 million to $30 million within the next few years. The company hired 26 people in the last 12 months and missed the Inc. 500 list of the nation's fastest-growing companies by just a few slots.

"We didn't start this business with an exit plan in mind," Stocklin said. "Every day when the senior team meets, we're just focused on building a great company."•