The Indiana Pacers' playoff run and a decreased player payroll—along with $10 million from the city's Capital Improvement Board—have brought the team closer to breaking even this year, but not out of the red, sports business experts said.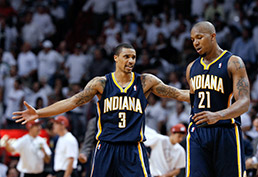 Despite adding players such as George Hill, left, and David West, Pacers player personnel boss Larry Bird has been able to lower the payroll by more than $5 million. (AP photo)
"In a small market like Indianapolis, each home playoff game should mean an additional $700,000 to $800,000, so they've brought in some meaningful money," said Marc Ganis, a Chicago-based sports business consultant who counts several NBA teams as clients.

Through its second-round playoff series with the Miami Heat, the Pacers hosted six home playoff games, which means the team brought in more than $4.2 million in additional revenue, according to Ganis.

That money, along with a $10 million subsidy from CIB to operate Bankers Life Fieldhouse, should get the team close to break-even, said Mark Rosentraub, a former IUPUI dean who has written several books about professional sports business operations.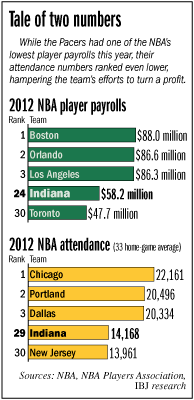 "Absolutely, this run will help," said Rosentraub, now a professor of sports management at the University of Michigan and director of the school's Center for Sport Management. "But I think they'd need to get to the Eastern Conference finals, and probably push it to a game six or seven in that series to break even this year."

Pacers President Jim Morris said the added income is "helpful, a very good thing, but not significant."

The team's financial outcome this year, Morris said, is still hanging in the balance.

"I hope we're getting closer to break even, but I don't know that," Morris said.

Forbes magazine estimated the franchise lost $6 million to $15 million each of the last four years. Team officials said losses in some years have been $20 million to $30 million.

Several important basketball financial indicators this year are pointing up, Morris said.

Per-game ticket revenue is up "substantially" over last year, he said, as is ancillary revenue, including concession sales and parking fees. Merchandise sales are up 40 percent, Morris added.

Playoff payoff

The increases might not be done piling up. Because of the NBA's playoff payment structure, "owners have the opportunity to make significant money from the playoffs," Rosentraub said.

Most NBA players are paid the same amount by the team whether the team makes the playoffs or not. A handful of players have team-paid bonuses for playoff performance in their contract. Most of the bonus money for playoff performance is paid by the league.

This year, teams playing in the first round get $194,016 to divide as they choose. Teams in the second round get an additional $230,853, and teams qualifying for the conference finals get $381,482. The NBA pool sets aside $1.53 million for the NBA runner-up and $2.3 million for the champion.

Teams keep most of the home playoff-game ticket revenue and all of the concession, parking and other ancillary revenue.

"If a team goes deep into the playoffs, the impact to the bottom line can be substantial," Ganis said. "Revenue for playoff games should far outpace any additional costs in operating the venue for those games."

The Pacers' first appearance in the playoffs' second round since 2005 is giving the franchise a lift that could last.

"The excitement in this building is out of site," Morris said. "We've sold 1,000 more season tickets for next season year-to-date compared to last year. Our renewal rate for season tickets is up 30 percent over last year and we've signed up 5,000 new people for our database of people interested in season tickets."

Morris added that traffic to the team's website has increased 62 percent from the regular season to the post season and subscribers to the Pacers' e-mail blasts have tripled from the playoffs' first round to the second round.

From the ashes

Two years ago, things were looking much bleaker. But lots has changed since then.

In 2010, CIB agreed to pay the Pacers $33.5 million over three years to subsidize fieldhouse operations and upgrades.

The NBA and its players saved the 2012 season late last year by agreeing on a new labor pact that gives teams a higher percentage of basketball-related revenue. It's designed to create a more level playing field between large- and small-market teams, though Morris said teams like the Pacers are still financially challenged.

In the last two years, player personnel moves have saved money, leading to a winning record, a respectable playoff run, and Larry Bird's being named the NBA's executive of the year.

Even though the team added David West, whose contract calls for $10 million a year, the Pacers were able to lower their player payroll more than $5 million, to $58 million.

"If anyone in the NBA understands the value of a dollar, it's Larry Bird," Morris said. "He's a naturally frugal, conservative guy."

The Pacers' payroll, which was 24th highest of 30 NBA teams, was $30 million lower than top-paying teams such as Boston, Orlando and the Los Angeles Lakers. Miami, the Pacers' second-round playoff opponent, had an $80.3 million player payroll this year.

The payroll numbers reflect the value of player contracts for a full season. Because the lockout shortened this season from 82 games to 66, the Pacers' payroll expenditure this year is $46.5 million.

As frugal as the Pacers were in doling out player salaries, low attendance certainly took a toll on finances, Ganis said.

Despite deeply discounted ticket prices and myriad regular-season promotions, the Pacers averaged 14,168 fans per home game this year, 29th in the league. "They simply have to get more paying customers through the gates if they're going to become financially viable," Ganis said.

Fortunately, there's no better elixir for sluggish ticket sales than a playoff run.

"The biggest payoff of this run, no question, will be seen next season," Rosentraub said. "We've shown statistically that success in the playoffs has a significant carryover into next season."

Off-season issues

Pacers owner Herb Simon and Morris have two serious issues hanging over their heads. Bird's future and the team's financial arrangement with CIB will have to be dealt with in short order.

Bird says he'll decide after the season whether to return in the same role next year.

As for dealings with the CIB, it's time to get beyond the 2010 agreement that resulted in three $10 million payments to subsidize fieldhouse operations. The last of those was paid earlier this year. CIB also paid $3.5 million to install a ribbon board for advertising that encircles the fieldhouse's bowl area.

"We continue to have discussions with the Pacers," said CIB President Ann Lathrop. "I don't have specifics to discuss right now. We own that building and we have to operate it. Our priority is to have a major tenant there that draws hundreds of thousands of people downtown."

The original lease agreement—which was signed in 1999—stipulated that the Pacers would pay all the venue's operating expenses and keep all the income.

But in 2009, the Pacers said they could no longer afford to pay for fieldhouse operations and maintain a competitive NBA team. The three-year subsidy agreed to in 2010 includes a provision that the Pacers would have to repay the money if they break their lease before 2019.

"We're going to need ongoing help to pay for the core expenses of the building, but we're taking nothing to operate the team," Morris said. "All the financial support from the CIB goes to the building."

Lathrop and Morris said they expect to intensify talks about a fieldhouse operations agreement after the season. The Pacers are likely to push to get a deal done near the time the team's fiscal year ends June 30.

"We know what the issues are," Lathrop said. "This recent playoff run has certainly reinforced what an important economic driver the Pacers are. But we don't have any time line right now as far as determining what we're going to do with the Pacers going forward."•