At Rolls-Royce Corp. in Indianapolis, Adrian Dunson is among a select group of African-American engineers who represent just 4 percent of the jet engine maker's local engineering work force.
Rolls-Royce is striving to improve upon the number, though it and other corporations that rely heavily on engineers have their work cut out for them.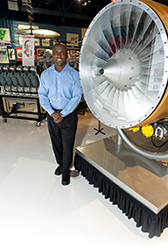 Rolls-Royce engineer Adrian Dunson was encouraged by parents who valued education.(IBJ photo/Eric Learned)
Hardly any of the engineers working at Rolls-Royce or anywhere else in the Indianapolis area are black, according to the U.S. Bureau of Labor Statistics. Because the government tracks engineers and architects in the same category, determining exactly how many minority engineers are employed locally is difficult.
However, an average of only 1,000 blacks worked in the engineer and architect category from 2008 to 2010, the agency said. That amounted to just 2.2 percent of the total head count in the professions and next to last among the 22 broad occupational categories tracked by the bureau. A category covering farming, fishing and forestry had no blacks.
The highest concentration of African-American workers, 15.2 percent, was in personal care and service occupations.
The categories are broad because the government gathers the data through monthly telephone interviews with a slice of the nation's population. The sample size in Indiana is so small that drawing conclusions about narrower groups of workers would be statistically inaccurate.
Yet, it's common knowledge that engineering and architecture aren't the only occupations with deficits of African-
Americans. Many segments of the market, such as commercial real estate brokerage, have little or no more success in hiring minorities.
Reasons for the dearth of black engineers vary from a lack of education and opportunity to too few role models.
"When I look back at why I was successful, my parents really valued education," said Dunson, 39, "and I had easy access to people who could help me with my homework and to encourage me to keep working at it."
Mindful that many African-American children don't enjoy the same benefits, Dunson and others in the profession are determined to increase local representation through a not-for-profit outreach called the Minority Engineering Program of Indianapolis.
The effort is part of a larger, national push to get more black students, starting as young as third grade, interested in engineering. By introducing them to it early, program leaders think they'll be better prepared to tackle the necessary course work before graduating high school.
Perhaps the best-known endeavor is the Summer Engineering Experience for Kids launched by the Alexandria, Va.-based National Society of Black Engineers in 2007.
The program is available in Washington, D.C.; Detroit; Houston; New Orleans; Oakland; San Diego; and Columbus, Ohio, with plans to add Chicago, Brooklyn and Jackson, Miss., next year.
"When you look at public education, 50 percent of African-Americans aren't even graduating on time," said society Executive Director Carl B. Mack. "So why would you go to high school as an entry point to motivate African-American children to go into engineering?"
The organization has deep Indiana ties, having been founded in 1975 at Purdue University. Its annual meeting is scheduled in Indianapolis in March 2013.
Purdue's paltry numbers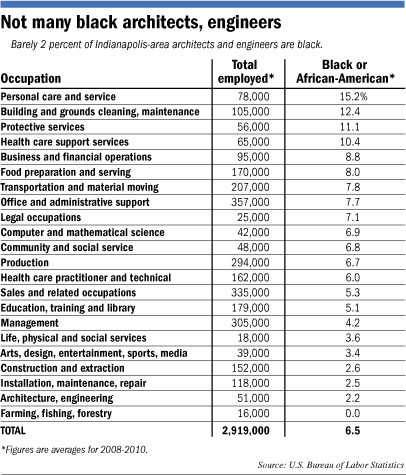 Purdue boasts the state's largest engineering program, typically churning out more than 1,000 graduates every year. Yet only 22, or 2 percent, of degree earners in 2011 were black, according to the university.
In fact, within the past 20 years, the number of black engineering grads has ranged from a low of 10 in 2010 to a high of 45 in 1997. Until 2011, the most recent year for which statistics are available, the figure had not topped 20 since 2003.
"Numbers should never remain flat; I'm baffled by that," said Virginia Booth-Gleghorn, director of Purdue's minority engineering program. "How do we get the same magic number every year?"
Booth-Gleghorn thinks Purdue may be losing some black engineering prospects to colleges that are more aggressive in awarding scholarships to minorities.
Even so, the university in West Lafayette hopes to boost the numbers, and offers summer engineering workshops geared to minorities in grades six through 11 that typically attract about 200 students annually.
Part of the mission of the workshops is to simply inform youngsters about the basics of engineering.
"The biggest apprehension that I see in students to cause them not to pursue engineering is a lack of understanding as to what engineering is," Booth-Gleghorn said. "You don't have to love math, but you have to be able to do it, we tell them."
Good for business
Many of Rolls-Royce's 1,600 engineers in Indianapolis are Purdue graduates. But the company also recruits from historically black colleges and universities, including Alabama A&M University, North Carolina A&T State University and Tennessee State University.
Rolls-Royce isn't trying to meet minority quotas, said Mark Rhodes, vice president of engineering and technology. Rather, the company believes a diverse work force is good for business.
"So much of the work we do is team-based and not based on individual contributors. The more diverse that team is the better the result will be," Rhodes said. "I think there's plenty of evidence to support that."
Eli Lilly and Co., another large local employer of engineers, takes a similar approach. The pharmaceutical firm has about 500 engineers at its Indianapolis headquarters, most of whom are chemical and mechanical. The company declined to divulge how many are black.
A Lilly spokeswoman said the company also recruits from historically black colleges and universities and is involved with the National Society of Black Engineers—so much so that it helped the Indianapolis Convention & Visitors Association land the organization's annual meeting next year, Lilly spokeswoman Miriam Janice Chavers said.
Its efforts in promoting diversity helped Lilly rank among the Top 50 Companies for Diversity by Diversity Inc., a Princeton, N.J.–based consulting firm specializing in corporate diversity practices.
"We strongly believe that the interests of our company are best served by a Lilly team that reflects the diversity represented within our communities and that takes full advantage of the unique inputs, perspectives, talents and experiences of each and every person whom we engage in our work," Chavers wrote in an e-mail.
Choices abound for architects
The architectural community, too, severely lacks a black presence.
Sanford Garner, 43, a local black architect who co-founded the A2SO4 firm in 2001, can attest to that.
Garner, who is president of the Washington, D.C.-based National Organization of Minority Architects, said fewer than 2 percent of all licensed architects in the United States are black.
The number may be even lower in Indianapolis, he said, because the "good ones can write their own ticket" and often choose to practice in larger cities such as Atlanta, Chicago or New York.
The lack of blacks in the architectural profession struck a chord with Garner when he was honored last year by the American Institute of Architects as one of 11 national recipients of the 2011 AIA Young Architects Award. The award is given to architects licensed less than 10 years.
His parents accompanied him to the ceremony, and his father, a retired physician, quickly noted Garner's status as the sole black among the 11 honorees.
"He kept saying, 'You're the only one,'" Garner recalled. "It hurt to hear him say that, but I understood what he was saying. He was like that, too, in terms of being a minority [physician]. But that was 1960; this is 2011."•
Please enable JavaScript to view this content.