Buyers have quickly snapped up two home sites and the city might sell seven more on a stretch of Broadway Street where The Oaks Academy had hoped to build a soccer field.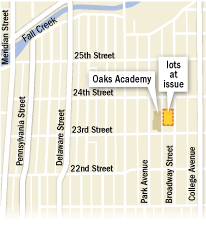 City leaders and school officials hatched the plan to use the vacant residential lots about three years ago when the prospects seemed grim for new homes in the fourth phase of Fall Creek Place. But as the housing market began to recover and more buyers trickled in, the proposed repurposing led to tensions between neighbors and the school.

A city planning board in May declined to sell nine home sites to the private religious school in a deal Department of Metropolitan Development officials had informally endorsed years earlier.

Oaks Academy already built an arboretum and outdoor classroom on the three southernmost lots in partnership with Keep Indianapolis Beautiful and planned to keep the rest as open space so its students could practice for soccer and track. It wasn't clear whether the arboretum properties will be sold for homes; city officials say that's up to the neighbors.

The decision by the Metropolitan Development Commission on May 16 handed a victory to homeowners who argued for more new neighbors over a soccer field. Their rationale ranged from the city's ability to collect more property tax revenue to concerns about public safety.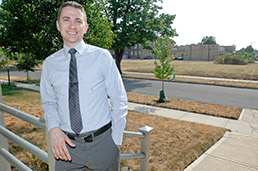 Justin Forkner helped persuade a city commission to keep lots across from his Fall Creek Place home reserved for residences, not for use by The Oaks Academy as a soccer field. (IBJ photo/Perry Reichanadter)
"When we bought our homes, there were for-sale signs on all those lots," said Justin Forkner, whose home on Broadway faces the vacant lots. "Our interest and expectation was always [that] we would at some point open our door and see a home across the street."

The denial was a stinging blow for a private school that has been a neighborhood anchor since it opened in 1998.

The middle school class plays soccer with other schools and needed a place to practice, said Elizabeth Hamilton, the school's director of administration. The school doesn't have buses or a budget for transportation, so the properties next to its school (the former Indianapolis Public Schools 45) made the most sense.

She said the plan called for an open field, without a fence, that would be available as community space when the school wasn't using it. The school has a small playground to the north of its building.

"We want the neighborhood to be a wonderful place—we want all the things that are good for the neighborhood," Hamilton said. "There are a lot of lots out there nobody is buying, so it's funny to us they insisted these be made available for residential purposes. It was a disappointment."

The city's decision to make all the lots available for sale at once rather than testing the market and offering them from north to south contiguously dealt another blow: One of the first properties to sell is the one immediately north of the arboretum, likely eliminating the possibility the soccer-field plan could be revived if home sites are slow to sell, Hamilton said.

She wonders whether that was part of the plan all along for the school's neighborhood adversaries.

Department of Metropolitan Development Director Maury Plambeck said the best outcome would have been a compromise to sell some of the lots to the Oaks while setting aside others for residential.

"We also believe that open spaces and schools are important parts of neighborhoods," he said. "The use they wanted to do is a functional part of a neighborhood."

Plambeck had negotiated the deal informally with the Oaks, but the final sale needed approval from the Metropolitan Development Commission, which ultimately sided with the neighbors and decided for now that all the lots should remain residential.

Forkner, who bought his home in 2008 and serves on the board of the Fall Creek Place Neighborhood Association, said he expects neighbors can reach consensus in support of a sale of the three arboretum lots to the school since no one wants to lose the green space.

He said the dispute "got personal" and that's unfortunate.

"It's a shame it became an all-or-nothing thing," Forkner said. "We didn't mean to come across as opposed to a school. We're proud of our neighborhood and hope we can work together with The Oaks."

The neighborhood's willingness to consider a sale of the arboretum properties, which the school built and planted with the city's permission, is encouraging to Hamilton.

"It would be devastating to see that get built on, not just for us but for [Keep Indianapolis Beautiful]," she said. "We don't want there to be bad blood. These are our neighbors."

Under the scuttled deal, the school had agreed to pay $15,000 per lot, a discount to the going rate of about $19,000 since it had agreed to buy several lots at once. The King Park Area Community Development Corp. actually sells the lots, acting as a middleman for the city.

Developer Jeff Congdon, a partner in urban residential specialist Axia Urban, would've been fine with the soccer field.

He pointed to the dozens of other available lots: Fall Creek's fourth phase has roughly 50 lots available for single-family homes (including the Oaks lots), and 14 for townhouses.

"Reserving those lots is crazy," Congdon said while standing in front of a historic home he's rehabbing at 2515 N. Broadway St., one of several older homes that could use some TLC in the neighborhood. "We have plenty of land around here for homes."

There are vacant lots in every direction, often several bunched together. An aerial photograph of the area resembles some of Detroit's decimated urban neighborhoods.

On the other hand, that's what a lot of Fall Creek Place looked like before the redevelopment effort began under former Mayor Bart Peterson.

The housing downturn took its toll on both new construction and resale values. And generous property tax incentives that sweetened the deal for initial buyers have expired.

Congdon would like to see another round of incentives to keep Fall Creek Place's phase four from "starving to death."

"How much tax does the city get on an empty lot or foreclosed house?" he asked.

Plambeck said the point of the city's initial incentive offerings was to build market confidence in Fall Creek Place. The incentive for new buyers is the opportunity to build a new house in an established neighborhood near downtown with new infrastructure including streets, alleys and sidewalks.

The lots in question are on the west side of Broadway Street between 23rd and 24th streets in the heart of the fourth phase of Fall Creek Place, which is bounded by Park and Carrollton avenues and 22nd Street and Sutherland Avenue.•