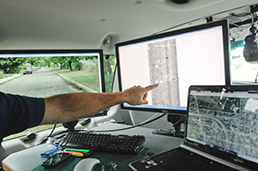 A Dynatest operator points to pavement defects picked up by cameras attached to the company's van. Indianapolis hired contractors to help build a database of pavement conditions, sidewalks and street signs. (IBJ Photo/ Perry Reichanadter)
Indianapolis will spend $2 million this year to create its first comprehensive, modern inventory of streets and sidewalks.
The data will help the Department of Public Works better deploy the millions already being spent on repairs under Rebuild Indy, the $425 million infrastructure program created from the 2010 sale of the water and sewer utility to Citizens Energy Group.
"We wanted to have a baseline going forward," Director of Public Works Lori Miser said. The city spent $1 million from Rebuild Indy and $1 million from the federal Highway Safety Improvement Program to hire contractors that are roving all 3,200 linear miles of city streets in technology-packed vans.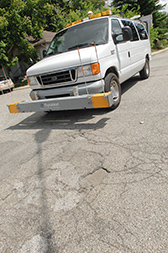 Cameras are attached to the company's van. (IBJ Photo/ Perry Reichanadter)
Dayton-based Woolpert LLP's mobile mapping vans use multiple cameras, which are linked to a GPS system, to capture images and locations of signs, as well as the locations of sidewalks. The images are later analyzed and the information stored in a database.
A subcontractor, Denmark-based Dynatest, is assessing pavement conditions on every street. A device equipped with seven lasers attached to the van's front
bumper determines the road's roughness according to a standardized scale, as the van travels at posted speeds.
Meanwhile, two downward-facing cameras on the rear of the van capture images of the pavement every 20 feet. Software then stitches the images together, and an expert uses them to assign condition ratings on a scale of 1 to 100 (with 100 being perfect).
The city's current pavement-management system does not include every residential side street, and the condition ratings are on a scale of one to three.
"Those are all so close, I don't know how they determine the difference," said John Haddock, associate professor of civil engineering at Purdue University.
Most counties use a scale of one to 10, while state highway departments and many cities use the one-to-100 scale, Haddock said.
Under the new system, Indianapolis will consider scores under 40 to be failing, Miser said. The whole data-collection process will take the rest of this year.
The new information will give the city a more objective basis for setting priorities, which are influenced by feedback from residents and City-County councilors. Engineers make regular rounds of thoroughfares and secondary roads, but side streets tend to get attention when residents complain.
The city even provides a short, illustrated guide to common pavement defects and an assessment form, which teams of residents can use to survey their neighborhoods. Then engineers visit the area to provide an expert opinion.
Residents from six near-north-side neighborhoods tackled the entire area, which is known as Mid-North, and submitted the information early this year, said Denise Whittaker, a Mapleton-Fall Creek resident who led the effort. Now the mayor's neighborhood liaison wants the residents to meet and assign priorities.
"Which is scary to me," Whittaker said. "If it's my block, it's a priority to me. If it's your block, it's going to be a priority for you."
Mapleton-Fall Creek submitted an assessment of its sidewalks more than a year ago and now is starting to see some work under Rebuild Indy, said Leigh Evans, a resident and executive director of the Mapleton-Fall Creek Community Development Corp.
While the current project list includes many of the neighborhood's worst-rated blocks, some are left hanging. Evans said she'd like to be able to explain to residents how one block is chosen over another.
"If there is additional information I can share with people—this is the comprehensive system, and this is the criteria for how priorities will be established—I think people are open to hearing it," she said.
Even with Rebuild Indy, the city won't have enough money to upgrade every street, or even all of those with scores under 40, Miser said.
Purdue's Haddock said cities shouldn't necessarily focus on fixing the worst roads first. He said those that try to bring every road up to a minimum standard find roadways that were adequate start to fail.
It's more efficient, he believes, to set a system-wide average as the target, and use a combination of maintenance and repairs, as funding allows, to reach or maintain that average.
Mayor Greg Ballard has said he doesn't plan to spend all of Rebuild Indy's $425 million on basic infrastructure. He would like to reserve some portion—he won't say how much—for public-private partnerships that "could change the face of the city."
Those basic needs that aren't covered by Rebuild Indy will go back into the normal funding cycle, Ballard said.
"The city had spent $195 million of Rebuild Indy funds through 2011."
Before Rebuild Indy, the city budgeted about $10 million a year for street repair and another $2 million to $3 million for sidewalks, curbs and ramps.
A portion of that money comes from gas tax, which is declining as cars become more fuel-efficient. Indianapolis' share of gas tax revenue has dropped 16.5 percent in five years, from $35 million in 2007 to a projected $29 million this year, DPW spokeswoman Kara Brooks said.
With Rebuild Indy and other sources, the city will spend $33 million this year on street repairs alone, Brooks said. Total spending on streets, curbs, sidewalks, bridges and stormwater systems is $140 million.•
 
Please enable JavaScript to view this content.