Four railroads in the southern two-thirds of Indiana that haul everything from Honda Civics made in Greensburg to coal for electric generating plants are about to change hands.

The federal Surface Transportation Board in September issued a preliminary determination that there are no anticompetitive effects in a plan by Greenwich, Conn.-based Genesee & Wyoming Inc. to buy Jacksonville, Fla.-based RailAmerica. The $2 billion deal was announced in July.

RailAmerica owns 45 railroads around the United States, including the Central Railroad of Indiana, Central Railroad of Indianapolis, Indiana Southern Railroad, and the Indiana and Ohio Railway.

G&W doesn't operate track in Indiana, but has 63 railroads in North America that include short lines and regional railroads in Ohio and Illinois.

There is little overlap between the two railroad holding companies nationwide, which has allayed anticompetitive concerns. The STB deems the G&W purchase of RailAmerica as a "minor" transaction, meaning a final decision could come yet this year, pending any challenges.

"We're still early in the process and have not yet met with the RailAmerica railroads in Indiana or Illinois," said Michael E. Williams, spokesman for Genesee & Wyoming.

"In general, G&W will be seeking to expand operations at the RailAmerica railroads through local marketing efforts to industrial customers, with the goal of increasing traffic," Williams added.

RailAmerica's lines in Indiana connect with big, Class I railroads and regional lines such as Indianapolis-based Indiana Rail Road. The Florida company's 196-mile Indiana Southern Railroad connects in Switz City with the 500-mile Indiana Rail Road.

Indiana Southern hauls coal and agricultural commodities. It will serve Duke Energy's Edwardsport coal gasification generating station, which is nearly completed.

"We don't see any major changes in terms of our operations," said Eric Powell, manager of economic development at Indiana Rail Road.

Powell added, "Genesee & Wyoming has a track record for being a good company and doing a very good job of marketing their properties and investing in them."

Buying RailAmerica's Indiana lines will provide virtually a direct connection to G&W's Ohio railroads. In Ohio, those lines now go as far west as Columbus.

RailAmerica's Central Railroad of Indiana stretches between Shelbyville and Cincinnati, along the way picking up Honda vehicles made in Greensburg. RailAmerica's Indiana and Ohio Railway stretches between Cincinnati and Columbus, where it can hook up with G&W's Columbus & Ohio River Railroad.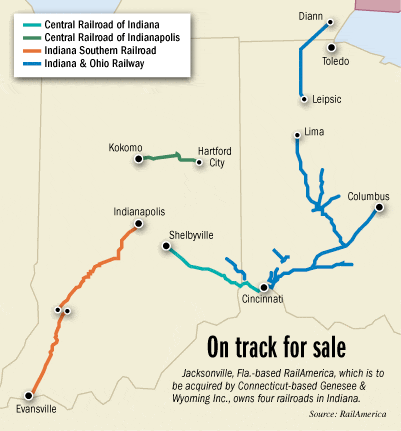 Having so many railroads under one umbrella offers the potential for efficiencies on the back end and better coordination, said Eric Starks, president of Nashville, Ind.-based Freight Transportation Research Associates.

G&W predicts $36 million in annual cost savings.

"What you're doing is, you are simplifying the structure," Starks said.

Generally, short-line railroads are focused on customers in a particular geographic area, each with its own niche of goods and commodities to and from larger railroads.

Besides any economies of scale it gains, G&W is most likely looking to expand its industrial base of customers, said David Holt, a vice president of Conexus Indiana, a not-for-profit focused on growing logistics and advanced manufacturing.

Currently, coal and metals are the predominant commodities carried by G&W's 63 railroads. After buying RailAmerica, which is heavy into agricultural and chemical freight, G&W's largest commodities will be in farm and food goods and metallic ores, according to a presentation to analysts.

G&W also has operations in Canada and in Australia.

After the merger, G&W will own 111 railroads in 37 states. The Connecticut company will have 4,300 employees and annual revenue of $1.4 billion.•