A West Lafayette company is starting to make real strides in its attempts to improve health care in the United States.
Founded in 2002, Vasc-Alert LLC makes a software-based device that helps kidney dialysis providers monitor the site where a patient's blood is drawn.
Dialysis rids waste and unwanted water from blood, a process naturally performed by kidneys. So Vasc-Alert's growth traces indirectly to the nation's explosion of diabetes, hypertension and obesity—all of which are leading causes of kidney failure.
But Vasc-Alert's software can prevent a dialysis patient's condition from becoming even worse by quickly alerting the dialysis provider to potentially life-threatening damage to an access site.
The site, typically in the forearm, where a needle connects a patient and the dialysis machine, can become scarred and develop stenosis, a narrowing of a blood vessel that eventually may cause clotting.
Treatment to avoid a clot often involves angioplasty, which is substantially cheaper than a thrombectomy, a procedure to surgically remove a clot, said Douglas Curry, vice president of Vasc-Alert.
Vasc-Alert's technology leads to more angioplasty surgery and fewer thrombectomies.
"The human body doesn't have sensors on it," he said. "There's nothing on it that says, 'Gee, your access sites are having issues.'"
Starting in 2014, dialysis centers can lose 2 percent of their federal revenue if they don't meet certain performance benchmarks, according to a mandate from the Centers for Medicare & Medicaid Services. Roughly 80 percent of hemodialysis patients receive Medicare or Medicaid.
Now that Vasc-Alert has a proven track record, more dialysis centers are subscribing to its services in order to avoid the penalties. In addition, the company's patent is expected to be cleared for use in Europe next year, and a marketing thrust is planned immediately thereafter.
The company has experienced "good, solid growth" the past five years, Curry said, but it pales in comparison to the 15-percent to 20-percent increase Vasc-Alert anticipates next year.
Vasc-Alert's software is used in more than 200 clinics in the United States—a number that could mushroom to more than 500 globally next year.
One clinic using Vasc-Alert technology is within the Sparrow Health System in Lansing, Mich. The cheaper cost, compared with similar technologies, and its ability to produce quicker results drew the clinic to Vasc-Alert, said Mary Swails-Climer, a Sparrow nurse.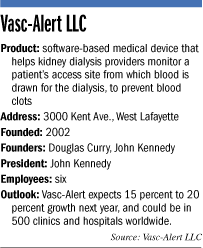 The annual cost of a subscription is $4,500 based on the roughly 60 clinic patients who receive dialysis from a permanent access point. A device similar to an ultrasound machine might cost $7,000 and $8,500, while producing readings less frequently.
Vasc-Alert software uses information from the machine monitoring patient blood flow to calculate internal pressure within the access site, rendering a separate machine unnecessary. It also spits out readings three times a week, as often as a patient typically receives dialysis, as opposed to monthly, like other machines.
"It might be too late before you get to that next month," Swails-Climer said.
Vasc-Alert sends an e-mail to a dialysis provider when a patient report is ready, and the provider simply visits the company's website and downloads the information.
Vasc-Alert, based in Purdue Research Park, licenses the technology from a team of physicians and engineers at Henry Ford Hospital in Detroit. It has six employees.
Curry, a former assistant director of Purdue's Office of Technology Commercialization, co-founded the company with colleague John Kennedy.
An acquaintance of Curry's in the biotech sector stumbled upon the dialysis technology at Henry Ford Hospital and suggested to Curry that he take a look at it.
Robert McDonald, president of Indianapolis-based Aledo Consulting Inc., a life sciences and health care consulting firm, has been a Vasc-Alert investor since the technology hit the market in 2004.
"The number of people using it keeps growing," he said, "and it seems as though the people who use it understand the value."
The value for patients is potentially extending their lives.
"Once you start [dialysis], life expectancy is about five years. But if you manage it correctly, you can live longer," Curry said. "A dialysis patient in Sydney, Australia, has the same issues as a patient in Bozeman, Mont."•
Please enable JavaScript to view this content.