It happens all the time.

Indianapolis attorney Henry Efroymson sees an out-of-state peer working opposite him on a bankruptcy case and charging substantially higher fees than he does.

Indeed, legal professionals in Indiana earn an average of 25 percent less than their peers nationwide. And there are similar, double-digit-percentage wage gaps between Indiana's architects, engineers, business managers and other high-wage earners.

Daniels
It's among these kinds of workers that Indiana most lags the rest of the nation in personal incomes.

Which goes a long way toward explaining why Gov. Mitch Daniels' No. 1 goal—raising average incomes in Indiana faster than the rest of the country—has gone unfulfilled during his eight years in office.

"It's just part of the culture," said Efroymson, a partner at the law firm Ice Miller LLP, about Indiana's modest legal fees. "And I think it refers to the fact, historically, that there have been fewer financial firms, and public companies and large international firms in the Midwest."

As Daniels leaves office in January, there is a debate about whether his policies of keeping taxes and spending low, while pursuing alternative strategies to improve roads and schools, have been the best way to help Indiana attract and create more of those high-wage, knowledge-based jobs.

For now, Daniels, who once set a goal of having Hoosier incomes match the national average by 2020, will have to content himself with the fact that Hoosier incomes have stopped losing ground against the rest of the nation and may even have twitched back upward the past two years.

The average Hoosier earned 86 cents for every dollar earned by all Americans in 2011, according to the most recent annual data from the U.S. Bureau of Economic Analysis.

Hoosier incomes have hovered at that level, compared with the national average, since 2008—although they did grow faster than the nation during the first nine months of 2012.

When Daniels launched his campaign for governor in 2003, the average Hoosier made 91 cents for every dollar earned by Americans—and Daniels vowed to fix that.

Daniels points out that his real goal has been to keep Hoosier standards of living high. And when Hoosiers' disposable incomes are adjusted for the state's lower cost of living, Indiana's performance looks a lot better.

"It's not a bad thing if a lawyer here is paid less per hour—that means a business got a better deal—so long as he can turn that into food, shelter, whatever he wants to buy," Daniels said in an interview.

Adjusted for Indiana's lower cost of living, Hoosier incomes were essentially even with the national average in 2003, but did not keep pace in the nation's mini-boom that ran through 2007. Personal income in Indiana, even when adjusted for the cost of living, bottomed out in 2008 at 93.4 cents for every dollar Americans earned.

Since then, Hoosier disposable incomes have averaged about 94 percent of the national average, according to a report produced by the Daniels administration, which adjusts the federal data using a cost-of-living index produced by the Council for Community and Economic Research.

Indiana's standard of living ranks No. 25 in the nation, below Midwest peers Illinois, Ohio and Wisconsin but ahead of Michigan and Kentucky.

Daniels has tried to close the wage gap on a number of fronts.

Starting in January 2005, Daniels made nearly every agency in state government develop strategies for how its work could help improve Hoosiers' personal incomes.

He put Indiana's economic development agency directly under his control—as opposed to being under the lieutenant governor's office—and personally led numerous international trade missions.

He led a switch to daylight-saving time, a move he argued made Indiana more business-friendly. He spurred a wave of road-building by leasing the Indiana Toll Road for a $3.8 billion upfront payment.

He spearheaded a new system of property tax caps and engineered a taxpayer refund from the state's $2 billion surplus.

He pushed through a series of K-12 school reforms and secured state funding for full-day kindergarten.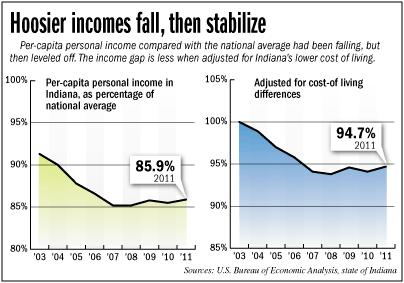 Daniels also cut funding for K-12 and higher education to balance the state's budget during the recession. He dramatically reduced the number of state employees. And he supported Indiana's adoption of a right-to-work law, which allows employees to opt out of the union at their employer.

"It's people's living standards that we're working on," Daniels said in an interview. "Most of the things we've tried to do have been aimed at lowering the cost of living, lowering the cost of business."

Long-term trend

The last time Hoosier incomes were this low compared with the national average was in the Great Depression. World War II production brought Indiana back in line with the rest of the nation, where it stayed for 25 years.

But since the mid-1960s, Hoosiers have gradually earned less than their peers in other states, as manufacturing has employed fewer and fewer people because of automation and competition from low-wage countries.

Indiana's wage gap is so widespread now that, out of the 657 occupational categories tracked by the federal Bureau of Labor Statistics, Hoosiers' wages lag the rest of the nation's in 505 of them, according to a 2009 study by the Indiana Business Research Center.

That means in roughly three out of every four jobs, Hoosiers are earning less than their professional peers across the nation.

Only in manufacturing, construction and farming do Indiana's wages lead the nation's, according to a 2010 study by Indiana University economist Timothy Slaper and researcher Ryan Krause, who studied 22 broad occupational categories.

Yet only manufacturing actually adds positively to Indiana's overall average wages right now, Slaper pointed out, because it is the one occupational group in which Indiana companies both pay better and employ a higher percentage of workers than the national average.

The other 21 occupational groups—which include management, health care, life sciences, engineering and, yes, legal professionals—are bringing down the state's average wage. That's because, compared with national averages, they employ a smaller percentage of workers or pay lower wages or—in most cases—both.

When Indiana's low cost of living is factored in, the wage gap disappears for nearly all jobs in Indiana except for the high-wage earners.

A key thing Indiana lacks, noted Slaper, is the design, engineering and high-tech work that pays high wages. The proportion of Hoosiers working in such fields ranges from about 60 percent to 80 percent of other Americans in those fields.

"If one can attract the design, the engineering, the higher-tech stuff, you're going to do a whole lot better," Slaper said. "If you look at the states that have done relatively well, these are the tech-driven states."

Low-cost strategy

Some economists who follow Indiana from neighboring states question whether Daniels' low-cost strategy is the right one to counteract the trends that are hurting the entire Midwest.

Throughout the region, manufacturing continues to become a smaller part of the economy. Yet Midwestern states have lower levels of education among their work forces, which hinders them from developing high-wage services industries.

"Whatever Gov. Daniels is doing, has it succeeded in raising incomes relative to the national average? The answer is a resounding no," said Charles Ballard, an economist at Michigan State University in Lansing, Mich.

Ballard has been studying Indiana's economy more intently because the business community in Michigan has liked Daniels' business-friendly approach. But he pointed out that business-friendly can't by itself overcome a poorly educated work force.

"I'm not against business-friendly," Ballard said. "But it doesn't matter how friendly you are to business. If you don't have the workers with the skills to do the jobs, you're not going to have a prosperous economy."

Daniels chafes when Indiana is criticized for under-spending on education.

He notes that Indiana spends 55 percent of its budget on K-12 schools—which is the highest proportion in the nation.

And even though Daniels cut K-12 spending by $300 million in 2009, he notes that Indiana's cuts were smaller on a percentage basis than the average for all states during the recession.

"We did prioritize it," Daniels said of education funding. "This year, we made a huge extra investment in full-day kindergarten. People have called for it for years. We did it. No one seems to notice."

Fred Giertz, an economist at the University of Illinois, said Indiana under Daniels has been a model of government efficiency, and has done well developing its roads and universities.

The problem, he said, is that state governments have little influence, at least in a positive direction, over their economies. That's why Illinois, for all its governmental problems, still boasts incomes well above the national average.

"Indiana is facing a major headwind, I think, in being a manufacturing state and losing some of that ability," Giertz said. "Even though governors take credit or blame for a lot of things, they don't really have much impact."

He said Indiana's future leaders should keep focusing on improving roads and schools, and shouldn't worry so much about low taxes and low-cost policies, such as the right-to-work law.

"Right-to-work laws are fine, but the kinds of industries you're trying to attract are in decline," Giertz said. "On the other side, don't necessarily worry about low taxes, but reasonable taxes that are consistent."•