Bill Scott went into a job at a struggling community center in 2010 feeling confident that his experiences as a manager for Eli Lilly and Co. were going to help him turn around the not-for-profit.
Christamore House Family and Community Center, a mile west of IUPUI just off of Michigan Street, needed more professionalism; stricter spending rules; and higher, clearer expectations of employees, he believed.
"I can't say there was anything wrong with it. It's just not what I was used to at Lilly," said Scott, a 58-year-old engineer who previously managed teams of 50 employees and hundreds of contractors at the 38,000-person pharmaceutical giant.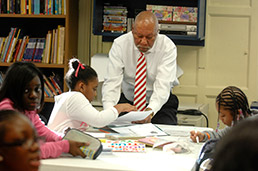 Former Eli Lilly and Co. manager Bill Scott spent a year and a half getting the books in order at Christamore House. (IBJ photo/Perry Reichanadter)
A year and a half after Scott left retirement to become executive director, Christamore House has its accounting records in order. Better yet, its crippling debts have shrunk, revenue is increasing, employees are working harder—and the risk of closing appears to be gone.
It wasn't easy.
"There are days I've sat here and said, 'What am I doing?'" he said.
Small not-for-profits' strategy of recruiting big-business executives for top posts has had mixed results since coming into vogue in the 1990s, said Bryan Orander, a not-for-profit consultant who specializes in helping groups recruit managers.
"It was kind of a 'Let's hire a businessperson as a savior' type of complex,'" said Orander, who runs Charitable Advisors in Indianapolis.
Orander said Scott succeeded because he joined the organization in the midst of a turnaround and made it more professional, setting high-but-realistic expectations while avoiding heavy-handed management tactics that can work at corporations but not small charities.
A lot of people have moved over from corporate jobs to small charities not realizing how much less they would earn while taking on vastly more responsibilities, he said.
Or how limited resources were.
Or how different office cultures could be.
Or how much time outside the office they would have to spend networking.
Bryan Richards, president of the Indianapolis not-for-profit consulting firm Aspen Impact, said executives making the switch to not-for-profits won't be happy unless they are passionate about the mission of the organization they join. Otherwise, he said, they'll soon recognize they can earn more and work better hours elsewhere.
"It's really a question of the personality of the person that is making the switch," said Richards, who previously consulted for businesses while working for PricewaterhouseCoopers LLP.
"I've found some are so used to operating in a different situation, they're used to operating at a different scale, they just get frustrated," he said. "The ones who are successful are the ones that are just mission-driven, patient and open-minded."
Less clout
Executives quickly discover that they lose clout to get things done when they move from large companies to not-for-profits, said Dave Sternberg, a partner at consulting firm Loring Sternberg and Associates.
They no longer have teams of other highly compensated managers answering to them. They instead will often lead a handful of employees who barely earn a livable wage and who deeply care about what they do—meaning they feel they should have more say in operations.
"What are you going to do? Motivate people with a very small paycheck?" Sternberg asked.
Managers, too, usually won't receive the compensation they were used to in the corporate world.
A survey Orander conducted found that the average not-for-profit executive director, president or CEO in Indianapolis earned about $96,000, with compensation varying widely based on size of organization.
Compare that with the national average for all CEOs at publicly traded companies, which was $9.6 million in 2011.
And executive directors or CEOs often find they are powerless to impose their agenda if they don't have the blessings of their boards, Sternberg said.
It often takes an outsider, such as a consultant, to persuade board members to go along with changes at not-for-profits, where boards often have much more direct control of an organization's day-to-day business than they do at for-profit companies.
"I make a living traveling the United States of America doing that kind of thing," Sternberg said.
Dana Renay, executive director of the Autism Society of Indiana, said that after she took over in 2008, it wasn't until Richards sat down with her and her board that the organization agreed to a growth plan and other changes.
"In nonprofits, people are so passionate about what they're doing or what their cause is that they forget it's a business," said Renay, who expanded ASI from one employee to 14.
Transitioning into leadership
Renay describes herself as once being "all business." As an employee of Deloitte early in her career, she provided consulting services to major companies. Later, she worked her way toward partner at the software firm BroadVision Inc. in Chicago.
But her mind-set changed after having children—one of whom has autism—and moving to Indianapolis. She sought to join ASI's board, where she volunteered two years before becoming executive director.
Volunteering often is a better way for executives to transition into not-for-profits than jumping right into a management role, Sternberg said.
Renay found that many of the skills she'd picked up earlier in her career—managing budgets, managing employees, networking—proved valuable in the not-for-profit sector.
"It had been six years since I had worked," she said. "I don't know anything about nonprofits, but I know business. I was just implementing everything from a business perspective, and I learned a lot about nonprofits.
"It was all very transferrable, but it was all night and day, weird, interesting."
Feeling overwhelmed
Dean Illingworth remembered hitting a wall about a year into his job as executive director of Habitat for Humanity of Greater Indianapolis.
He had spent more than a decade volunteering with the not-for-profit, initially helping build homes and then serving on the board, before leaving his partners at the architecture firm Schmidt Associates in 2006 to lead Habitat.
The transition from one job to another initially went smoothly enough.
But coordinating volunteers, raising money, scheduling the construction of homes and all the other "bits and pieces" were a major undertaking.
"I just went, 'Wow,'" Illingworth said of the overload, which soon caused him to feel burned out. "I really can't pinpoint something. But it's something I thought about several times."
He said he "got over the hump" and remained with Habitat until 2011—which he felt was long enough to accomplish his goals. Illingworth, who started his own architecture firm after leaving Habitat, now is the state's building law compliance officer.
Orander said serving as a not-for-profit executive can be even more exhausting than working in business because of the constant need to be out in the community providing services and developing resources.
"They're kind of always on when they're out in the community," he said. "If you manage a gas station, when you leave your job, you pretty much leave your job. If you're the leader of a nonprofit, you pretty much wear that hat everywhere."•
Please enable JavaScript to view this content.