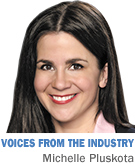 Recent research from Gartner Inc. shows that "bring your own device" programs, which allow employees to use their personal smartphones, tablets and other devices for business use, are the "most radical shift in enterprise client computing."
While investing in BYOD programs can save businesses from having to spend time and money on buying and maintaining corporate-owned devices, network performance and security issues can become a major concern.
Even a few years ago, businesses would issue company-owned laptops and cell phones to employees for professional use. While it was expensive to buy and maintain them, it gave the IT department control over what devices had access to the company network.
As iPhones, iPads and Android devices proliferated and became integral to people's personal lives, they didn't want to stop using them when they went to work and the push for BYOD began. As businesses have opened up to the idea, employees increasingly use two to three devices at work. For example, an employee might use a laptop at his desk, an iPad to take notes in a meeting, and a smartphone to respond to business e-mail on the go.
With employees using their own devices at work, the amount of training and support required from the IT department is reduced and, as a result, this trend is being supported by the IT department as well. Jupiter Research recently predicted that the number of BYOD devices would double by 2014. To prepare for this growth, businesses will have to move quickly to ensure the performance and security of the corporate network meets employee expectations.
Network performance
In recognition of the growth of BYOD and its impact on the network, Gartner's research also stated that 80 percent of recently installed corporate wireless networks will become obsolete by 2015 due to poor infrastructure planning. Quite simply, they could get overwhelmed by all the devices.
To combat such issues, businesses will need to ensure their internal wireless network can handle the influx of devices and still deliver the speed and performance employees need. Cable operators and other service providers carry a majority of the bandwidth responsibility, and working with them to ensure that users are getting the performance they need is essential.
Security
Since employees purchase and own the devices they bring to the office, the IT department does not have complete control over them, so security risks can also become an issue.
A common security concern includes employees' accidentally downloading malware or other computer viruses on one of their devices, then bringing it onto the company network and putting company information at risk, or an employee losing or having a device stolen.
If the devices don't have the proper security safeguards, unknown users could access sensitive company data, putting the business at risk.
IT departments are addressing these concerns by focusing on ways to limit access to company resources, and verify employee identities when certain devices and applications, data or other company resources are accessed. This way, employees can still benefit from BYOD and the company can continue to maintain network security.
With the potential security issues companies face, why should they support BYOD programs?
First and foremost, the ability for employees to access corporate networks from their personal devices at any given time and place improves productivity and has a direct impact on business growth.
Second, as mentioned earlier, allowing employees to use their own devices means less capital cost, training and support required by IT departments, allowing them to focus their time and resources on IT-related projects to grow the business instead of being a continual help desk.
Last, the rate at which mobile devices are expected to grow over the next few years means that enterprises don't have a choice, and the number of devices already in the hands of employees makes it impossible for businesses to ignore the need to implement structured BYOD programs.
In fact, many times the people driving BYOD are the CEOs, presidents, chief financial officers, etc., of corporations, who ultimately oversee IT management and push for BYOD programs because they, too, want to use their own devices.
Additionally, organizations are realizing that allowing employees to use the devices of their choice—Mac versus PC, iPhone versus Android versus BlackBerry, etc.—helps keep them happy, which also boosts productivity.•
__________
Pluskota is vice president of Comcast Business Services' Heartland region, which includes Indianapolis. Views expressed here are the writer's.
Please enable JavaScript to view this content.