40th anniversary: Tech pioneers spawn generations of startups
By building innovative marketing-software startups since the mid 1980s, top Indianapolis entrepreneurs have created thousands of jobs and made hundreds of millions of dollars for themselves, their investors and colleagues.
This new class of affluent Hoosiers—birthed in large part by Software Artistry, Interactive Intelligence and ExactTarget—have kept creating and funding marketing startups. A sampling of the children and grandchildren of Indy tech's family tree: Aprimo, BidPal, Malamo, MetaCX, Mezzia, 120WaterAudit and Perq. And many of the forebears, if not running new companies, are mentoring and providing venture capital to the rookies. They include High Alpha, Hyde Park Venture Partners, Boomerang Ventures and Volatus Advisors.
This proliferation led Indianapolis tech jobs to increase 70%, to 75,000, from 2010 to 2020. The tech sector's annual contribution to the state economy is $9.3 billion, or 7.7% —more than a $3 billion increase in 10 years.
Dr. Donald Brown first explained the buildup to IBJ several years ago: "The process repeats itself. Sort of like a nuclear reaction: It splits and splits and splits. Many in the acquired company get fed up with the new corporate culture and return to the community to rekindle entrepreneurial roots."
Brown might well have been describing the fire within himself. He has founded, built and sold three tech businesses. The most recent was Interactive Intelligence, which sold in 2016 for $1.4 billion. On the day of the sale, Brown launched yet another company, LifeOmic, which is aggregating health care data to find cures for diseases.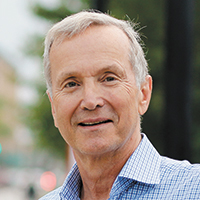 Why do some tech startups choose Indy as home instead of hot spots like Silicon Valley, Seattle or Boston?
Why not? Entrepreneurs point to daylight saving time (which Indiana belatedly adopted in 2006), its central location, a business-friendly government and a well-designed international airport with direct flights to San Francisco.
A more affordable cost of living has been appealing to techies in Indy, too—particularly those who have children. In Silicon Valley's Palo Alto this spring, a three-bedroom, two-bath home with 1,860 square feet listed for $3.5 million. A 3,000-square-foot home in the heart of Zionsville listed for $475,000.
"I've never found a parallel of another city and state where government and business are working so closely together to move an ecosystem forward," Scott Dorsey, co-founder and CEO of ExactTarget, told a global audience of marketing software entrepreneurs in 2016.
He estimated that the city and state provided $50 million in economic development incentives, given that ExactTarget created more than 1,500 high-tech, high-paying jobs.
ExactTarget sold to Salesforce in 2013 for a record $2.5 billion. In 2017, the global cloud-computing company moved into the state's tallest skyscraper, renaming it Salesforce Tower. The company plans to add hundreds more jobs by next year and invest $40 million here by 2026.
"I think it's just been spectacular for the city and our tech community," Dorsey said. "Their foundation is prolific. They continue to support our community in extraordinary ways. So, you know, in some cases, an acquisition like ExactTarget by Salesforce can actually turn out even better for the community."
Indianapolis is now one of the largest Salesforce locations.
"And with a company the size of Salesforce, they've been bringing even more resources to market than ExactTarget would have been able to," Dorsey said.
'Welcomed with open arms'
Salesforce is integrated into the entire Indy tech community, said Muhammad Yasin, executive vice president of marketing at Perq, which sells marketing software driven by artificial intelligence.
"Indianapolis has built a community that is really predicated on the idea of people sharing ideas across the community, not just across individual companies," he said.
Yasin moved here in 2009, knowing no one but wanting to network and build friendships. At events, he'd show up feeling vulnerable, but not for long. "I was being welcomed with open arms by people who were incredibly smart and incredibly driven."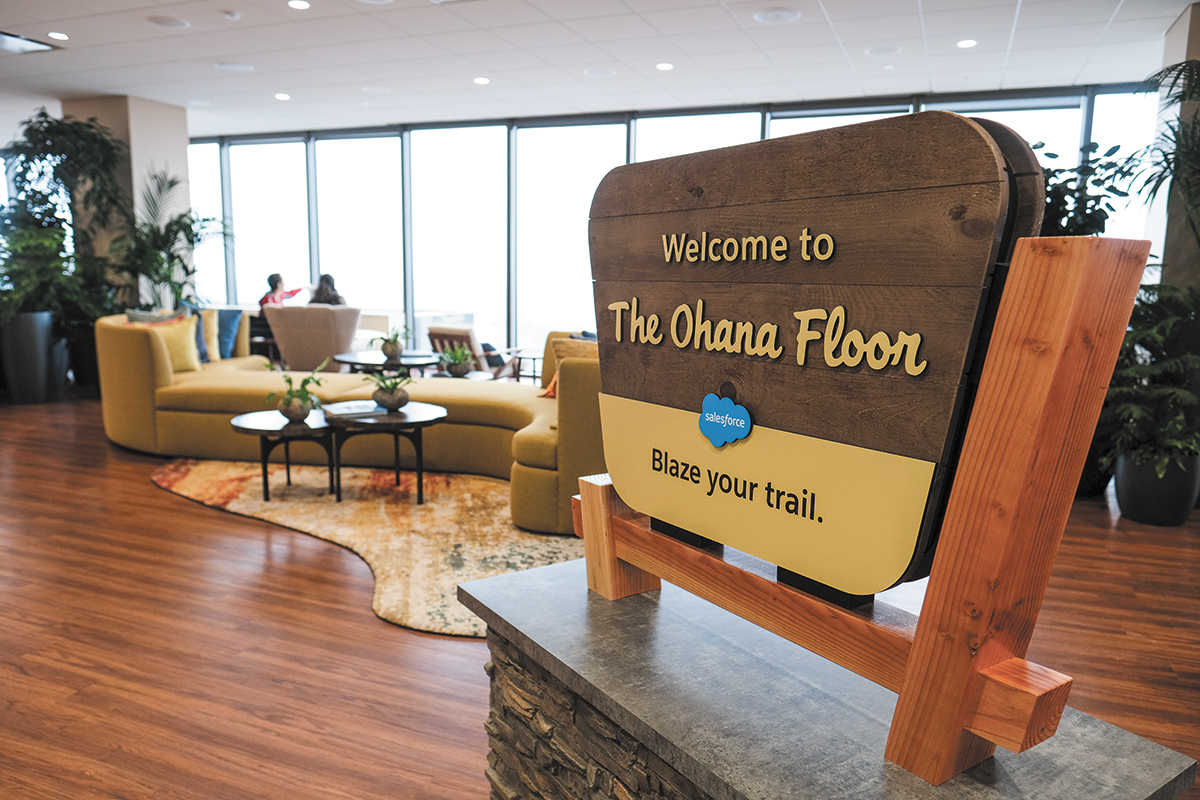 "The value system in Indianapolis is amazing," agreed Scott Webber, CEO of Volatus Advisors, also former CEO of Software Artistry and founder of other startups. "It's a thousand times easier to do work and raise a family. People are more relaxed. People are friendly. They care—they really care—about you and want to do the right thing."
And there's something to be said about the ego-stroking attention that comes from being a big fish in a small pond.
Brown noted the thrill of being "the most exciting technology company in the state of Indiana," as he was building Interactive Intelligence.
That fame attracted top Hoosier graduates in engineering and computer science from Purdue University, the University of Notre Dame, Indiana University and Rose-Hulman Institute of Technology.
"Before us, those people all went to the coast. We were able to draw on people who didn't want to leave, who wanted to stay within the community and even some who came back. So, we were able to assemble an amazingly strong team," Brown said. He has found his Hoosier employees loyal, levelheaded and patient. "They just have really realistic expectations that we're not trying to build the next Instagram in six months."
Yaw Aning is one who thought he'd live in a coastal city after graduating from Rose-Hulman. But he decided to stay here after being awarded the prestigious Orr Fellowship, a postgraduate two-year Indiana corporate job that provides mentoring and innovative projects. The program was designed to keep or attract talented graduates to work in Indiana for the long term.
It worked with Aning, who has established roots here, marrying and having a child. He soon discovered that, in Indianapolis, he had ample opportunities to branch out beyond his civil engineering degree. "I think I've always had the heart of an entrepreneur. I like looking for problems and opportunities to solve them."
He and Anthony Smith have co-founded three startups in Indianapolis. Their most recent venture is Malamo, which has had robust growth supporting a software package that lets businesses weave marketing messages into shipment notifications and updates.
Laying the groundwork
Tech entrepreneurs have benefited from many proponents who came before them. Fifty-two years ago, Mayor Richard Lugar demanded that a large research university be rooted downtown. The then-35-year-old gave Indiana University and Purdue University an ultimatum: If they couldn't finally cooperate and get a combined campus built, the city would promote a new, independent university instead.
"For many years, our great Indianapolis industries, including Eli Lilly and Co., Allison Division of General Motors, RCA, Western Electric, Link-Belt, Union Carbide, Dow Chemical and others have pointed to the imperative need for university facilities to provide advanced technological work for valuable employees," the mayor announced in a televised speech on Dec. 14, 1968.
"We know that updating knowledge is imperative in the marketing of new products and trying to obtain superior employees. Yet Indianapolis is scarcely better off in this respect than 20 years ago."
Officials were soon scrambling to build and support IUPUI. In the years ahead, the school became a prominent player in efforts to promote and build technology in the city.
One early successful tech startup, PALLM (Packaged Automated Life Liability Management) Inc., was founded in 1972, providing insurance offices with customer service software. In 1985, Frost & Sullivan, a national research firm, awarded PALLM its top score in an analysis of its American cohorts, naming it "a company with one of the brightest futures in the industry."
"We just quietly came along out of nowhere with a product that works," president and co-founder Chris McEvoy, said in a Jan. 28, 1985, IBJ article.
He explained that IBM first computerized insurance companies in the 1960s, years before other industries turned to tech. But for several years, no one paid attention to improving original models.
"Technicians tend to pay attention to one slice of time or technology, and they don't want to abandon it," he said in that IBJ interview. PALLM's then-new software replaced the common Assembler language with COBOL and was stored on discs instead of tapes.
Computer gurus performed Herculean tasks that would be hard to imagine today. For example, in January 1985, faced with subzero temperatures that canceled President Ronald Reagan's inaugural parade, PALLM software pioneers rushed to thaw out frozen air-conditioning lines to keep their three monstrous mainframe computers, connected to 125 terminals, cool enough to operate.
VC struggles
During this era and others, government, education and business partnership organizations have worked together to grow tech in Indiana. These have included Indiana's Corporation for Science and Technology, a not-for-profit established in 1982 by the General Assembly to promote high-tech economic development; the Central Indiana Corporate Partnership, established in 1999 as a collaborative organization dedicated to increasing the region's growth; and its subsidiary TechPoint, which is focused on promoting the tech sector.
Despite these supports, then and now, tech companies have struggled to obtain venture capital. But the picture has improved markedly in recent years. In 2019, 62 Indiana tech companies announced venture-capital investments, grant funding, merger and acquisition deals, private equity and debt financing, for total investments of more than $358 million, compared to only $135 million the year before.
Software-marketing businesses and funders point to the state's Next Level Fund, which in mid-2018 designated $250 million in high-yield asset classes, including venture capital, for new tech. Indeed, without government subsidies, Indiana's history shows that businesses threaten to move to other cities that will provide them. This happened with Software Artistry, the state's first tech firm to go public in 1995. After considering boomtowns like Austin, Texas, and Raleigh, North Carolina, Software Artistry executives decided to stay in Indianapolis—along with a $10 million city and state incentive package.
Then-Mayor Steve Goldsmith also promised to establish a city task force to come up with ways to foster high-tech industries. Software Artistry CEO Webber co-chaired the task force with Goldsmith. The group, which grew to 700 members, created a strategy for growing a technology community in the city and state. It also created an annual Technology Summit that is still held today.
Room for improvement
Historically, tech entrepreneurs and employees have been overwhelmingly male, but more women are entering the field.
"Thanks to organizations like Women and Hi Tech and The Startup Ladies, our community understands that women have to be at every decision table. And that has changed dramatically in the last five years," said Kristen Cooper, founder of The Startup Ladies, which supports and advocates for new businesses, particularly those in untapped, diverse and focused markets.
More women are committed to learning how to become investors, and more firms are investing in female founders, she noted. But there's plenty of room for improvement locally and nationally: A recent report said women founders attracted only 2% of all venture capital nationally.
One of central Indiana's most enterprising startups is 120WaterAudit, led by co-founder and CEO Megan Glover. As the fastest-growing digital water company in the country, 120WaterAudit provides water-testing services and the cloud-based software to help communities and schools efficiently determine if their water supplies are safe.
To foster the tech community, entrepreneur John McDonald calls for more human support. "We need far more mentorship and guidance for startups," he wrote in a Feb. 29 column in IBJ, noting how everyone he knows in the tech business started out making mistakes that they learned to correct only because they had guidance from tech veterans.
'Rolled up his sleeves'
Both Brown and Dorsey, two of the city's most successful tech entrepreneurs, are quick to point to early struggles.
For Brown, help came from CID Capital Inc., the state's first venture capital fund dedicated to high-tech Hoosier startups. It was created in 1981 by Gov. Robert D. Orr, Lt. Gov. John Mutz, and executives from Ball Corp., Cummins Inc. and Eli Lilly and Co.—John Fisher, Marion Dietrich and Dick Wood, respectively.
The Hoosier fund helped Software Artistry stay afloat, despite its lack of focus. "They realized that we had not figured out this market," Brown said. "But I think, as a lot of venture capitalists do, they liked the people involved and decided that they would invest based upon us and our capabilities.
"One of the partners, Bob Compton, became a tremendous collaborator and rolled up his sleeves and worked with us and helped us make the transition from selling tools to selling a solution. That made all the difference," Brown said. That solution became a help-desk-automation platform.
Software Artistry also lured successful, experienced executives to the company, including Webber. He formerly was CEO of Chicago-based Pansophic Systems Inc., transforming a $30 million private company into a $230 million publicly traded company.
"They didn't know it then, but Software Artistry would do for Indiana what Intel had done for Silicon Valley," a Dec. 10, 2019, article on Medium.com said.
Just as he had with Brown, Compton later mentored the ExactTarget founders—Chris Baggott, Dorsey and Peter McCormick. He put up a half-million dollars and attracted other investors.
Despite such successes, Indiana's share of tech jobs nationally remains at only 2.8%.
Local tech leaders say the state needs to increase the talent pool and educate the tech workforce more quickly through coding boot camps or schools, such as Entrepreneur Scott Jones' Eleven Fifty Academy or the new Kenzie Academy. Both seek diversity and provide flexible, online learning at reasonable costs.
Some observers say Indiana needs to do a better job of supporting entrepreneurs beyond the prototype of a 30ish affluent white male Midwesterner with a one-syllable Western-European name, a shaved head and an MBA from a Big Ten university. A recent report found that less than 1% of U.S. venture capital goes to Black or Latino founders.
"Different life experiences and perspectives spark innovation," Aning said. "We need to find the best answers to problems by seeking out diverse points of view." Bringing a greater variety of employees and funders to his company, Malamo, and to Indy tech overall, tops his list of goals.
"There are entirely new markets that have been ignored," said The Startup Ladies' Cooper, "which means a huge opportunity to lead."•
Please enable JavaScript to view this content.