Ursula David is out to dispel the perception that modular homes are little more than glorified double-wides.
The veteran custom homebuilder who started Ursula David Homes 20 years ago is concentrating on a new project, Indy Mod Homes, and is targeting an unlikely place for the prefabs—the urban core.
David has purchased 10 lots in the Cottage Home Neighborhood, six of which are on the south side of East 10th Street between Highland and Stillwell streets, near Massachusetts Avenue.
She believes in the project so much that she's bought one of the homes and will be the first resident of the development.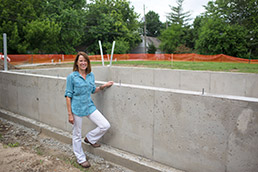 Custom homebuilder Ursula David bought 10 lots in the Cottage Home neighborhood, where she plans to build customized modular homes. She'll inhabit the first one, which should be finished this month. (IBJ photo/Aaron P. Bernstein)
"I felt like it might be necessary to show people that these modular homes won't look like what they conjure up in their minds when they think 'modular homes,'" said David, 61.
The custom houses are designed by local firm Axis Architecture + Interiors, range in size from 1,500 square feet to 2,000 square feet, and start at $300,000. That compares with an average selling price for Cottage Home in the $175,000 range, though one home recently sold for $290,000.
David's home consists of a kitchen, two bedrooms, two bathrooms, living and dining room, and hall and office. But buyers can have their homes built with as many baths or bedrooms as they wish, David said, and with more expensive finishes such as granite countertops, depending upon how much they want to spend.
If conversations with prospective buyers are any indication, many homes may go for more than $300,000. Part of the allure may be the lack of single-family homes under construction in the neighborhoods surrounding downtown.
"What I'm finding is that people are willing to spend more than that," David said. "I know that sounds crazy, but it's the truth."
The houses will be constructed at a factory in northern Indiana and shipped to Indianapolis for assembly. David expects the five pieces composing her one-story abode, including two sections for her high-pitch roof, to arrive June 24 and be constructed within two days.
She plans to occupy the home by Aug. 1 and should have at least one neighbor joining her by the end of the year.
Westfield residents Mike and Cheryl Rettig sold their home in a northern suburb about a month ago and are living in an apartment until their custom-designed home is finished.
With two grown children and one in college, the Rettigs began exploring a move downtown even though they both work at 96th and Meridian streets. He's an engineer and she's in marketing.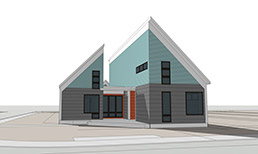 Indy Mod houses range in size from 1,500 square feet to 2,000 square feet, and start at $300,000 (Rendering courtesy of Indy Mod Homes)
Their downtown search led them to a vacant lot with a "for sale" sign planted in the grass. The lot on New Jersey Street is owned by David and located next to her former residence, which she since has sold to move into her modular home on East 10th Street.
After inquiring about the lot, David mentioned her modular home project in Cottage Home, which the Rettigs immediately embraced. A modern design at a price they could afford sold them on the home.
"I just kind of felt like we were getting into something exciting and bringing some life to a neighborhood that could use a little something," Mike Rettig, 57, said.
The East 10th Street area, part of the Cottage Home neighborhood, is showing signs of potential.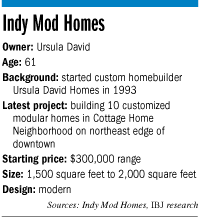 New buildings, such as the John H. Boner Community Center, The St. Clair mixed-use senior housing project, the remodeled and expanded Jefferson Apartments, and The Peoples Health Center line the sidewalks.
Further, the area benefited from Super Bowl-related investments that helped build the $11.3 million Chase Near Eastside Legacy Center, which houses a health and fitness facility and about a dozen local organizations to provide cultural programs. The efforts also helped rehab, build or repair more than 200 neighborhood homes.
That David's parcels are just a block from the south entrance of the Monon Trail might serve as another selling point. She hopes to have the 10 lots sold within 18 months, a time frame that seems reasonable to Joe Everhart, a veteran real estate broker who specializes in downtown and surrounding neighborhoods.
He's unaware of any other similar projects in the city.
"It's not your grandfather's prefab," he said. "You add to that an established builder like Ursula who's really given nice product in the past, and that speaks volumes in going into a project like this."
David founded Ursula David Homes in 1993 after spending the previous 10 years at S&K Construction, which is no longer in business, where she said she learned "everything you shouldn't do in the business."
Wanting to give new home buyers a better experience, she began building custom homes mostly downtown and in surrounding neighborhoods such as Herron-Morton Place and Lockerbie, and as far away as upscale Zionsville and the Village of West Clay.
But when the housing bubble burst in 2008, dampening the demand for expensive homes, she began to explore more affordable options that would appeal to a broader segment of the market. David hatched the idea for Indy Mod Homes in 2010.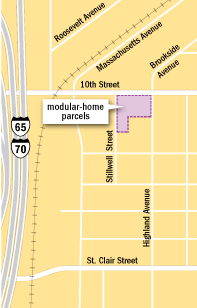 She first inquired about the property on East 10th Street and adjoining Stillwell Street a couple of years ago, but declined to pay the asking price that she deemed too steep to make her project work. Then last year, David received a "surprise call" asking if she was still interested, if certain properties were taken out of the package.
David purchased the lots in April 2012 from B&E Realty Inc. in Indianapolis and set out to get the necessary city approvals. She would not say how much she paid for the properties, but state sales disclosures suggest a total price of $180,000.
The properties needed to be rezoned and the home designs OK'd by the Indianapolis Historic Preservation Commission, which signed off in January.
Modular homes might seem an unlikely fit for an established neighborhood where century-old houses are the norm. Yet the Cottage Home Neighborhood Association welcomed the project.
The homes will feature detached garages and fenced-in back yards to better blend in with the existing landscape. The homes also will be clustered together and in an area within the neighborhood that needs populating, said Dan Doll, president of the Cottage Home Neighborhood Association.
Stillwell Street, for instance, has only four homes in a two-block stretch and there are no houses along East 10th Street from Highland to Dorman streets, Doll said.
"We probably would have been OK with mixed-use along that corridor, but we were just as pleased with having single-family homes," he said. "They'll certainly catch the eye."•
Please enable JavaScript to view this content.