It seemed like a joke.
It turned into a nightmare.
Then it got better. A whole lot better.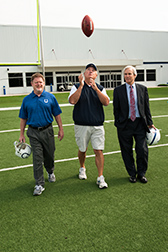 From left, Jon Scott, John Starliper and Pete Ward have never considered leaving the Colts. (IBJ photo/Eric Learned)
Never would Pete Ward, Jon Scott or John Starliper have dreamed in 1984—when then-Baltimore Colts owner Bob Irsay ordered a fleet of Mayflower trucks be loaded for a move to Indianapolis—that it would turn out like it has.
The only three employees still with the Colts since the team's move could not have envisioned what the franchise—and the community where it resides—would become in the last three decades.
It's certainly been a wild ride. None of the NFL lifers ever considered jumping ship, but you couldn't blame them if they had. Some of their sojourn is stranger than fiction.
To understand the oddness of this odyssey, you have to go back to early 1984, when Indianapolis Mayor William Hudnut had a new domed stadium and no team to play in it, and Irsay had a football team but few folks to cheer for it.
The twists for Ward, Scott and Starliper started long before the Mayflower fleet arrived at the Colts facility in Owings Mills, a wooded suburb of Baltimore, about 10 p.m. on March 28, 1984, and departed for Indianapolis sometime around dawn the next morning.
Ward, 56, thought all the talk that off-season was something of a joke, "a ploy to get a better lease in Baltimore." Now, he holds his fingers an inch apart and says: "We actually came this close to moving to Phoenix in January."

The seriousness of the situation was driven home for him on March 28, when the owner's son, Jim, called to give him his marching orders. All hands on deck, Irsay said. Ward, a 26-year-old administrative assistant, a sort of jack-of-all-trades, was told to organize the move.
A few hours earlier, Scott had been woken out of a dead sleep. One of Irsay's lieutenants called with a simple command: "Get boxes and start packing."
The 26-year-old equipment manager rubbed his eyes and looked at his bedside clock. It was 2 a.m.
"We just started throwing and shoving stuff in boxes," Scott said. "There wasn't even time to label the boxes."
Incognito
In the hours before the move, Starliper was sent to the airport to pick up Colts General Counsel Michael Chernoff and Mayflower CEO John B. Smith.
"I felt like I was on 'Miami Vice,' with media trucks and everything following us around," said Starliper, who was a 25-year-old assistant film director.
Luckily for Starliper, he had a cover. He had just finished playing racquetball, and had gotten a nasty cut between his eyes. So he looked a bit like a character out of the "Rocky" movie, dressed in a smelly sweatshirt and sweatpants and sporting a butterfly bandage between his eyes.
"All these reporters were buzzing around the airport looking for any kind of information they could find," Starliper recalled with a wide grin. "But nobody approached me or asked me anything. I guess I looked like the last guy who would know anything."
That couldn't have been further from the truth.
When Ward arrived at the team's Baltimore complex, he couldn't believe his eyes. The shades were drawn, which he had never seen before. Inside, it was stranger still.
"It was bedlam," he said.
Ward now admits, "it was an unsettling time. We all had mixed emotions."
Not all of the team's 40 employees made the trip. Twenty—including nine coaches—moved with the team to Indianapolis. Everyone else was cut loose.
But there was no time for nostalgia. Ward was busy trying to rein in the movers, some of which "were picking us clean," he said.
At first, Ward said, some movers thought they were at an embassy, due to the secretive nature of the move. But when they realized they were at the Colts complex, many sought a piece of memorabilia to take with them. After all, the team was moving to Indianapolis, why would they need this Baltimore stuff?
Scott was trying to figure out how all the equipment was going to fit on the trucks. It didn't. Things like tackling sleds were left behind.
"We needed a flatbed truck," he said. "And we didn't have one."
Movers gone wild
Starliper was trying to make sure all the team's precious film, artifacts and other memorabilia made it in one piece to Indianapolis.
Ward noticed some of the movers walked like hunchbacks, their pockets, shirts and coats stuffed with Baltimore Colts items.
"We finally got the supervisor and said, 'This is anarchy,'" Ward recalled.
In the end, the movers untucked shirts and coats and emptied pockets. The result was a pile of Colts items several feet high on the floor.
After order was restored, to some extent, and the trucks were packed, the team pulled out around dawn on March 29.
Hudnut announced the move later that day and Indianapolis residents went wild. So did Baltimore citizens, but not in a good way.
Ward stayed behind an extra day to help wrap up the team's business in Baltimore. When he arrived in Indianapolis a couple of days later, he found the anarchy was not quite over.
"When we got here, we didn't know our address, didn't have any phones, much less anyone to answer them. It was chaos," Ward said.
Scott remembers one wall in their new home at the abandoned Fall Creek Elementary School had a mural of horses, chickens and pigs. "I remember thinking, 'Where are we and why are we here?'"
Colts employees were housed at the Holiday Inn Holidome near The Pyramids until they could find homes.
Ward and Starliper, who, along with Scott, were single at the time, recall looking for night life. They couldn't find any.
"I went driving around at night and remember thinking it must be some sort of holiday," Ward said. "There were no cars on the road. It was a bit of a culture shock."
Starliper wasn't too shaken.
"I was happier, though, because my money went a lot further in Indianapolis than it did in Baltimore," he said. "That was good because I didn't make much."
Despite having his film room in an abandoned kitchen and meeting rooms in dusty old classrooms, Starliper found something good about the Colts' Midwestern complex.
"We liked it," he said. "We had a basketball court."
Still, it took weeks to find items in myriad unmarked boxes. Ward remembers priceless Baltimore memorabilia, including items belonging to Colts legendary quarterback Johnny Unitas and Coach Weeb Ewbank's trademark hat, piled on the floor in the school's gymnasium. There, too, amid the heap, was the Super Bowl V championship trophy.
"It was pretty surreal," Ward said.
'Why would we leave?'
All the craziness at times made the trio wonder how they arrived in such a place. But they never thought about leaving the franchise. Not once.
"Why would we leave?" Ward asks. "I have been treated great, have been given a wonderful opportunity to live the dream."
Scott and Starliper nodded in agreement during a joint interview. Each has his own tale of how he landed with the Colts.
Ward, a native of Great Falls, Va., knew since seeing a Dallas Cowboys training camp session at age 11 that he wanted to work in pro football.
After offering to work for free for the Washington Redskins—who played two miles from his home—and getting turned down, he made the same offer to the Colts. In Baltimore, he got his foot in the door as a summer intern in 1981. After graduating from the University of Virginia in 1982, he was hired full time by legendary General Manager Ernie Accorsi, who later piloted the New York Giants to a Super Bowl title.
"It was an entry-level position," Ward said. "Very entry-level."
Ward has come as far as the team, advancing through the ranks to now serve as chief operating officer. There aren't many franchise decisions that don't have his fingerprint on it; he even served as point person for the design and construction of Lucas Oil Stadium.
Ward was also instrumental in helping Indianapolis win the right to host its first Super Bowl, in 2012. Along with Indiana Sports Corp. CEO Allison Melangton, he is coordinating the city's effort to win the 2018 Super Bowl.
Scott, an East Lansing, Mich., native and Michigan State University graduate, got his in 32 seasons ago, when his former boss at MSU who later worked for the Colts recommended him for a position in Baltimore.
Starliper owes his Colts job to a chance meeting at a horse track. A friend of his had met Weeb Ewbank while betting on the ponies, and later was hired by the legendary Colts coach to work in the film department. That friend helped Starliper get hired, and he's never looked back.
"When the team moved, we were all young and single and didn't have family to worry too much about," Scott said. "We never dreamed of living in Indianapolis, but we all loved working in the NFL."
Like the Beatles
The three now admit they've grown to love living in Indianapolis as much as working in pro football. They all met their wives here and raised their families here. They've seen the Colts fan base mature along the way.
They laugh at how few Indianapolis residents wore blue to the early games here. And how Indy locals didn't know the first thing about cheering at a football game.
"It was definitely a basketball town," Ward said. "They were doing the wave and making all kinds of noise when we had the ball. Our quarterback could barely call a play."
Still, there was an unmistakable glow that had been missing in Baltimore, where just 27,934 fans attended the last game at Memorial Stadium on Dec. 18, 1983.
"At the time, it was a baseball town," Ward said.
The final slap in the face in Baltimore came when politicians voted not to upgrade Memorial Stadium.
The Colts were an awfully long way from Baltimore on opening day of the 1984 season—the first in the Hoosier Dome.
Scott leaned over to Jim Irsay before kick-off.
"This is how it had to be with the Beatles," he said of the ecstatic throngs of fans. A broad smile spread across the face of Irsay, a big-time music fan, who was certainly pleased by the notion.
In the mid-1980s, Ward said, Indianapolis Colts fans "were enthusiastic, but football-naïve. Now it's a true, hard-core football town."
In the three-plus decades the trio has worked with the Colts, the staff has nearly quadrupled, to 140 full-time employees. Film has been replaced by digital video. Clipboards have been replaced by iPads. Reams of records are now stored in iClouds instead of a robust rack of file cabinets.
The staff has a 20-plus-person marketing department, something it never had in Baltimore. The off-season is one of the busiest selling times now, and players constantly rove in and out of the Colts' 56th Street complex, no matter the month.
"The off-season is gone," Starliper said. "This job, this business, is more demanding than ever."
"The world has changed," added Ward, flanked by Starliper and Scott as the trio stood in a room filled with Colts memorabilia stretching from the Baltimore glory days to today. "And so has the NFL."
Father vs. son
Eleven Colts coaches have come and gone in the time the trio has been with the team. Not even the man who instigated the move is around anymore. In early 1997, Bob Irsay died and Jim took over. And the franchise has never been the same.
The younger Irsay, the trio said, completely changed the culture, from one where the owner rarely talked to employees to one where he not only talks, but listens.
Unlike, Bob, who mostly lived in Chicago, Jim is a hands-on owner "in a good way," Ward said.
"With Bob, if you needed something, you better tape it up," said Starliper with a smile that belied the tumult of the Bob Irsay era. "Jim gives us the tools to do our jobs successfully."
"Jim trusts us with our department to do the right thing to help us win without going overboard," Scott said.
Simply put, Ward added: "Jim is like a brother who can fire you."
The trio credits Jim Irsay's penchant for spending money when necessary for making the team a perennial power over the last 15 years, including winning the 2007 Super Bowl. Under Bob Irsay, winning seasons were rare.
Some things haven't changed for the last three Colts employees standing from this strange, sometimes cruel, oftentimes sweet sojourn. And they never will.
"After all these years, my favorite part of the job is when our guys are lining up for the opening kickoff," Ward said. "That's what it's all about. And it certainly doesn't feel like a job."
None of them is considering retirement. They're not even giving it a single thought.
"I love the game too much," Scott said. "We're like kids at an amusement park. We don't want the ride to end."•
Please enable JavaScript to view this content.