There's not much Indianapolis outdoor filmmaker Eddie Brochin won't do to get his footage.
In March 2011, Brochin endured a 48-hour sojourn to Chinggis Khaan International Airport in Ulaanbaatar, Mongolia; took another hour-plus trip on a prop plane that landed on a bumpy dirt airstrip in the Bayan Olgii province near the Mongolian borders with Kazakhstan and Russia.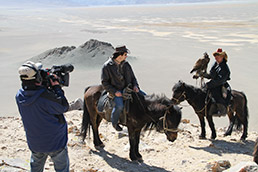 Indianapolis filmmaker Eddie Brochin is one of only two people to shoot footage of the ancient art of hunting with eagles in remote Mongolia. (Photo courtesy of Eddie Brochin)
After that, a 3-1/2-hour car ride and a 3-1/2-hour horse ride were needed to reach the tiny village of the eagle masters Brochin wanted to film.
"Just another day at the office," the 42-year-old said with a laugh.
Except this day required an escort from a military policeman and a bulky bodyguard.
"It's not the safest place in the world," Brochin said, the smile fading from his face.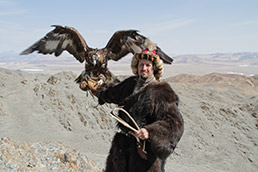 Eddie Brochin, who has hunted with falcons for 12 years, said hunting with eagles is much more dangerous. The large birds can easily break a handler's hand or arm. (Photo courtesy of Eddie Brochin)
An accomplished outdoorsman, hunter and falconer, Brochin had dreamed for years of filming hunters whose descendants invented the techniques of hunting with falcons and eagles. His resulting documentary, "The Falconer, Sport of Kings," was 3-1/2 years in the making.
Brochin wasn't about to let a few obstacles—big or small—stand in his way of meeting, following and filming Hamshibai Elik and Baimandai Sakal and their families, descendents of Genghis Khan, the legendary leader of the Mongol Empire almost 800 years ago.
"The way these people hunt with eagles is totally awe-inspiring," Brochin said. "It was even more awesome to hunt alongside these people who gracefully use these ancient techniques."
Little did Brochin know his travel-day difficulties were just the beginning of the hardships he'd endure to complete his movie.

For more than a month, Brochin lived with his Mongolian hosts, along with two translators (one Mongolian and one Kazak), three cameramen, the military policeman—mandated by Mongolian authorities—and the bodyguard.
Most of his hosts had never seen a car, live without electricity, and encounter few—if any—foreigners, let alone Americans.
But they were far from barbaric.
"Their customs and way of living are certainly different from ours, but they were extremely hospitable," Brochin said, treating the visitors "like family."
Death-defying elements
The weather Brochin encountered was far less hospitable. In that mountainous desert region, temperatures exceed 85 degrees during the day and plunge below 25 at night.
The sun sears exposed skin in less than an hour. With no electricity and only small, temporary structures for shelter, staying warm after sunset is tough. Since there are so few trees, animal manure fuels fire in the round, portable housing structures known as yurts.
So it's no surprise that Brochin is one of the few Americans to journey to this region.
He is only the second foreigner ever to hunt with the Mongolian falconers—a term used for people who hunt with not only falcons, but also eagles and other birds of prey—and film their techniques.
Even Brochin—a falconer for 12 years, a fifth-degree black belt, U.S. Coast Guard-approved maritime captain, and veteran of hundreds of hunting expeditions—had his mettle tested.
"Some days you wondered what the heck you were doing," he said. "But the experience of hunting with these majestic birds and the Mongolian people made it all worthwhile."
The toughest day came midway through the trip. Five tornadic dust storms hit the crew's camp in a single day.
"We were sitting huddled in our [tent] watching it fill up with sand and dust and not sure what is going to happen next," he said.
Though sand storms are common in the area, Brochin said even his Mongolian guides were shaken by the ferocity of those storms.
After the storms subsided, the crew's attention turned to the camera and computer equipment needed for filming.
"It's not the best place to keep electronics functional," Brochin said.
Since there was no electricity, his crew used solar-powered batteries.
"We did a lot of backing up of our videos and data to make sure we never lost anything," he said. They shot 27 hours of raw footage.
Brochin never ceased to be amazed by his hosts' graceful calmness.
"No matter what was going on around us, we always stopped to have our ­goats-milk tea," Brochin said, a smile returning to his face. "There's a lot to be learned from the Mongolian people. They have such grace in the face of what we consider hardships."
Camels and horses
Brochin said hunting with eagles is similar to hunting with hawks and falcons, except the quarry can be much bigger, including foxes, badgers, mountain sheep and even wolves.
Hunters have to be more careful with an eagle than a falcon or hawk, Brochin noted, because eagles "have enough strength to break your wrist or even kill the handler if something goes wrong."
The Mongolians, Brochin said, are largely subsistence hunters. They live off the animals they kill as well as off the herds they are able to maintain in the barren mountains.
"They eat a lot of meat and not many vegetables," Brochin said. "The climate isn't suitable for growing much, so there's no vegetation."
Nothing, Brochin said, is wasted by the eagle masters and their families, and even hardships are turned into blessings. On the seventh day of their two-plus-week hunting expedition, one of their horses collapsed and died.
"For several days after that, there was an abundance of horse meat to eat," Brochin said.
The cast and crew also subsisted on goats, sheep and camel meat, he said.
The result of his trip is a 70-minute documentary detailing the lifestyle of the regional people and showcasing "the hunting prowess of the eagle masters of Mongolia," Brochin said. The movie was completed in May and debuted for a one-night showing at the Keystone Art Cinema on June 26.
"It was a packed house," Brochin said. "And we sold every DVD of the documentary that we had there."
Since that premiere, Brochin said, he's sold a steady stream of DVDs for $25 each, $35 for a Blu-ray version.
Brochin this year has entered his documentary into 11 film festivals—including the Heartland Film Festival in Indianapolis and the Jackson Hole Wildlife Film Festival in Wyoming, the biggest platform for outdoor and wildlife productions.
Brochin hopes exposure at the festivals will help him land a distribution deal.
But there were times, Brochin admitted, where he thought the movie might not get made. The first challenge was raising the $132,000 he needed for production. Much of that came from royalties from his now-discontinued TV show "Ultimate Outdoors with Eddie Brochin."
Brochin also had "a couple" of minority investors and a handful of relatively small sponsors, whose products he used in making the movie.
He tried to differentiate his documentary "by making it more of a story which will appeal to a broader audience," he said. "The biggest challenge was to create a movie that would be entertaining to the non-falconry viewers and also be technical enough to appeal to hardcore falconers."
High praise
The thing that sets Brochin's documentary apart "is how the story of the people blends in with the animals," said James Swan, a co-executive producer of the "Wild Justice" TV series, which airs on the National Geographic Channel. "He really does a great job of showing the emotions of the people involved in this ancient hunting technique."
Swan, who has served as a judge for the Jackson Hole Wildlife Film Festival, said Brochin's movie stacks up well against the competition in U.S. film festivals.
Due to the stiff competition at these festivals, bringing home a top prize will be a tall order for Brochin, movie-industry insiders said. But Swan said he wouldn't bet against the Indianapolis TV producer and movie maker.
"Eddie is up against people and companies with huge budgets and I think he will be a finalist in many of these competitions, and he could really surprise some people and win some of these."
Swan said he could envision Brochin's movie "on TBS, Discovery Channel or any of the major TV channels.
"To me, it's not just a movie; it's a story that will inspire people," he added.
Brochin's true talent is his ability to teach, said Keith Passon, general manager of WHMB-TV Channel 40 in Indianapolis, which has aired Brochin's TV series.
"I've been hunting and fishing for 45 years, and I wish I had one-fourth the knowledge he has," Passon said. "He's a multi-faceted person who can teach people on a lot of topics. He's not just some guy chasing animals through the woods."•
Please enable JavaScript to view this content.