A federal lawsuit alleging monopolistic behavior by Simon Property Group Inc. likely will proceed to trial after a federal judge in South Bend denied a motion by the Indianapolis-based mall giant to dismiss the 3-year-old case.
The ruling by Jon E. DeGuilio handed a rare victory to a Simon rival, in this case an entity controlled by South Bend-based Holladay Properties Inc. that claims Simon used anticompetitive tactics to poach retailers interested in Holladay's Heritage Square lifestyle development. Simon saw the project as a threat to a lifestyle component it was adding to its own University Park Mall.

Simon
The ruling—which allows Holladay to proceed with a complaint under the Sherman Antitrust Act—paints a vivid picture of what it's like to compete with Simon when the mall giant flexes its muscles.
The judge issued the ruling in March, but it remained under seal as Simon appealed. The court unsealed the ruling last month.
Using its leverage as the owner of many of the nation's top malls and outlet centers, Simon in 2007 threatened to "kill" lease deals for Ann Taylor Loft in other cities if the retailer didn't take Simon space at University Park, the judge notes in his ruling, which summarizes an amended complaint by Holladay that remains under seal.
When that didn't work: "Simon's CEO decided to 'go nuclear' and remind Ann Taylor of the fact they were 'in the process of proceeding with documentation for almost 50 renewals and over 25 new factory and full-price stores.'"
Ann Taylor Loft ultimately abandoned a signed lease for a new store at Heritage Square and instead took space in the Simon-owned University Park. The suit claims Simon also pressured retailers Lane Bryant and J. Jill, both of which opened in University Park.
"This is a house of cards," an unnamed Simon executive wrote in an email quoted in the ruling, describing the potential loss of tenants to the rival project. "If Loft starts construction (they have already picked up a building permit), so will Coldwater and the whole streetscape falls apart. Stick a fork in it because it will be done. We need to do whatever we need to do to keep Loft from starting construction and find Coldwater a place to open this year. If we do, our Village will be a homerun. If not, R.I.P."
Judge's findings
The ruling wasn't a complete victory for Holladay's Gumwood HP Shopping Partners. The judge did not allow Gumwood to pursue a legal claim based on "exclusive dealing"—since there's no evidence Simon sought to forbid its retailer partners from doing business with any other real estate firms.
But the judge found support for a claim of unlawful restraint of trade via "tying"—which amounts to forcing a buyer to take one product under threat of losing another.
"The court concludes that not only has Gumwood alleged conduct that could independently constitute an unreasonable restraint of trade in violation of Section 1 of the Sherman Act, but that it has also alleged that Simon acquired or maintained monopoly power by means of that restraint of trade," DeGuilio wrote.
Simon argued for dismissal on the grounds Holladay failed to allege any antitrust violation: In other words, "conduct that has no legitimate business purpose, sacrifices short-term profits, and makes sense only because it eliminates competition."
The company argues it was simply competing vigorously in a frenzied race for retail tenants. Simon noted that Heritage Square managed to win at least four of the most-sought-after tenants for lifestyle centers: White House Black Market, Coldwater Creek, Eddie Bauer and Aveda.
Simon plans to "vigorously defend" itself against the remaining allegations, company officials said in a statement to IBJ.
"Michiana is an intensely competitive retail environment," the statement said. "We accept that reality and compete in that environment in order to serve the interests of our customers and retailer tenants."
Fighting a giant
It hasn't been easy going up against a company with Simon's resources, and it won't get any easier, admits Henry J. Price, an attorney for Holladay and partner in Indianapolis-based Price Waicukauski & Riley LLC.
Price said there's no indication Simon is willing to settle the case out of court, leaving Holladay to fight, for years potentially, on the federal case and a still-pending local lawsuit covering similar ground. The judge's ruling provided some hope.
"What Simon did wrong is pretty well disclosed in that order," Price said. "We still have to prove it, and we believe we will."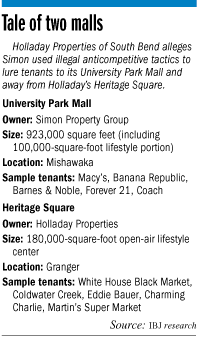 Next up is negotiating a scheduling order that could set a date for a trial, likely in 2014 at the earliest, though Simon still could petition the court for summary judgment.
The case will hinge on the legal question of where "normal competitive aggressiveness" crosses the line into an antitrust violation, said Richard Feinberg, a Purdue University professor of retailing.
If Simon loses, Feinberg said, developers that have gone head-to-head with it may look for a legal opening of their own. On the other hand, a Simon victory might embolden the company and other developers to put more pressure on retailers. Either way, he said, Simon officials probably will dial back how much they write in emails, without muzzling their competitive instincts.
"At a minimum, it's a nuisance," Feinberg said, referring to the suit's impact on Simon. "It can go up from a nuisance to costing them some money. But in the meantime, nothing changes and they go about gaining market share."
When Simon has faced antitrust questions in the past, the company has successfully argued the glut of retail space available outside its malls means it has nothing resembling a monopoly.
That remains true even as the economy recovers and some large vacancies disappear, Feinberg said.
"There are many examples of Simon helping retailers grow and expand because they want them in the mall," he said. "Simon is an excellent retail partner."
But the notion that Simon wields outsize pressure over retailers is a myth, argues Rich Moore, an analyst for RBC Capital Markets in suburban Cleveland.
"Retailers as a group are still much bigger and much stronger," he said. "No retailer is going to go into an inferior site to make a landlord happy. They have to make money."
Moore, who cautioned he does not know the details of the Holladay case, said that far from being "heavy-handed," it is standard business practice for large real estate owners like Simon to discuss with a retailer an entire "portfolio" of locations or potential locations at once.
It's also unlikely Simon would start a "war" with a powerful retailer over one location, he said.
"They all know him like a brother," Moore said of Simon CEO David Simon. "To come off as heavy-handed isn't necessary. I'm sure he'd like to have a good retailer but don't think he would do arm-twisting over one location."
Other cases
Simon has faced a series of lawsuits and at least one Federal Trade Commission challenge over the years as it acquired competitors and became the nation's largest publicly traded real estate company.
A developer in Texas alleged in a 2006 case, later settled out of court, that Simon intervened to prevent a Macy's store from taking space in a non-Simon center.
In 2004, a co-developer with Simon in the Forum Shops at Caesars in Las Vegas alleged Simon reduced the value of a partner's stake by offering retailers cheaper rent in Las Vegas in exchange for taking less desirable space elsewhere.
Anti-competitive concerns also helped prevent Simon from succeeding in a $10 billion bid in 2010 to take over its chief U.S. rival, the debt-laden Chicago-based General Growth Properties.
Perhaps the nearest precedent to the Holladay lawsuit is a case involving General Growth and a lease for the restaurant chain The Cheesecake Factory in southern California.
A Los Angeles jury in 2007 handed down an $89 million judgment in favor of the developer of Americana at Brand lifestyle mall, which lost Cheesecake Factory to the General Growth-owned Glendale Galleria. Though a challenge on antitrust grounds failed, the jury found General Growth interfered with an existing lease deal by threatening to block Cheesecake deals at its other malls. General Growth settled the case for $48 million in 2009.•
Please enable JavaScript to view this content.