For decades, the Pittman family met every year to discuss the prospects for a prime parcel of land they own on the eastern edge of Zionsville. The question on the table at their annual family vacation: Is it time to pull the trigger on development?
For almost 30 years, the answer was the same. No.
"Those meetings lasted about 10 minutes," local developer Steve Pittman recalled, citing the quaint Boone County town's long-standing aversion to commercial growth.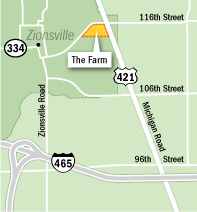 But officials have shifted their stance in recent years, passing an economic development plan in 2012 that calls for ramping up business activity.
Now the Pittmans are moving forward with a $90 million mixed-use project on the high-profile corner of Michigan Road and Sycamore Street—a key gateway to the largely residential community.
Members of the Town Council unanimously approved a rezoning request for the property this month, clearing Pittman Partners to go after a specialty grocer to anchor the long-awaited development.
Plans for The Farm at Zionsville call for transforming 62 acres of land into an upscale commercial and residential hub with up to 150,000 square feet of retail space, plus offices, 400 multifamily housing units and a half-dozen high-end "estate" homes.
"Zionsville is telling the world that it is opening its arms to economic development," said Bryan Brackemyre, executive director of the Boone County Economic Development Corp. "This project sets the tone."
Town leaders are proceeding with caution, approving a so-called Planned Unit Development ordinance that applies certain design standards to the project. Officials still must sign off on a site plan and other details as they come into focus.
"We want it to be right," Plan Commission Chairman Allan Rachles said at the panel's July meeting.
So do the Pittmans.
Partner Chad Pittman, 40, already lives on the property, also home to a log-cabin vacation home the family shares. His brother Steve, 49, is contemplating a move from Carmel—as is their father, John.
The brothers and their development team spent more than a year putting together a plan they thought would be palatable, studying similar projects and soliciting input from officials and neighbors alike.
"It was a very rigorous review process," Steve Pittman said. "And this is a better project because of it."
That feedback (and their familiarity with the community) led them to rule out some potentially controversial uses. Don't expect to see a gas station on the property, for example, or a retailer that would run afoul of the town's "big-box ordinance" limiting a single user to 60,000 square feet of space.
Pedestrian accessibility on the site was a priority, as was including a connection to a path running along the north side of Sycamore, linking the development to Zionsville's historic Village Business District.
"It was quite an evolution," Pittman Partners' Nick Churchill said of the preliminary site plan, which will be revised as specific users are identified.
Signing a specialty grocery store is at the top of Pittman's to-do list. With the anchor in place—even if it's just on paper—the developer can begin putting together the rest of the puzzle.
Secondary "B-shop" retailers and restaurants are likely to be interested in the grocer's traffic pattern and customer demographics, Pittman said. Once the commercial layout is finalized, designers can work on blending in the residential components.
Pittman isn't sure yet whether the attached multifamily housing will be apartments or condominiums, saying that decision will depend on the market's response to the project.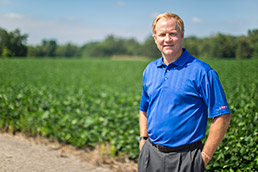 Plans for the 62 acres of land Steve Pittman's family owns include upscale retail, offices, multifamily housing and a handful of estate homes. (IBJ file photo)
He expects to spend the rest of this year ironing out details and hopes construction can start next spring or summer. Build-out should take three to five years, Pittman said.
Early interest from potential tenants has been encouraging, but he's not taking anything for granted.
"If nobody likes our plan, it will stay a soybean field a while longer," he said.
The Pittmans intend to keep the land in the family, but they're open to bringing in partners to encourage development.
The stakes are high, both for developer and the town—especially given the location of the property, identified in the economic development plan as Zionsville's Gateway District.
"This sets a benchmark for future projects," said Planning Director Wayne DeLong, praising town staff and elected officials for the care they took in vetting the complicated proposal without bogging it down in bureaucracy.
Pittman Partners filed the rezoning request in May.
"To see that large of a project … make it through the government review process within 90 days says volumes to the development community," DeLong said.
The town's expectations for the key corner nevertheless are high.
Plan Commission members rejected a June pitch from Lebanon-based Witham Health Services to build a medical facility and "neighborhood retail" on the northeast quadrant of the intersection, for example, saying the plans weren't specific enough.
Now that the Pittman property is taking shape, Witham is asking permission to come back with a revised proposal.
DeLong said officials want any development there to reflect the care that has gone into drafting the town's blueprint for growth.
"We want people to look around and know they have arrived" in Zionsville, he said.
Pittman agrees, citing a shared desire to keep the town's charm intact.
"We want to complement that with good, high-end development … something the town benefits from, the downtown benefits from and that surrounding property owners can be proud of," he said.
He said his family's business has as much at stake as anyone.
"If you make a bad decision, you're bankrupt," Pittman said.•
Please enable JavaScript to view this content.