Grab a seat outside Bub's Burgers in Carmel on a sunny day, and it's obvious why trail development has become a priority in Indianapolis' northern suburbs.
A steady stream of pedestrian and bicycle traffic flows along the adjacent Monon Greenway, an abandoned rail line that found new life as a hub of activity for individuals and businesses alike.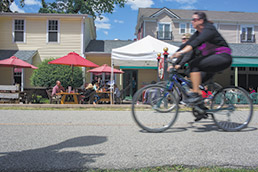 Carmel's Monon Greenway is a hub of activity for individuals and businesses. (IBJ Photo/Aaron P. Bernstein)
"We wanted to see this asset turned back into an economic development artery," said Ron Carter, an avid bicyclist and longtime member of the Carmel City Council who has been a trail advocate since the mid-1990s. "It's the community's front door."
And thousands are coming to visit. As many as 10,000 people use the Monon on a peak day, according to a tracking device Carmel officials placed near the trail's Main Street crossing. The enviable result: an array of restaurant, retail and residential development along its path.
"How many buildings do you see going up on the back side of a parking garage?" Carter asked, referring to a luxury apartment project being built along a well-traveled stretch of trail in Carmel City Center. "That wouldn't happen if you didn't have the Monon out front."
It offers a shining example of the paths' potential, but the Monon is far from alone.
About 500 miles of trails already cut through Hamilton and Boone counties—including 125-plus miles in Carmel—and countless more are on the drawing board as suburban leaders strive to appeal to residents who want connected, walkable communities.
IBJ.COM EXTRA
For a look at the trail system north of Indianapolis,
click here
.
"Trails are critical to maintaining an above-average quality of life," said Noblesville Planning Director Christy Langley. "Trails are no longer a luxury … but part of the infrastructure of a city that is just as important and expected as quality roads."
That's why growing cities require developers to donate land and build public paths around (and sometimes through) new neighborhoods. Trail construction also is routinely included in major road projects.
Funding comes from a variety of sources, including federal transportation grants administered by the Indiana Department of Natural Resources. The agency has been emphasizing trail development since 2006, when its "Hoosiers on the Move" plan set the goal of having recreational paths within 15 minutes of all residents within a decade.
Almost 98 percent of Hoosiers now live within 7-1/2 miles of a public trail, the DNR reported in a July update, up from about 83 percent seven years ago. Its statewide trail database includes more than 3,200 miles.
"Proximity makes it easier to get people on the trails," said DNR grants administrator Bob Bronson. "Now we're looking at a five-mile bubble."
Broad priority
Trails became a state priority during then-Gov. Mitch Daniels' administration, Bronson said, because of potential benefits such as healthier residents. Officials also believed a robust network of paths would boost the economy by helping stem the so-called brain drain.
Young professionals increasingly are shunning the car-centric culture, making it crucial for communities—especially sprawling suburbs—to offer transportation alternatives like trails, said Fishers Town Manager Scott Fadness.
"The idea of driving everywhere does not appeal to the millennial generation," he said. "They want to be able to walk to the grocery store or an entertainment venue."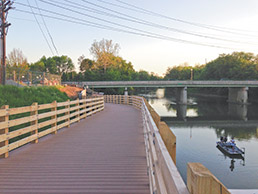 RiverWalk in downtown Noblesville might link to the planned Midland Trace Trail. (IBJ Photo/Andrea Muirragui Davis)
So when Fishers built its Nickel Plate District Amphitheatre downtown last year for its Summer Concert Series and other events, it also added a multiuse trail around the entire municipal complex. That path connects to others along nearby 116th Street and Lantern Road, but officials hope to extend it north to Conner Prairie and south to Cheeney Creek Natural Area.
Fishers allocates about $300,000 a year for trail development as it works to close gaps between existing trails—most of which were built as part of residential development or road improvements. The town even hired an engineer and bought the equipment necessary to pave its own paths more affordably.
Complex projects
Other communities tackle trail projects as needs surface and funding becomes available, typically getting both the parks and street departments involved.
The bigger the project, the more complicated the process.
Carmel Mayor Jim Brainard was the Monon's champion-in-chief for more than a decade before it crossed the county line. The city ended up in court sorting out issues related to acquiring 240 separate parcels of land along the old rail line.
Officials in Noblesville are just starting their journey to build the Midland Trace Trail on an abandoned rail corridor that runs east-west just south of State Road 32, crossing the White River and tying into the Monon in Westfield.
A comprehensive land survey is under way to determine property ownership, and the city has applied for grants to help with acquisition costs, said Langley, the Noblesville planning director.
Plans call for starting construction at Gray Road and working east, first to Hazel Dell Parkway and eventually to the downtown RiverWalk, developed through a city-county partnership. Noblesville plans to extend the riverfront path south to the Midland bridge next year, Langley said.
The city's goal is to have a trail within five minutes of every resident, said Parks Director Don Seal.
"Trails are the No. 1 amenity people want," he said. "They want connectivity—neighbor to neighbor, residential to commercial. It's important to their quality of life."
J.C. Hart Co. CEO John Hart Jr. is a believer. The multifamily housing developer decided to build its Union Street Flats in downtown Westfield because of the property's proximity to "Grand Junction," a planned hub for more than a half-dozen trails (including the apartment community's own path). Location also was a factor in its 116 project in Carmel, on 116th Street just blocks from the Monon.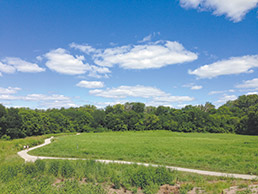 Zionsville has developed almost 20 miles of paved paths since the mid-1980s. (IBJ Photo/Andrea Muirragui Davis)
"These things really add value," he said. "They enhance the experience for our residents, so they can maintain an active lifestyle."
Westfield has taken an aggressive approach to trail development, said Park Director Melody Jones. The city has eight named paths proposed or in place—including an ever-expanding portion of the Monon and several segments of the Midland Trace—as part of its hub-and-spoke network.
"In the future, the entire community should be connected," Jones said.
Thinning opposition
The success of trails in communities like Carmel gives her reason to be optimistic. (Even tiny Sheridan has developed a stretch of the Monon north of Westfield.) Jones also has been encouraged by the response of property owners along proposed paths. Only two landowners balked at selling property for the Monon extension through Westfield, she said. Many donated it.
"When they hear we're coming, very few have any qualms about it at all."
Still, trail opposition isn't unusual. Zionsville parks chief Matt Dickey estimated about 20 percent of property owners near proposed rail-trails start out resisting the idea, citing concerns about privacy and crime. The reality usually changes their mind.
"When a project starts, the fences go up," said Dickey, who helped develop rail-trails in Portage and served as Carmel's first parks director. "Then a couple years later, you see gates installed."
Like its neighbors to the east, the Boone County town is working to build a network of paths. Its "spine": the nearly four-mile Zionsville Rail Trail, which someday could become part of the Farm Heritage Trail stretching west to Lafayette.
Zionsville has a trails advisory committee, which identifies potential paths and connections and recommends priorities to the Town Council. Dickey said as trails become more common, they're more popular.
"There's kind of a tipping point, where [trail development] suddenly accelerates," he said, attributing the phenomenon to users' awareness and experience. "If it's close to them, they'll try a trail."
Brainard said the appeal is even broader: Businesses like San Diego-based American Specialty Health decided to establish operations in Carmel because of amenities like the Monon.
"They are all concerned about work force development: How can they attract the best and brightest employees?" the mayor said. "Our trail system is one big piece of the puzzle."•
Please enable JavaScript to view this content.