One of Greg Ballard's first moves as mayor of Indianapolis in 2008 was to wrest control of the newly created Indianapolis Metropolitan Police Department from the Marion County sheriff.

But the Republican mayor can't tell the sheriff how to operate jails or secure the City-County Building, and, much to his frustration, he's been unable to control the sheriff's spending.

Layton
Ballard declined to comment on the sheriff's budget, but his spokesman and chief deputy point out that Sheriff John Layton, a Democrat elected in 2010, is spending more now than his predecessor spent before the 2007 merger that shifted the sheriff's patrol duties to the city's police force.

Layton is on track to spend $111.5 million this year, more than the $110 million then-Sheriff Frank Anderson's office spent in 2006.

For 2014, Layton requested $119 million, but Ballard's proposed budget would give him $108 million, about $1 million less than was budgeted for this year.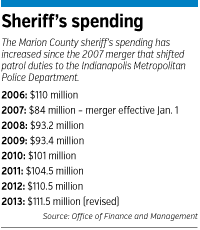 Mayoral Chief of Staff Ryan Vaughn accuses Layton of consuming resources that could go to hiring police officers.

"You can't be the agency that grows and grows and grows when the city has other priorities," he said.

Layton said he's cut his own staff, and he's tired of being blamed for costs that are beyond his control, such as arrestees' hospital bills.

"You know what's really frustrating? We've colored them pictures, and they still act like they don't understand," Layton said of the mayor's administration. "You tell us how many inmates to let out on the street. You tell us who not to feed."

Is Layton a poor manager, or the scapegoat for a lack of funding throughout the criminal justice system?

Layton thinks Ballard won't like the answer. Unless the Democratic City-County Council finds a way to boost his 2014 budget, Layton said, he'll stop transporting arrestees, a service that allows IMPD officers to spend more time in their patrol areas, and he'll pull deputies who watch over arrestees and inmates being treated at Wishard Hospital.

"Those are the only two functions we do that aren't mandated by law," he said.

Jails and more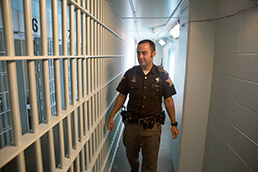 Marion County Sheriff's Deputy Daniel Bates guards Jail I, a maximum-security facility downtown. Running jails is the sheriff's primary responsibility. (IBJ photo/Aaron P. Bernstein)
Ballard's administration suggests Layton is pushing the sheriff's territory beyond running jails, the primary responsibility that remains after the merger with police.

"They are constantly saying they can take on extra responsibility for X, Y and Z," Ballard spokesman Marc Lotter said. "Why does the sheriff's office have a SWAT team? Bike patrols?"

The accusations make Layton livid. What Lotter calls a "bike patrol" is really a more efficient way of conducting surveillance around the City-County Building and downtown jails, he said. Instead of having six deputies patrol the area on foot, he said, he has two who ride bikes.

Half the sheriff's 970-person staff is in the jail division, with the largest number assigned to maximum-security Jail I on Alabama Street. The sheriff also manages the Arrestee Processing Center and a jail inside the City-County Building.

Corrections Corporation of America manages the medium-security Jail II under a 10-year contract that runs through 2017.

Dezelan
Because it houses men, women and juveniles, Jail I is logistically more difficult to manage, and Layton believes deputies do a better job than a private contractor would, said Layton's chief administrator, Lt. Col. Louis Dezelan. The 50-year-old building's antiquated layout requires more deputies than would a modern facility.

Despite those challenges, Layton said he's saved $1.8 million on overtime at Jail I.

Ballard is not impressed with Layton as a jail manager, Lotter said.

"They could give us the whole jail and let us take care of it and save money in the process," he said. "The mayor has no doubt about that."

Vaughn said there are no plans to intervene in the sheriff's jail duties, but he has no sympathy for Layton's complaint that the administration has constantly underfunded the Jail II contract. The administration doesn't provide enough money to cover annual 2-percent raises, or per-diem charges that occur when the jail population exceeds 1,025, Layton said.

"If they elect to pay other expenses before contracts, that's a decision they make, not us," Vaughn said.

Behind the public tit-for-tat, the sheriff and mayor's staff are discussing a new criminal-justice complex, which would mean more efficient jail operations and likely free up valuable downtown real estate.

"It's a true vision of efficiency, if we can ever get this done," Layton told the City-County Council public safety committee in a Sept. 4 budget hearing.

Layton opened his presentation by saying he's running a "bare bones" operation, but Republicans on the committee were skeptical. Echoing Ballard's concern about the sheriff's creeping mission, City-County Councilor Aaron Freeman asked how Layton could volunteer to supplement IMPD patrols if his staff is truly bare-bones.

The total number of deputies has declined from 756 in January 2012 to 666 today, Layton said.

"You don't know the hearts of deputies of Marion County," he said. "They can take on additional responsibilities."

In addition to the hundreds working as jail guards, several dozen deputies are out serving warrants and checking the whereabouts of sex offenders.

"They can do anything across the board, and they're happy to do it," Layton said.

Committee Chairwoman Mary Moriarty Adams, whose husband works in the sheriff's office, said she wants to restore as much of the budget as possible. She believes Ballard's budget shortchanges the sheriff $2.7 million for emergency communications, a function the sheriff agreed to take on in the belief that it would be fully funded.

"You can't just say, 'Go fund it in your budget'—unless they want him to lay off deputies. To me, that's where they're leading."•