Plans to redevelop a surface lot adjacent to the historic Athenaeum building have been shelved after proposals failed to meet financial expectations.

The Athenaeum Foundation, the not-for-profit that owns the building and the 90-space lot to the east fronting Michigan and East streets, wants to build a mixed-use project that would include a parking garage on the property.

Stockamp
But the foundation couldn't make a deal work to its satisfaction without some sort of assistance from the city, said Cassie Stockamp, the foundation's president.

Foundation directors still hope to revive the parking project but declined to request city support at this time, Stockamp said, because they "weren't even close" to reaching a deal with a partner.

Stockamp declined to reveal financial details of the offers or how much the projects would cost to build.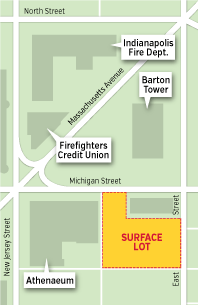 Directors sought bids and received three proposals in May after Insight Development Corp., the development arm of the Indianapolis Housing Agency, initially showed interest in the property.

"We may still be in some discussions with them in doing something there but, in the meantime, it's on the back burner," said Insight President Bruce Baird.

Insight's team of Ratio Architects, A2SO4, Shiel Sexton Co. Inc. and Newpoint Parking proposed a parking garage to help address parking issues related to its nearby Millikan on Mass project.

The developer is building the $23 million project in two phases across from the Athenaeum on ground surrounding the Barton Tower Apartments. But it lacks on-site parking for the 144 affordable and market-rate apartments and retail/restaurant space planned as part of the project.

Baird said work on the second phase of Millikan on Mass won't begin until the parking situation is resolved.

Jeff Hagerman, president of Fort Wayne-based The Hagerman Group, which also submitted a proposal to redevelop the site, said he was not surprised by the foundation's decision to suspend the project. The construction firm's team included Ratio Architects, The Re-Development Group and Denison Parking.

"When a large portion of a development has a parking component, and you have restrictions and limitations on revenue from the parking, it's going to create challenges," he said. "Knowing that hurdle, there would have to be some subsidy or flexibility with justifying the parking side."

City support for a parking garage project would not be unheard of. It agreed to contribute $6.35 million from parking meter revenue to build a garage and retail project in Broad Ripple along College Avenue. Keystone Construction Corp., the owner of the garage, collects 100 percent of revenue from parking fees and tenant rents.

The foundation prefers to maintain ownership of the nearly one-acre parcel adjacent to the Athenaeum and enter into a land-lease agreement to help fund improvements to the aging Athenaeum.

Revenue from a parking garage could help the cash-strapped foundation fund $6 million in upgrades for the 94,000-square-foot structure. Built in 1894 to serve German immigrants, it houses the Rathskeller restaurant, a YMCA and other tenants.

Brick tuck-pointing and an elevator for the second-floor Athenaeum Theatre are among the building's most pressing needs, Stockamp said.

Despite the recent snag in developing the surface lot, the site still holds promise, said Abbe Hohmann, president of Site Strategies Advisory LLC, who provided consulting services to the foundation.

"I think it is an attractive site for redevelopment, if you can figure out the interests of the various parties," she said. "Like every downtown redevelopment, there's a number of moving parts."

Cornerstone Cos. Inc. also submitted a proposal, teaming with Keystone Construction Corp., Schmidt & Associates, Denison Parking and Walker Parking Consultants.

Wayne Schmidt, principal of Schmidt & Associates, is president of the Athenaeum Foundation. He said he removed himself from discussions to avoid a conflict of interest.•