Indianapolis Colts owner Jim Irsay gave a clear signal in 2012 about his long-term succession plan by naming his three daughters vice chairwomen and co-owners.
His March 16 arrest might hasten the launch of that plan, or at the very least give Colts fans a glimpse of what it will look like.
Irsay's uncertain future will almost certainly give team executives and attorneys pause about serious tax hurdles that must be cleared if the team is to stay in the Irsay family—challenges that could require the family to secure a massive loan or bring in investors to offset the mountainous tax bill the Irsays might face when transferring ownership.

Irsay
The Irsays and Colts officials declined to comment on succession plans other than to say Jim Irsay currently has no plans to step aside.
"Jim has too much passion for the game to retire," said Colts Chief Operating Officer Pete Ward. "That's really why he's been so successful—his love for the game, the players and staff, the community involvement."
Two days after Irsay's arrest, Colts officials announced that his eldest daughter, Carlie Irsay-Gordon, 33, will sit in his chair until he returns. Ward called it "a temporary assignment of authority."
Either way, financial planners said Irsay's legal trouble and ongoing problems with addiction mean the team needs a solid succession plan now to protect ownership.
The Irsays wouldn't be the first sports family to face succession complications. The Robbie family sold the Miami Dolphins in 1990 after patriarch Joe Robbie died, a disagreement among the children ensued, and they were engulfed by financial and tax problems. Following the death of his parents, William Wrigley in 1981 sold the Chicago Cubs—which his family had an ownership stake in since 1916—to the Tribune Co., due to estate-tax and other financial problems.
"This is a very, very large problem for the Irsay family and the Colts," said Bart Kaufman, owner of locally based Kaufman Financial Corp. and an expert in wealth transfer. "It's a major and complex problem."
Irsay's problems magnified
The problem could be exacerbated by Jim Irsay's recent divorce. In a joint statement in November, Jim and Meg Irsay said Jim would maintain 100-percent ownership of the Colts. Since spouses can hand off assets to each other without taxation, if the two had remained married and Meg had outlived Jim, the tax bill could have at least been delayed. Now, no such tactic can be deployed.
Passing the team to the next generation is also compounded by the fact that Irsay—and his daughters—appear to have few substantial assets outside the team that they could leverage to pay a hefty tax bill.
Some owners address the problem by buying a sizable life insurance policy, but that could be difficult for someone with Irsay's drug-use history.

Ward
Kaufman estimated that, by today's valuation of the team, Jim's three daughters will owe at least $400 million in taxes when they inherit the Colts. Of course, as the team value increases—and it does every time the NFL signs a new, more lucrative TV contract—they could owe a lot more by the time the transfer takes place.
"I don't care how much cash flow the Colts throw off, $400 million is a lot even if they get an extension to pay the taxes," Kaufman said. "The government isn't going to take the Kerouac scrolls in payment for those taxes."
Irsay could begin to give small shares of the team to his daughters as gifts with no taxation. But there are strict rules governing such gifts. Irsay can give only $14,000 (cash or stock value) annually to any one person in any one year without taxation. Upon death, he can transfer only about another $5.3 million cumulatively without taxation. While those amounts are enough to help most people pass on their wealth tax free, they wouldn't put a dent in Irsay's estate.
The Colts are valued at $1.2 billion, according to Forbes Magazine.
In 1997, Jim inherited the team when his father, Robert, died. At the time, reports quoted Larry Kellogg, a Miami attorney for Jim's stepmother, Nancy Irsay, who estimated Jim's estate tax could be as high as $70 million. The Colts were valued at $150 million in 1997, according to several published reports.
But Jim had a couple of things going for him that his daughters might not. First, Robert Irsay had other assets, including those from a heating and air-conditioning business valued at $150 million, according to a 1997 article published by The New York Times. While Jim's inheritance of those assets also would have been taxed, there would have been substantial left over after liquidation to pay estate taxes.
The timing of Jim's inheritance was fortuitous. Less than a year after Robert Irsay's death, the NFL signed an $18 billion TV deal—by far the biggest of any professional sports league at that time—and all the NFL teams' income and values skyrocketed.
Some sports business analysts say the Colts' value tripled almost overnight. Given the imminent appreciation, Jim would have had little problem obtaining a loan if he needed one to cover any outstanding estate tax.
Glimpse at future leadership
It's unclear how long Jim Irsay will be gone from the team. After his arrest in Carmel on suspicion of driving while intoxicated, in a car where police found prescription drugs that didn't match the labels on the bottles, Irsay faces a March 26 court date. The case could take weeks to resolve. He immediately entered a treatment program, and he almost certainly will face some type of punishment from the league.
Irsay's situation is unprecedented for an NFL owner. In the only similar case, Lions President Tom Lewand was suspended by NFL Commissioner Roger Goodell for 30 days and fined $100,000 after a 2010 arrest for driving under the influence. But the suspension was reduced to 21 days after Lewand, who pleaded guilty two weeks after his arrest, voluntarily submitted to alcohol treatment. Goodell later said those within the NFL with higher positions of responsibility and trust will be held to a higher standard of conduct.
In the meantime, Colts fans are about to get a glimpse at the Irsay daughters' leadership.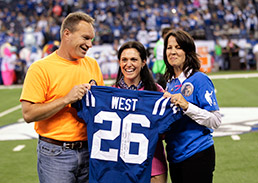 Carlie Irsay-Gordon (middle)—seen here honoring a high school football player who died during a practice—will lead the Indianapolis Colts until her father returns. Colts COO Pete Ward calls the appointment "a temporary assignment of authority." (AP photo)
In a key sign to what structure that leadership might take, Carlie will represent the Colts in all voting matters at the NFL owners' meeting March 23-26 in Orlando. Her two sisters, Casey Foyt, 31, and Kalen Irsay, 26, also will attend, but one family member must be designated as point person with league executives and cast votes during the all-important meetings—which define the way the games are played and how the teams and leagues are run as a business.
"You're likely to get a glimpse of how the sisters will work together and how they might run the team," said Marc Ganis, president of Chicago-based Sportscorp Ltd., which counts several NFL teams as clients.
Casey, who also owns two Huddles Frozen Yogurt stores, has been more active with the team and more visible at owners' meetings. Carlie for a time lived in Chicago before moving back to Indianapolis with her husband and three children.
All three daughters have been present at owners' meetings the last couple of years, but Ganis said it was Casey who occasionally represented the team when Jim had to leave the room.
Sibling rivalry?
There appears to be little problem with sibling rivalry.
"We have never been the type that really fought or stole each other's clothes," Casey told Indianapolis Woman magazine for a 2011 article. "We're really close."
Casey told the magazine the three "balance each other," with Kalen being more outspoken, Carlie being more reserved, and herself being a mix of the two.
Kalen credited the values their parents instilled in them for harmony among the sisters.
"We see each other on the same level and respect and love one another," Kalen told Indianapolis Woman.
The Irsay sisters declined an interview request from IBJ.
It's unclear, Ward said, if Jim Irsay will be back in time for the May owners' meeting in Atlanta, where the 32 team owners will vote on the 2018 Super Bowl site. The three finalists are Indianapolis, Minneapolis and New Orleans.
"That will be a tragedy if he misses that meeting," Ganis said. "He's been one of the absolute biggest cheerleaders for the Indianapolis community. I know he wants to be there to try to win the city another Super Bowl."
Confidence in Carlie
Ward, who has been with the Colts for 33 years, said he is confident in Carlie Irsay-Gordon's leadership abilities. And of course, she'll have Ward and other Colts veteran executives to lean on.
"Carlie is very intelligent," Ward said. "She has been global in her involvement with the team, spending time with all the departments. Carlie and her sisters have all spent a lot of time in this office and around the organization. They all have a good grasp of the operation."
Carlie graduated with a bachelor's in religious studies with a minor in geoscience from Skidmore College in New York in 2005.
She interned with the Colts in the football and marketing departments while pursuing her undergraduate degree, joining the team as vice president in July 2008.
Casey graduated from Indiana University with a sports-marketing degree. She then worked for the NFL in London, helping to plan the first regular-season NFL game played outside North America.
She joined the Colts full time in May 2007, focusing on marketing and community relations. Casey helped revitalize the Colts Women's Organization, a charitable group made up of women connected with the team, and planned its first major fundraiser in 2007.
Kalen graduated with honors in 2010 from Indiana University's School of Health, Physical Education and Recreation with a bachelor's in sports management and marketing. She immediately joined the team full time as vice president and has been involved in corporate sales and community outreach. She also started the Colts Women's Club, a fan club exclusively for women.
The sisters have a growing reputation within the Colts and around the NFL, said Dave Moroknek, owner and CEO of MainGate Inc., which handles merchandise sales for the Colts and five other NFL teams.
"They've become more and more involved in team matters," Moroknek said. "They've made a lot of contacts with the team's corporate partners and are learning not only the team's business, but the partners' as well. They're intelligent enough to learn about what they don't know, and that is what's been most impressive to watch."•
Please enable JavaScript to view this content.