Even before the University of Indianapolis hired its men's and women's lacrosse coaches in June—and almost two years before the Greyhounds play their first game in the spring of 2016—Athletic Director Sue Willey already had fielded some intriguing inquiries.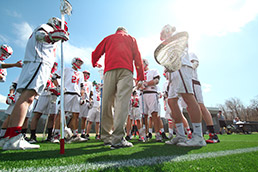 Wabash College has already landed players from California and Washington, and is also scouring the East Coast and nearby markets. (Photo courtesy of Wabash College)
"I got a call from a mother in Texas," Willey said. "She was very interested in [the University of Indianapolis] because we're adding lacrosse."
That's not an isolated incident, not at the University of Indianapolis nor at a growing number of small, private colleges offering the sport. Nearby, DePauw University started a team last year, and Wabash College is launching a team next year.
Wabash in Crawfordsville decided in 2013 to launch lacrosse as a varsity sport, but the admissions department has for years fielded calls about its lacrosse offerings. Until now, it's been just a non-varsity club sport.
Haklin
"It wasn't necessarily even on our radar screen and we were getting calls. We certainly hadn't made any public announcement about lacrosse," said Wabash Director of Athletics Joe Haklin. "That speaks to the growing demand for this sport on the collegiate level."
It might not be the sport of kings—that title falls to polo—but lacrosse is certainly the sport of the upper-middle and upper class. The game on the scholastic and collegiate level has its roots in private—some would say upper-crust— East Coast schools. As it has traveled west, it's maintained that demographic.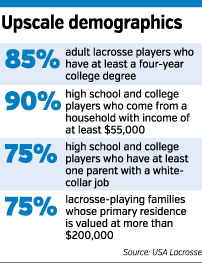 Eighty-five percent of adult lacrosse players have at least a four-year college degree, according to USA Lacrosse, and 75 percent of high school and college lacrosse players have at least one parent with a white-collar job. Seventy-five percent of all lacrosse-playing families value their primary residence at more than $200,000.
Those demographics caught the eyes of Wabash administrators as the lacrosse inquiries poured in. Wabash's NCAA Division III conference rival, DePauw, added lacrosse in the spring of 2013 and other private area colleges were eager to see what benefits the Greencastle school would score.
There's good reason why more than three dozen Division II and III schools in the Midwest alone—most of them private—have added lacrosse in the last decade.
Finances are increasingly challenging for small, private schools, causing many to do whatever is necessary to attract students, particularly students who can afford tuition ranging from $25,000 to $45,000 annually.
"We're tuition-driven, obviously, and we want to offer as many opportunities as possible for our students," Haklin said. "We feel lacrosse is another strong reason to consider going to school at Wabash."
That strategy is already working at DePauw. The school has landed lacrosse recruits from Maryland, Connecticut, Minnesota, North Carolina and New Jersey in addition to neighbors Michigan, Illinois and Ohio.
Cost-benefit analysis

Baker-Watson
The cost to start and run a lacrosse team is not inconsequential. Including coaches' salaries, DePauw projects spending $700,000 on its men's and women's teams for the first two years combined, said Stevie Baker-Watson, DePauw director of athletics. After the second year, the annual budget is projected at $300,000, she added.
UIndy will spend about $230,000 annually for its men's and women's teams, including coaches' salaries.
Haklin declined to say how much it cost all-male Wabash to launch and run its team, but said it's comparable to the basketball and baseball budgets.
The cost outlay would be much greater for Division I schools that would be forced to pay out more in full scholarships to be competitive. That's likely what has kept schools like Purdue, Indiana and Butler out of the game. IU and Purdue offer lacrosse as a club sport, but Haklin said numerous players will choose schools that offer it as a varsity rather than a club sport.
Private Division II and Division III colleges see several benefits from launching lacrosse teams. The first to be realized is often the marketing bounce. But for schools like DePauw, Wabash and the University of Indianapolis, that is just the start.

Willey
"Financially it's a great move, because even with scholarships, we'll generate more tuition than we have expenses from our lacrosse program," Willey said.
The University of Indianapolis, a Division II school, offers full scholarships only for members of the men's and women's basketball teams. Other athletes are given either partial scholarships or nothing.
With annual tuition at UIndy running just more than $25,150, recruiting 70 to 80 students to play lacrosse could bring in close to $2 million, depending on how much the school awards in partial scholarships.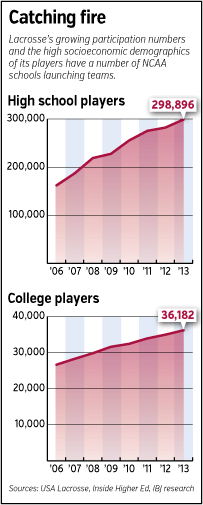 At Division III schools—like Wabash and DePauw—where no athletic scholarships are given, the income could even be greater.
Growing alumni giving
Adding lacrosse also opens recruiting channels among wealthy pockets in lacrosse-loving areas along the East Coast as well as in Chicago, St. Louis, Cincinnati, Cleveland and even Canada.
"We think lacrosse is a positive pipeline that will get us into homes of prospective students that we might not otherwise have gotten into," Wabash's Haklin said.
In its first lacrosse recruiting class, Wabash already has players from Chicago, California and Washington.
And today's students will likely turn into tomorrow's alumni base.
"We see that our student-athletes are often some of the most engaged students that we have," Baker-Watson said. "That often continues in terms of engagement with the school after graduation."
Officials for DePauw, UIndy and Wabash all said graduation rates for student athletes is higher than the student population as a whole. At UIndy, it's a 10-percentage-point difference and at DePauw, it's a 12-percentage-point difference within six years of enrollment.
Wabash alumni already have shown tremendous support for lacrosse and largely have covered the startup costs, Haklin said. He expects the program to become a rallying point going forward—for current students and alumni.
Big challenges
Since 2004, 21 NCAA Division II and 79 Division III schools have added lacrosse teams, while only eight Division I schools have done so.
The fight for students from upper-middle-class and upper-class families has intensified in recent years, in part because of a slowdown in the birth rate that began about two decades ago, according to Inside Higher Ed, an industry publication.
But instead of offering lacrosse, the common battle tactic of state institutions has been to lure full-pay students with cheaper tuition and special programs meant to mimic the offering of private liberal arts schools, said Kevin Kiley, who covers college tuition issues for Inside Higher Ed.
The battle is particularly intense in the Midwest, where the demographic most able to pay for a private liberal arts education is projected to decline 13 percent by 2021, according to the Western Interstate Commission for Higher Education.
"The people who play lacrosse are a demographic that has been shrinking in most of our schools," said Scott Bierman, president of Beloit College, a private liberal arts school in Wisconsin that offers lacrosse. "The students from relatively affluent suburban high schools are a tougher and tougher demographic for us to attract without getting into massive merit aid competitions."•
Please enable JavaScript to view this content.