Breakfast is the easiest meal to create at home. Even Dustin Hoffman in "Kramer vs. Kramer" figured out how to make French toast.
But there's a certain energy to a bustling breakfast restaurant that can't be replicated in your kitchen—a spirit that lets you forget you are paying more for a few eggs, a couple of slices of bread and a shot glass of orange juice than you would for a carton, a loaf and a gallon for home consumption.
The newest downtown breakfast spot, Yolk (220 E. South St., 632-9655), comes to Indy by way of Chicago, where a single spot in the South Loop area grew to five locations before branching out to Indy for its first venue beyond Windy City borders.
Its Chicago prices could use a little modification at CityWay: A simple pair of eggs, for instance, run—so to speak—$6.79 at Yolk vs. $5.75 at Le Peep or $5.39 at Lincoln Square. But this bright, friendly, pay-at-the-register eatery has a few surprises to help mitigate the cost. Sure, Yolk has the expected egg, waffle, pancake and French toast combos. But there's also a bevy of Benedicts (including the Irish Benny with corned beef hash), a carload of crepes (the Zamboni Crepes have ham and spinach) and a fair number of Frittatas.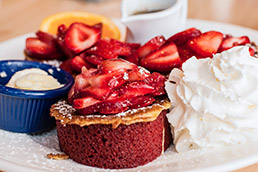 Yolk's unique spin on a breakfast staple: Red Velvet French Toast. (IBJ Photo/ Eric Learned)
I tried the Santa Fe Frittata ($10.99, which includes toast, pancakes or English muffins). Here, among the eggs, avocado and multiple cheeses, the diced red potatoes were cooked just right—not mushy or hard—the bacon pieces were substantial instead of mere crumbles, and the jalapenos and green onion balanced nicely in the sizable baked mix. My companion's Red Velvet French Toast ($9.99) was more dessert than breakfast, but in a world where Dunkin' Donuts thrives, that's not terribly unusual. What is unusual is cutting into French toast—red French toast—that oozes cream cheese. Strawberries and whipped cream on top giveth and taketh away any sense of healthfulness.
If this is all too adventurous for you, there's always the Yolk 2x2x2x2 Combo ($8.79) to fall back on, offering duos of eggs, bacon and sausage supplemented by the choice of a pair of pancakes, slices of French toast, waffles or crepes.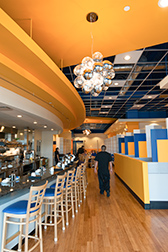 Yolk serves breakfast until 3 p.m. (IBJ Photo/ Eric Learned)
Breakfast can—and should—be ordered until 3 p.m. closing time. But there are lunch options, too, including a hearty Pot Roast Sandwich ($10.99) with an ample supply of meat slices and melted cheese ably supported by grilled sourdough bread.
Like any breakfast spot, the atmosphere depends on when you visit. The brightly colored Yolk, with its Tetris-like interior design, can be a quiet place to get some work done or take a leisurely business meeting. A half-hour later, it can transform into a chaotic jumble of clanging dishes, loud families, and when-am-I-going-to-get-my-check impatience. That said, with Eli Lilly and Co. within sight, construction going on across South Street, CityWay residents to feed, and the Alexander Hotel attracting out-of-towners, Yolk is a welcome addition to a growing area. Now pass the syrup.•
–Lou Harry
Please enable JavaScript to view this content.