Intellectual property attorney Paul Overhauser's clients are often on the cutting edge of Internet technology, so he decided that in addition to dollars, he'll take digital dough.
"I've been accepting Bitcoin for a number of months," said Overhauser, whose Overhauser Law practice has offices in Indianapolis and Greenfield. "I interact on a daily basis with a segment of customers who tend to be technologically sophisticated. They wanted to make it an option."
Overhauser himself is on the leading edge of adopting Bitcoin for payment of legal services as the web-based alternative currency gains wider acceptance. Just one other Indiana attorney, Jorge Rodriguez of Indianapolis, appears to have made the option available for clients, but Rodriguez said no one has yet opted to pay with the cryptocurrency.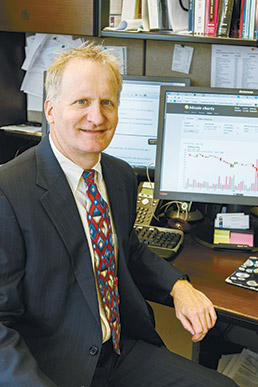 Paul Overhauser researched state rules of professional conduct before accepting Bitcoin. (IBJ Photo/Eric Learned)
After personally using Bitcoin for about a year, Overhauser said he researched the applicable Indiana Rules of Professional Conduct and could find nothing that would prohibit accepting Bitcoin for legal payment. If he's paid a retainer fee in Bitcoin, he said, that sum must be converted to dollars for deposit in the firm's IOLTA account. Otherwise, there appear to be no concerns.
"This firm, like many others, does have clients overseas, and sometimes we get payment in euros or Japanese yen," Overhauser said. Procedures to convert those currencies are little different than those used to convert Bitcoin.
He uses Bitcoin to purchase goods for the office through websites such as overstock.com or dell.com, which accept the currency. A growing number of sites accept Bitcoin for payment, and some sites accept it for the purchase of gift cards that can be used at hundreds of retailers.
"What makes money currency is trust," Overhauser said. "What gives that value to you is your trust that when you take a dollar bill out of your pocket and hand it to a merchant, they will accept it.
"The collective trust people have in Bitcoin is increasing," he said.
Bitcoin has a mysterious and colorful history. After a wild run-up in value from less than $5 to more than $1,000 per coin in the past two years, the currency's value has stabilized at around $500. There are currently about 13.2 million Bitcoins in circulation – about 1.6 million more than a year ago – with a total valuation of about $6.3 billion.
Major Bitcoin traders were among those charged when the federal government shut down the Deep Web marketplace Silk Road last year. The site allowed users to exchange Bitcoins for drugs and other illegal goods and services.
"Silk Road was the best and worst thing that ever happened to Bitcoin," said Michael Slate of Indianapolis, a self-described serial entrepreneur. Slate said the Silk Road bust cast suspicion on the currency at the same time it produced the most exposure ever about Bitcoin.
A developer of startup tech firms 3Gupload.com and posters2prints.com, Slate is among those who've met Overhauser through a local Bitcoin meetup group. He said it's only natural that attorneys, particularly those dealing in IP law, are beginning to accept the currency.
"I'd use my Bitcoin for legal fees, sure," Slate said.
"I kind of got into it and started learning about it, and I really liked the properties of it," he said of Bitcoin. "I think in five years, it's come a long way."
Mike Cowper is a client of Overhauser's who decided to buy some Bitcoin to pay for legal services a few months ago. Cowper, a technical manager for Midwest Internet, said he was "the first full-time employee at the first Internet service provider in central Indiana." Despite his long technical career, he was a bit cautious about buying Bitcoin. He bought enough to dabble when he learned Overhauser was accepting it.
"That gave me the final impetus to buy some Bitcoin and make payments with it," Cowper said. Now, he uses it to pay for domain name registrations, for instance. But even as a user, he's not entirely sold.
"Bitcoin is a really fascinating idea to me. It's a currency that's not backed by a government that's separate from anything else," he said. He's certain some virtual currency will gain wide acceptance. "Somebody's going to do it, and it might be Bitcoin."
Cowper said concerns about alternative currency are legitimate. "I would not at this point, until it's been tried and proven a lot more, consider putting a significant amount of money into Bitcoin," he said. "One of the biggest concerns for me would be regulatory: How is this going to be regulated, because it does threaten the status quo to some extent."
Users of Bitcoin praise its transparency and say it's already in wider use than most people realize. Many say the lack of controls by a Federal Reserve or similar policymaking authority is part of the appeal, as is the accessibility of the currency's design and distribution. Overhauser said most users tend to hold libertarian views and are distrustful of centralized governmental monetary policy.
"When I get my paycheck, I convert it to Bitcoin," said Robert Ross of Fishers. "I know how to spend them, and I can spend them anywhere.
"I'm a giant computer nerd, always have been, and I hate myself for not discovering Bitcoin sooner because I'd be a millionaire right now," he said.
Ross is the founder and developer of his own alternate currency – FoldingCoin – available at foldingcoin.net. The currency aims to reward participants who use their computers to help a Stanford University project to decode how proteins fold. Stanford's project uses the power of hundreds of thousands of users' computers to foster medical research that could unlock treatments and cures for diseases. Ross envisions FoldingCoin being traded by project participants at meetup groups, for example.
Kieron Mitchell is a consultant with CICS, which provides accounting and bookkeeping services for nonprofit groups. Mitchell is big on Bitcoin and what it could mean for nonprofits, since users would be able to use the Bitcoin ledger to track charitable donations and see where the money goes.
"Some of us remember when not every business accepted credit cards," Mitchell said. "There's a lot of room for growth and for creative use of the underlying technology that makes Bitcoin possible."
Rodriguez, whose practice is primarily criminal defense along with some immigration matters, said he deals primarily with Hispanic clients. He believes Bitcoin might become an attractive option for those who may not be able to pay in a traditional manner.
"I've always been an early adopter of technology," Rodriguez said. "When I saw it come out, I read up about it and said I would accept it if somebody asked me to."
Those familiar with Bitcoin say that immigrants who send remittances to families in their home countries already may be using the currency in a sense. That's because systems have been developed that accept a giver's cash, convert it to Bitcoin to transmit to the recipient, where the Bitcoin amount is again converted into the desired currency. Doing so eliminates some of the traditionally high fees associated with remittances.
Proponents of Bitcoin say that as more transactions are conducted online, the currency may prove a disruptive technology to credit cards and other means of exchange that charge transaction fees.
But beyond that, Bitcoin backers see the architecture supporting the currency applied in numerous ways – including ways that could have major implications for the practice of law.
Overhauser said attorneys should watch the developing technology. Bitcoin 2.0 includes development of technology such as "smart contracts" which he said can be written in such a way that assets are automatically transferred from one owner to another as long as stipulated criteria are met.
The same technology that tracks transactions of Bitcoins can be applied to track and verify that contract terms have been met while also building in safeguards against fraud.
"It's a self-perpetuating growth model that Bitcoin is on," Overhauser said.
 
Please enable JavaScript to view this content.